Reveille to Lights Out (part 3 of 5)
Topic: Drill and Training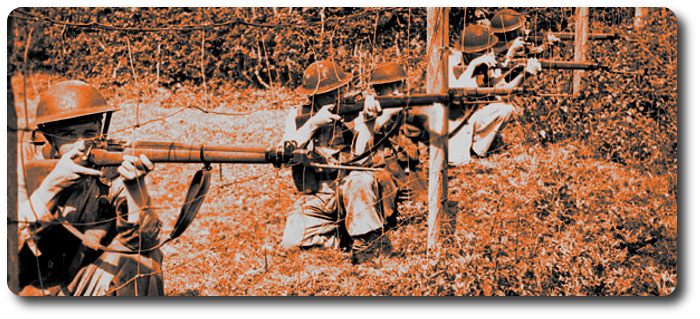 Reveille to Lights Out (part 3 of 5)
The Montreal Gazette, 29 June 1942
By Machine-Gunner
(This is the third in a series of five articles describing the Canadians' transition from civilian to military life. Written by a soldier who has learned "the hard way," they give an illuminating insight into Army Life.)
A chain is as strong as its weakest link; so goes the proverb, and Canada's army has forged a mighty chain of command, the links of which are orders.
The recruit is at first confused by, and then readily appreciative of the fact that orders are not always verbal; his behaviour must conform with, and is often changed by orders which he never hears, but reads. As an example, a soldier entering camp for training is immediately acquainted with camp Standing Orders. These orders tell him many things peculiar to the camp in which he is to live. The camp bounds, the procedure in case of fire, the respective times of reveille and lights out, meal parades and defaulters' parade; in short, anything in which the routine in his camp may vary from that of other similar camps. Some changes in camp standing orders are dictated by notations which appear, from time to time, in District Orders.
Canada has been divided into 11 military districts; each district has, quite naturally, a centre which is district headquarters, and from district headquarters proceed district orders, signed by the D.O.C., or District Officer Commanding. District orders carry new regulations and changes of previous ones which concern the individual district; promotions of officers within the district appear in these orders, punishments by courts martial, changes in dress regulation or any bits of arbitration which may affect the soldier serving in the district.
Routine Orders
Changes in procedure and new regulations in the Canadian Army are distributed from their source, National Defence Headquarters in Ottawa.
The orders with which a recruit comes in contact are Daily Orders, Part I and Part II. Part I orders (known as "part one"), affect a soldier's drill, duty and discipline. Extra parades, if there are any, appear in Part I orders. The orderly officer and orderly sergeant of the camp are notified for duty in the camp by warnings given in these orders. Writings in the direction of discipline for personnel within the camp appear there; as an example, some place may be put "out of bounds" to members of the armed forces for any one of many reasons, and if this occurs, notification of the fact is given in Part I Orders.
Part II Orders affect a soldier's pay, allowance and documents. Before a soldier may draw pay from a unit he must be taken on strength of the unit, and to be taken on strength his name must appear in Part II Orders. Likewise, if a soldier is to forfeit pay because of some wrong doing his name must appear in Part II Orders before the pay may be deducted. These orders constitute authority for the unit paymaster to act.
If a recruit is married, the permission for him to marry is given by his officer commanding, it appears in orders, and, when the marriage has taken place, the soldier's new dependent is authorized to receive a monthly cheque from N.D.H.Q. by virtue of the fact that notice of the marriage appears in orders. No notation of change may be made in a soldier's documents until the notation or change appears in Part II orders.
It is the duty of each soldier to read daily orders, and if he in guilty of a breach of a new order, that fact that he pleads ignorance is not regarded as an excuse. With the advance of education in the Canadian Army, the troops are more than ever anxious to "do the right thing," and the man is indeed the exception who does not try to keep up with the orders; in most units it is a boast of the men that they are never caught off guard.

Posted by regimentalrogue at 12:01 AM EST