Cleanliness in Camp (1917)
Topic: Drill and Training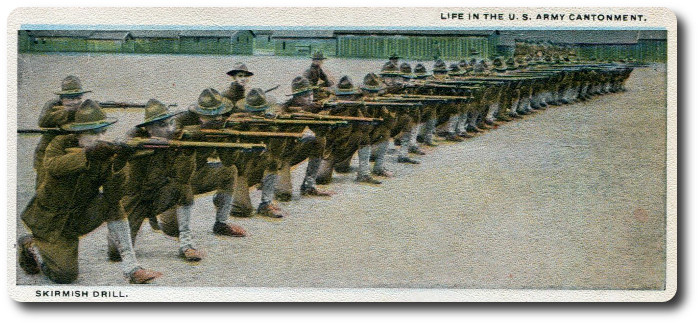 Cleanliness in Camp
Home-Reading Course for Citizen Soldiers (Lesson No. 6, of 30)
The best safeguards against disease, either in the army or out of it, are soap and sunshine.
Spokane Daily Chronicle, Spokane, Washington, 1 September 1917
When large numbers of men are assembled in camp it is necessary for the good of all that strict rules of personal conduct and sanitations should be enforced. These rules are by no means a hardship. They are a protection. By insisting on strict obedience to these rules, the diseases which once took so heavy a toll in nearly all military camps have been brought under control; some have been practically eliminated.
Suppose you were asked to make a choice; either to live under conditions in which smallpox, typhoid fever, diarrhoea, dysentery and cholera flourish; or to live under strict regulations, which make these diseases far more of a rarity in military than in civil life. Your good sense would lead you to choose the latter. Bear this in mind. See to it that you cooperate with enthusiasm in the measures that will be taken to keep your camps clean, comfortable and healthful.
One of the pests of camp life, if perfect cleanliness is not observed, is the presence of swarms of flies. Flies are not merely annoying. They are dangerous. Somebody has said, with perhaps a slight exaggeration, that to soldiers they are more dangerous than bullets.
The best way to keep flies away from camps is to destroy the places where they breed and feed; in other words, keep the camp spotlessly clean. For this reason the daily "policing" (or cleaning up) of the camp is a matter of first importance.
This is a duty which an experienced soldier usually performs with more interest and thoroughness than the raw recruit, for he realizes its importance.
The best safeguards against disease, either in the army or out of it, are soap and sunshine.
The good soldiers is almost "fussy" in the care of his person, his clothing, his bedding and his other belongings. Personal cleanliness includes using only your own linen, toilet articles, cup and mess kit. Most annoying skin troubles and such diseases as colds and infectious fevers are often passed from one person to others by using articles in common.
In the training camp there will be plenty of shower baths, and you will, of course, make free use of them. If in temporary camps or at any other time you cannot obtain a bath, give yourself a good, stiff rub with a dry towel. Twice a week, or oftener if necessary, your shirts, drawers and socks should be washed and fresh underclothes put on. In case it is necessary to sleep in your underwear, as it probably will be, put one aside to wear at night, so that you will always feel fresh and clean in the morning.
The scalp should be thoroughly cleaned about as frequently as the rest of the body. This will be made easier if you keep your hair cut short.
The teeth should be brushes at least once a day; twice a day is better. Neglecting this practice will cause decay of the teeth, resulting in failure to chew food thoroughly and probably ending in stomach troubles.
The medical corps of the army and your own officers will use every means within their power to safeguard and improve your general health. Within recent years better methods of medical supervision have greatly reduced the losses and the disabilities due to warfare.
But the responsibility for keeping yourself in good health can not rest wholly upon your officers. Just as in civil life, you are expected to use a reasonable amount of good sense in looking after yourself. You will do this partly because it adds to your own comfort and safety. You will take care of yourself, also, because it is a duty that every soldier owes to the country. You will have plenty of fresh air, exercise and good food, which are after all the chief essentials of good health. It should be a comparatively easy thing for you to look after the smaller things.

Posted by regimentalrogue at 12:01 AM EST