Vimy Pilgrimage is a Reminder
Topic: Vimy Pilgrimage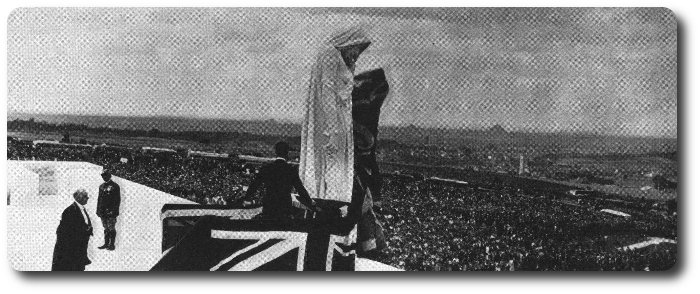 Vimy Pilgrimage is a Reminder…
…To Young Canadians a Trust Passed On by Heroes of War
"Uncle Ray's Weekend Mail Bag," The Evening Citizen, Ottawa, Ont., 25 July 1935

The past couple of weeks we have been hearing and thinking a great deal about the peace Pilgrimage in Vimy Ridge for the unveiling of the Canadian memorial to those who gave their lives in the great World War. Perhaps some of Uncle Ray's nieces and nephews were down at the train or boat to wave good bye to daddies, uncles, grandfathers, mothers or aunts leaving for France. You wished them a pleasant journey. Though you felt you would miss them in the few weeks they would be away, already you were looking forward to the stories they would tell on their return.
It was very different with the boys and girls who saw the troops trains go in the years 1914-1918. Loved ones were going to face such terrible dangers it would seem a miracle if they returned. The honor roll of those who did not come back bears the names of nurses, girl ambulance drivers, voluntary aid workers as well as brave soldiers, chaplains, doctors. No doubt the thousands of ex-service folk who have crossed the ocean to do honor to fallen comrades are remembering that these died in the belief they were engaged in war to end war. To allow strife to come again would be to break faith with those who have gone. That is why so many veterans are so strongly opposed to the idea of war.
Why did daddies and uncles, big brothers, yes and grandfathers answer the call to serve between August 4th, 1914 and November 11th, 1918, knowing they would be obliged to endure great hardship and possibly suffering and death? To make Canada and the world free and safe for you. They were thinking of the young Canadians still to be born as well as beloved sons, daughters, nieces and nephews and little brothers and little sisters at home. Each of Uncle Ray's young Canadians has a share in the task of keeping faith with those who came back and the thousands whose names are engraved on the Vimy War Memorial. The best thank-you that you could give them would be to begin now and to continue all your lives to live and to work to keep your neighborhood, country and the world friendly and peaceful.
Uncle Ray.

Posted by regimentalrogue at 12:01 AM EDT