Reveille to Lights Out (part 1 of 5)
Topic: Drill and Training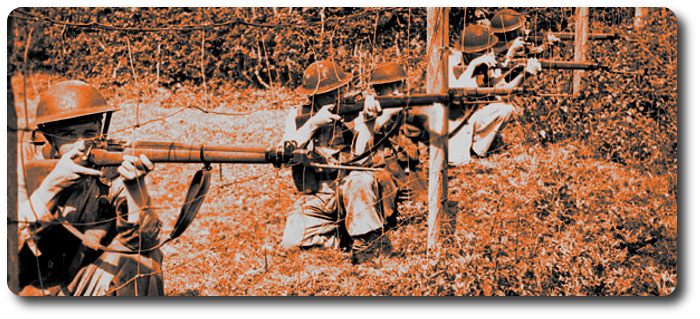 Reveille to Lights Out (part 1 of 5)
The Montreal Gazette, 27 June 1942
By Machine-Gunner
(This is the first in a series of five articles describing the Canadians' transition from civilian to military life. Written by a soldier who has learned "the hard way," they give an illuminating insight into Army Life.)
A bugle is blown, a flag unfurled, and a new day has begun for the soldier in Canada's army. Routine is to be expected, but it may vary in camps, usually at the discretion of the officer commanding, a typical day begins at 6.30 a.m., or, in military terminology, 0630 hours.
Life, for the recruit, is ever-changing, and although Reveille is the name given to the hour of arising, it means more than "just getting up," First, of course, comes a shave, in one of the comfortable washrooms, and then a general clean-up of of the soldier's person and quarters. He soon learns how to fold his blankets in accordance with camp standing orders, how to arrange his kit, and in a matter of days after his initiation into the ranks he has learned to have pride in the appearance of his hut.
Breakfast, at 7 a.m., convinces the soldier that he is really being considered, because beside his plate he now finds fresh fruit. The first parade, physical training, is not until 8 o'clock, so, for a while at least, leisure is the rule; last night is discussed from many interesting angles and then back to work. Men are usually grouped in quarters as platoons, two platoons share a hut, and the huts are arranged to have companies centralized. The soldier's primary training is termed "basic" and in centres giving this training the number of men in a platoon varies, usually from 40 to 50.
The P.I. parade begins, and the wheels of defence have begun to hum in harmony with the calling of the step or time for exercises by platoon N.C.O.s. Days are divided into periods, in most camps a period means 45 minutes, and happily periods are separated by "breaks" of five minutes for relaxation. Before lunch time, the soldier has completed four periods, and has learned something new perhaps about the Bren Gun, map reading, and possible defence against gas. From 11.30 a.m. to noon he is free to do what he will, and then, with the other members of his platoon, he parades to lunch.
The afternoon consists of another group of four periods for the man in the army, beginning at 1.30 p.m., and ending at 4.30. Reasonably often his afternoon duties give him a chance to see the country beyond the limits of his own camp, because several periods are devoted to map treks and the study of field-craft. Both subjects consist of the practical application of knowledge gained in the classroom.
Except for occasional days, when for one reason or another, the entire establishment of a camp is confined to barracks, a soldier may leave his camp at 4.30 p.m. and his time is his own until 10.00. Although dinner is served at five o'clock he need not eat in camp and is free to keep such engagements as he may have made. Usually two nights a week are set aside as "late leave nights," and then he need not be back until 11.30 or midnight, depending upon the time stated in orders.
Entertainment is provided for troops in barracks by the Auxiliary War Services, and usually there are movies two nights a week and means of relaxation provided for the others. All troops may attend the shows with the exception of those undergoing punishment for some minor misdeed; these are given periods of C.B. (confined to barracks) by their company commanders, and while under sentence they are not allowed to enter the canteen in which the shows usually take place. In addition to this restriction, the offender has extra duties to perform after his day on the parade ground is finished. Grass has to be cut, dishes washed, and other odd jobs done; the C.B. man is usually the one called upon.
Off duty leave, that period between the completion of parades and the time the soldier must be back in barracks, ends in most camps at 10 o'clock. Roll call is taken by the N.C.O. in the hut, and any man marked A.W.O.L. on what is called a tattoo report. These reports are made out nightly, and a copy handed to the military police at the camp gate. A record is thus kept, and though a man may enter the barracks by some means other than the gate he is counted absent because his name appears on the list. This is considered proof that he wasn't in his hut at roll call, and tell his company commander that he came "over the fence."
Authorities agree, that the average soldier is a reasonable person, and the converse is true. If a soldier has sufficient reason, in the mind of his company commander, he may be granted a reveille pass which will allow him to remain out of barracks until reveille on the day after the pass was issued, and even without this pass exceptions are occasionally made when soldiers have been kept late by circumstances beyond their control.

Posted by regimentalrogue at 12:01 AM EST