New Badge for the Army (1947)
Topic: Canadian Army

New Badge for the Army (1947)
Ottawa Citizen, 27 March 1947
By Fred R. Inglis, Evening Citizen Staff Writer
A distinctive new badge for the Canadian army, recently approved by His Majesty the King, has already been taken into use by at least one branch at Army headquarters.
The new badge which embodies a crown, crossed swords and maple leaves, will be produced on army letterheads, pamphlets, Christmas cards, crests and possibly as shoulder patches on army uniforms. Army Public Relations at Ottawa, which drafted the design, uses the new badge at the top of army news releases and as an identifying imprint on army photos intended for publication.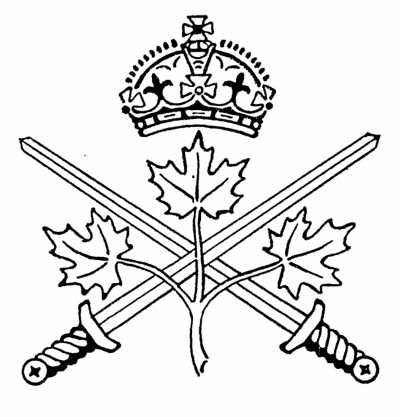 Official description of the design as approved by the King, is "Three hard maple leaves conjoined on one stem red; upon two crusaders' swords saltirewise, points upwards, blade and grip in natural colors, guards and pommels, gold; ensigned with the Imperial crown.

Posted by regimentalrogue at 12:01 AM EDT