Nine Soldierly Qualities
Topic: Drill and Training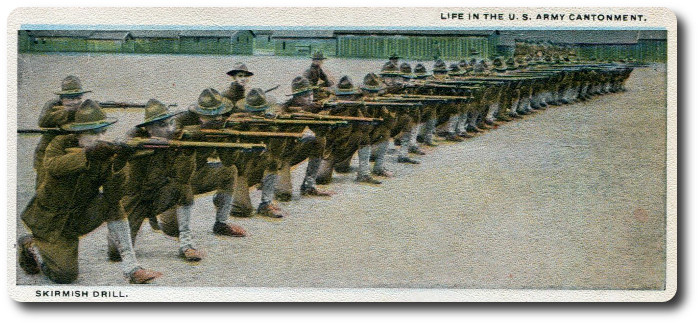 Nine Soldierly Qualities
Home-Reading Course for Citizen Soldiers (Lesson No. 3, of 30)
Spirit carries a body of soldiers forward. Tenacity is the quality that makes them "stick."
Spokane Daily Chronicle, Spokane, Washington, 29 August 1917
The three basic qualities, loyalty, obedience and physical fitness, were treated in the preceding lesson. There is another group of three soldierly qualities that are especially needed during the periods of training, marching and waiting between combats. These are:
Intelligence,
Cleanliness,
Cheerfulness.
Although these qualities are associated chiefly with camp life, they are, of course, scarcely less helpful in all other phases of military service.
Intelligence
Intelligence does not necessarily mean education, but rather quick observation and willing ness to learn. There is plenty of need for intelligence in modern warfare. The national army will be forced to absorb within a few months a training which would ordinarily extend over a period of two or three years. Those who intend to fit themselves for promotion should study thoroughly the manuals and the drill regulations which affect their duties. In time they should learn something about ma-making and map-reading, the construction of field entrenchments, training and care of horses, signalling, the handling of complex pieces of machinery, and many other subjects.
Captain Ian Hay beith of the English army, points out that in the first British forces of the present war the previous trade or training of every soldier was sooner or later utilized.
Cleanliness
Cleanliness is important everywhere, but most of all in the army where large bodies of men are brought together. In its true sense, it includes not only keeping your body clean, but also your mind and your actions. Fortunately, it is a virtue in which Americans generally rank high. There should be little difficulty in setting a satisfactory standard in the new army.
Cheerfulness
Cheerfulness is always a prominent trait of good soldiers. Here again Americans may be counted upon to make a splendid showing, even in the face of any unexpected hardships or difficulties that may be ahead of us. There are numerous episodes in American military history to justify this confidence.
Finally there are the three battle qualities of the good soldiers:
Spirit,
Tenacity,
Self-reliance.
Unless a man has these three qualities—even though he possesses all the other six in good measure—he is after all only a campfire soldier.
Spirit
Spirit—fighting spirit—is far from being mere hatred of the enemy of blind fury, on the one hand; nor is it mere passive obedience to orders, on the other. It means cool, self-controlled courage—the kind of courage which enables a man to shoot as straight on the battlefield as he does in target practice. However, it even goes a step beyond that point. Decisive victories can not be won by merely repulsing the enemy. "Only the offensive wins." (Infantry Drill regulations, paragraph 511.)
Tenacity
Spirit carries a body of soldiers forward. Tenacity is the quality that makes them "stick." The thorough soldier is never ready to stop fighting until his part of the battle is won. Tenacity was never better expressed than in the words of John Paul Jones. Standing among his dead and wounded on the sinking ship which was "leaking like a basket," he replied to his adversary's invitation to surrender, "Sir, I have not yet begun to fight." Two hours later the battle came to a sudden end when the colors of the enemy's vessel were hauled down.
Self-Reliance
Self-reliance is characteristic of the American, whether he is serving as a soldier or in some civil occupation. It is a quality needed more than ever before in present-day warfare. Major General Leonard Wood, in his introduction to the Field Service Regulations of the United States Army, says:
"Officers and men of all ranks and grades are given a certain independence in the execution of the tasks to which they are assigned and are expected to show initiative in meeting the different situations as they arrive. Every individual, from the highest commander to the lowest private, must always remember that inaction and neglect of opportunities will warrant more severe censure than an error in the choice of the means."
the nine qualities which have just been reviewed are those which every one of us would like to have for himself. They are the essentials of virile and successful manhood, whether in the army or out of it.

Posted by regimentalrogue at 12:01 AM EST