Battle Honours; not a scoring system
Topic: Battle Honours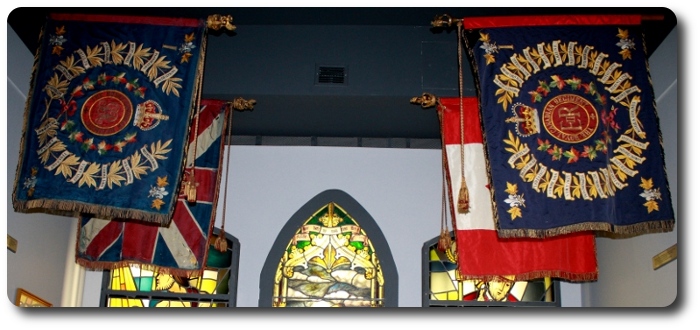 Retired Colours of The Royal Canadian Regiment, in the Quiet Room (chapel) of The Royal Canadian Regiment Museum, London, Ontario.
Battle Honours; not a scoring system
"Battle Honours,", Major T.J. Edwards, M.B.E., F.R.Hist.S.
The Army Quarterly and Defence Journal, Volume LXXIII, January 1957
The publication of awards [i.e., Battle Honours] to regiments for the [Second World War] will inevitably cause those "enthusiasts" who make a hobby of totting up each regiment's list to declare that this or that regiment is the "best" on active service, whatever that might mean, because it has more "names" of actions than any other regiment. It is impossible to assess the value of regiments or corps on this basis, if only for the fact that not all are granted battle honours, and never have been, although practically all are represented in every expedition of any size. There are other reasons also. Some regiments have been awarded honours when their strength at some engagements was well below 50 per cent, a fact which applies to composite battalions particularly. One Regular Regiment bears an honour though it had less than 25 per cent and no headquarters in the campaign. As already shown, honours have not been granted under identical rules, e.g., for the three days' hard fighting 16th-18th June, 1815, the solitary honour "Waterloo" was awarded, yet some quite minor affairs of a few hours' duration in the Middle and far east have been commemorated by battle honours for each. For some campaigns an honour has been granted for each separate action, and, in addition, a campaign honour, e.g., "Peninsula" and "Afghanistan, 1878-79," whereas in other campaigns no campaign honour has been awarded, e.g., Marlborough's wars, the Crimea, Indian Mutiny, Mahratta war. The mention of Marlborough's wars reminds one that no honours at all have been awarded for the concurrent operations in Spain during the War of the Spanish Succession, except for the capture of Gibraltar. There are far too many variable features connected with this question to enable anything like an accurate assessment to be made.

Posted by regimentalrogue at 12:01 AM EDT
Updated: Sunday, 1 June 2014 12:06 AM EDT