Canadian Military Aviation, 1916
Topic: RCAF
The State of Canadian Military Aviation, 1916
The Canadian Annual Review War Series; 1916, by J. Castell Hopkins, F.S.S., F.R.G.S., published 1918 (pp. 300-302)
H.R.H. the Governor-General … "endorses the War Office letter to the effect that if you train 5 to 10 candidates per month for the Royal Flying Corps, … they will be accepted for enlistment in the Royal Flying Corps…" It was, however, pointed out … that "this has nothing to do with a future Canadian Flying Service, as His Royal Highness understands that the Canadian Government does not contemplate any such department at present."
Aviation called for a select and limited number of men; it required special aptitudes and training. As a military arm in Canada it had during 1915 no strong official support as the Minister of Militia was understood not to care for this branch of the Service in comparison with others. During that year there had been tentative private efforts at organization and training and the raising of the necessary funds; an active class of young men were anxious to take up aviation and a movement along this line was energetically pressed by Col. W. Hamilton Merritt of Toronto. It was understood that the British War Office wanted aviators and individual Canadians who went over from time to time soon found a place in the British service when its requirements were met. Col. Merritt wrote the War Office as to his efforts to organize a Canadian Fund for the purpose of training aviators, which he had started months before, and a reply of Feb. 18, 1916, stated that his scheme should prove of "material assistance" and that "on completion of their training in Canada, these men would be enlisted in the Royal Flying Corps as 2nd-class air mechanics, draw pay as such at the rates provided in the royal warrant for pay, etc., and be granted free passage." Meanwhile Lieut.-Col. C.J. Burke, D.S.O., had been sent to Canada to make extensive first-hand inquiries regarding the possibility of training young Canadians to become military and naval aviators. He had travelled from coast to coast making inspections, and on his return to London early in 1916 was understood to have reported favourably upon the proposals of Col. Merritt and others in Toronto, Winnipeg and Vancouver who had been specially anxious in the matter.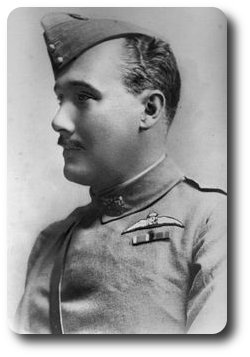 Lieutenant-Colonel Charles James Burke, DSO, (1881 or 82 – 9 April 1917) was an officer in the Royal Irish Regiment and the Royal Flying Corps and a military aviation pioneer.
Revived efforts followed with the appointment of a Committee in Toronto (A.G.C. Dinnick, Chairman) to arrange the establishment of a local Training School; the collection of a Fund in Vancouver to help the B.C. Aviation School in the purchase of 5 aeroplanes then under local construction; a statement dated Mar. 16 from H.R.H. the Governor-General that "he endorses the War Office letter to the effect that if you train 5 to 10 candidates per month for the Royal Flying Corps, who are under 30 years of age, medically qualified, of proved British birth and obtain a flying pilot's certificate, they will be accepted for enlistment in the Royal Flying Corps during the War." It was, however, pointed out by Col. E.A. Stanton in the same letter that "this has nothing to do with a future Canadian Flying Service, as His Royal Highness understands that the Canadian Government does not contemplate any such department at present." On May 12 the Naval Services Department announced from Ottawa that the Admiralty was calling for a limited number of trained aviators from Canada for commissions in the Royal Naval Air Service, and that, with a view to providing training, the Curtis Aviation School would be re-opened in Toronto. Canadian aviators wishing to enter the service were requested to apply to the Department and the age limits of candidates were set at 19 to 25 years. Only well-educated, athletic and thoroughly fit men, with excellent eye-sight, could be accepted. A month later nine casualties were announced amongst the 400 or more Canadian Aviators already in the British service.
Meantime the Curtiss Flying School of Aviation had been underway with 5 men a month in training at a payment of $1,000 each and, on July 13, a Deputation headed by Col. Merritt and Mayor Church asked the Ontario Government to either aid in the establishment of an Inter-Provincial School at Deseronto or join the Dominion Government in granting $100 to each student upon completion of his course; the City Council granted $8.00 a week to each student from Toronto preparing for the Royal Flying Corps; the British Government guaranteed $375 of his expenses to each accepted aviator. During the summer the movement extended and from London came a cable on Aug. 23 to the Montreal Gazette stating that "the establishment of a Canadian Flying Corps is urged not only for military utility but for commercial benefits, as it would mean a new industry for Canada, the proposal being to build the aeroplanes in the Dominion." It was added that 8 Canadian Flying officers were on their way to Canada to act as instructors. The Aviators in training at Long Branch, near Toronto, were inspected by H.R.H. the Duke of Connaught on Sept. 7 and a statement of work done and progress made by the Canadian Aviation Fund was read by Col. Hamilton Merritt who, also, urged the presentation by each Canadian Province of a squadron of 10 Battle-planes to the Royal Flying Corps. At the end of this month Capt. Lord Alastair Innes-Ker, D.S.O., arrived in Canada to recruit for officers and men in the Military branch of the Service and he visited Ottawa, Toronto, Montreal, Winnipeg, Regina, Calgary, Vancouver and Victoria.

Matters moved swiftly after this. Mr. Premier Hearst of Ontario returned from England in October strongly favourable to the establishment of a Canadian Corps and it was announced about the same time that an Aeroplane factory costing $1,000,000 and equipped to turn out 6 machines a month was to be erected in Toronto with advance contracts of purchase from the British Government. The project was to be financed by the Imperial Government, and controlled by a Board of three members one representing the Admiralty, one the War Office, with a business man nominated by the Imperial Munitions Board of Canada. It was understood that this action was taken as the result of a careful inquiry made in which the Board found that very large orders for aeroplanes had been placed in the United States—$12,000,000, for instance, with the Curtiss Company of Buffalo. On Nov. 24 it was stated that Canadian Aeroplanes, Ltd., a creation of the Board, had been organized with a capital stock of $500,000 for the purpose of taking over the Curtiss Aeroplane Co. plant in Toronto. Frank W. Baillie of the Canadian Cartridge Co., Hamilton, who had given to the Government $750,000, representing profits on war orders, was appointed Managing-Director.
J.W. Flavelle, E.R. Wood and Mr. Baillie were the men chiefly associated with the project which would, in time, involve many millions of capital and expenditure. In December the Naval Services Department called for more Canadian aviators for the Royal Naval Air Service and also for Canadian recruits as Naval Signallers and an Aero Club of Canada was formed, in touch with the Royal Flying Corps, with Col. Hamilton Merritt as President, Lieut.-Col. H.C. Cox, Toronto, Vice-President for Ontario; Carl Riordon, Montreal, Vice-President for Quebec; W. R. Allan, Winnipeg, Vice-President for Manitoba. Its objects were as follows: "To encourage various forms of aviation, to develop the science of aeronautics and kindred sciences, to encourage the manufacture of aeronautic devices, to plan conferences, expositions and contests, to issue pilots' licenses to qualified aviators, and to assist those desirous of taking up aviation with a view to serving in the War. The year closed with a complete Squadron of Canadian airmen at Belfort in France and other Canadian aviators in Mesopotamia, on the Somme, at Dunkirk and in East Africa. In Montreal the Canadian Division of the Aerial League of the British Empire continued in 1916 its active work with Sir H.S. Holt as President and G.R. Lighthall Hon.-Secretary.

Posted by regimentalrogue at 12:01 AM EDT