Traditional Officers' Rank Insignia
Topic: Militaria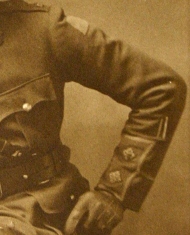 High resolution scan: Officers' cuff rank during the First World War.
Click for full-size.
Traditional Officers' Rank Insignia
In 2014, the Canadian Army was directed to change the officers' rank insignia from the stripes adopted on Unification of the Services back to a system of crowns and stars. Originally presumed to only require the removal of rank stripes from dress uniform tunics and the addition of new rank insgnia, the final plan will require the replacement of tunics for every officer. This additional requirement will increase the costs of this proposal, which was initially proposed, in part, as a low cost reversion to a system of rank badges that predated nearly every serving officer.
Now that the Royal Canadian Navy has returned to the executive curl on their officers' uniforms, and the Canadian Army is returning to crowns and stars, it remains to be seen if the Royal Canadian Air Force follows suit.
First World War
Army officers' rank badges could be found in two locations on the service dress uniform during the First Worls War. These are the cuff and the shoulders. Officers rank is indicated in cuff rank by stars and crowns and by the number of stripes around the cuff. On the shoulder the stars and crowns are used. ("Pips" is the commonly used name for the rank stars.)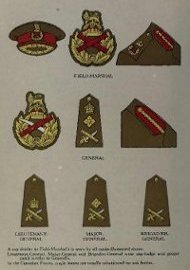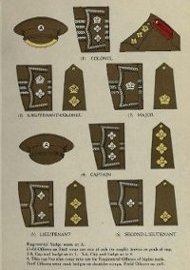 Rank badges of the Canadian Expeditionary Force. Source: Their Glory Cannot Fade, a souvenir pamphlet published by the Canadian Pacific Railway, Christmas, 1918.
Click on thumbnail images for full size.
Second World War
From the Canadian Army's 1942 Training Pamphlet No. 1, titled A General Instructional Background for the Young Soldier comes the following illustratings of traditional rank for the army, navy and air force.
The Canadian Army's New "Traditional" Rank Insignia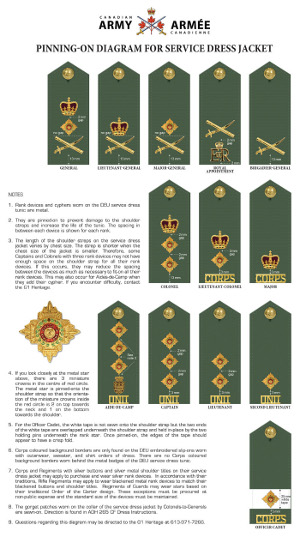 Posted by regimentalrogue at 12:01 AM EDT
Updated: Friday, 23 May 2014 2:26 PM EDT