French Weapon Ordered (1959)
Topic: Cold War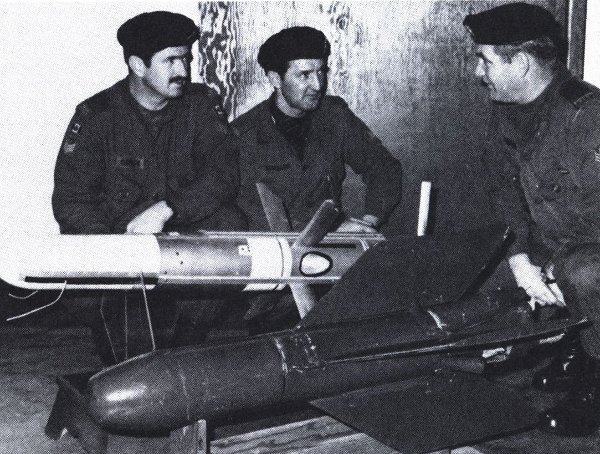 Sgts George Genge, Marc Bouchard and Peter Anderson compare mock-ups of the TOW missile (background) and the SS-11, which TOW replaced. Canadian Armed Forces Sentinel magazine 1977, Vol. 13, Number 2.
French Weapon Ordered (1959)
Ottawa Citizen, 16 April, 1959
By the Canadian Press
A fourth type of guided missile—this one a French weapon—has been ordered for Canada's armed forces, it was learned today.
The missile is the SS-10, an army anti-tank weapons said to be capable of knocking out the heaviest known tank.
Number Not Known
The purchase contract between the Defence Production Department and Nord Aviation of Paris, is classified so that the number of missiles on order is not known.
However, it is understood that the initial order is of limited quantity because the Canadian army first wants to evaluate the missile before ordering enough to equip all four brigade groups.
The United States Army also has the SS-10 on order from Nord Aviation.
The other three guided missiles on order for the Canadian armed forces are the antiaircraft Bomarc, scheduled to be installed in Canada in late 1961; the surface-to-surface Lacrosse, some of which will be obtained by the army this year, and the air-to-air Sidewinder, now in use with carrier-borne navy fighter aircraft squadrons. All three are American weapons.
The SS-10 is guided by infantrymen or tank men by remote control through wires which unreel as the missile heads for its target.
The missile can be launched from the ground, a ground vehicle, a helicopter or a plane. It can be carried and operated by a single soldier. Its range and speed are secret.
Acquisition of the SS-10 will overcome one of the Canadian army's biggest handicap; its inability to pierce the nine-inch armor plate of Russian tanks, except at extremely short range.
Other missiles wanted by the armed forces include a ground to air anti-aircraft weapon for the army, such as the American Hawk, and a surface to underwater weapon for the navy.

Posted by regimentalrogue at 12:01 AM EDT