US Army, 1941; "The Ration"
Topic: Army Rations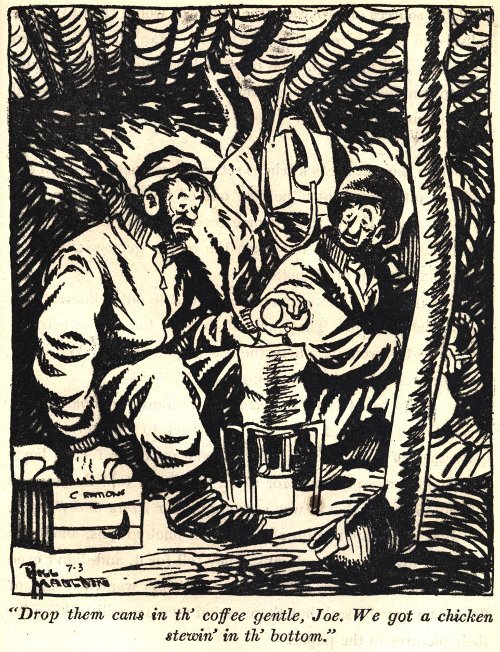 The two cartoons shown on this page are from the 1945 edition of Bill Mauldin's "Up Front."
US Army, 1941; "The Ration"
FM 21-100: War Department. Basic Field Manual; Soldier's Handbook, July 23, 1941
227. The Ration.—A ration is the allowance of food for the feeding of one person for one day. Each soldier is authorized to receive one ration each day that he is on the active list of the Army.
278. Kinds of Ration.—There are several different kinds of rations used in the Army of the United States, but the ones in which you will be interested are the following: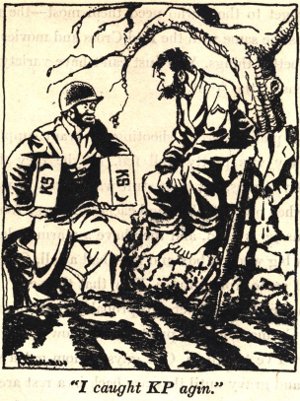 a. The garrison ration is that which the Government prescribes in time of peace for all persons entitled to a ration except under special circumstances when other rations are prescribed. The different items such as meat, fresh vegetables and fruit, beverages, bread, and other articles of food which make up that ration are called "ration components." The number af components and the amount of each required to give a soldier a well-balanced and nourishing daily diet have been carefully determined by food experts. The money value of the ration is figured each month from the wholesale costs of food to the Government, and your organization mess account is credited with the total amount required to feed a1l the men in your unit. The meals served by your organization mess sergeant in time of peace, and while Your organization is in a post, camp, or cantonment, will usually be prepared from the components of the garrison ration. After the mess sergeant has made up his menus he will buy the various articles of food required from the money which the Government has credited to your organization mess account. Some of these items he may buy from the quartermaster commissary. Others he may buy from local markets or farmers, in order to take advantage of certain foods in season or because the commissary may not have them in stock. Any savings which he makes are called "ration savings'' and become part of your unit mess fund, to be expended by your organization commander on extras for the mess on holidays or other special occasions.
b. The field ration is that prescribed for use in time of war or other emergency. In time of peace it may be used some-times for training purposes. The components are prescribed by the War Department or the commanding general of the field forces. No ration savings are permitted and the components are issued "in kind." This means that instead of your mess sergeant buying the various components of the ration from the quartermaster or in local markets, the quartermaster will issue to him certain items of food sufficient to feed all the members of your organization. There are four kinds of field rations:
(1) Field ration A corresponds as nearly as practicable to the peacetime Garrison ration and contains "perishable" items such as fresh meat and vegetables. It is issued as often as the circumstances will permit.
(2) Field ration B corresponds as nearly as practicable to field ration A, except that nonperishable or canned products replace the perishable items.
(3) Field ration C consists of previously cooked or prepared food, packed in sealed cans. and which may be eaten either hot or cold. Each ration consists of three cans of meat and vegetables and three cans of crackers, sugar, and soluble coffee.
(4) Field ration D consists of three 4-ounce bars of concentrated chocolate.
(5) Sometimes the field ration may be a combination of types C and D. In this case it will usually consist of two cans of meat and vegetables, two cans of the crackers, sugar, and soluble coffee, and two of the 4-ounce bars of concentrated chocolate.
279. Our Government spends more money for the food its soldiers than any other nation in the world. A great deal of time is spent on the training of mess sergeants and cooks and you will so discover that your food is better prepared, there is more of it, and it has a greater variety than that of most families in civil life. It is especially selected to build up your body and give you the energy and endurance which will carry you to success on the battlefield. If at first it seems strange to you and you miss the meals with which you are familiar, do not be tempted to eat in neighboring civilian restaurants. You wiIl profit both in your pocket and stomach if you eat all of your meals in your organization mess.
280. When you go into the field your mess sergeant and cook will accompany you. There is special cooking equipment in your organization which will follow you. On this your foo can be prepared in the same way as it is cooked on the stoves of youe barracks or cantonment. During combat all organization kitchens are usually grouped in sheltered locations in rear where the meals can be prepared without interference by the enemy. Immediately after dark, trucks bring the cooked meals forward so that they can be distributed by carrying parties.
281. During Campaign.—During a campaign the commanding general of your division or a higher commander may direct that each soldier carry a field ration as part of his field equipment. He may decide to do this because he feel that the condition of the roads or transportation may delay the arrival of the cooked meals and in such a case he wants to be sure that no soldier goes hungry. A ration which is carried by a soldier is called an individual reserve. It will probably be field ration C or D, or a combination of both.
282. a. It may Sometimes happen during campaigns that you and one or more of your comrades may be separated from your unit If there is another organization near you, you will always be able to get a meal from it by reporting to its first sergeant or mess sergeant; giving your name and organization and explaining how you happen to be separated from your own unit.
b. If there is no other organization near, it may then be necessary for you and your comrades to cook your own meals, using your mess mess kits for this purpose and the Iood you have with you. Since you will probably have field ration C with you, this will be very easy. Simply heat one or more of the cans in hot water, and open them. If you, or any of your comrades, have had boy scout training you will probably be able to prepare a very good meal from the ration

Posted by regimentalrogue at 12:01 AM EDT
Updated: Saturday, 17 May 2014 9:12 PM EDT