477951 Private Frederick George Walker
The Royal Canadian Regiment
By: Capt (ret'd) Michael M. O'Leary, CD, The RCR
Frederick George Walker was born at Oshawa, Ontario, on 13 Sep 1895. He was the son of George and Elizabeth Walker.
A 20-year-old clerk, Walker attested for service with The Royal Canadian Regiment at Toronto on 15 Oct 1914. He was described on his attestation paper as 5 feet 7 inches tall, with a 36 inch chest, medium complexion, brown eyes and dark brown hair. Walker identified his mother, Mrs. George Walker, 160 Bruce St., Oshawa, Ont, as his next of kin. His religious denomination was Church of England.
On joining The RCR, Walker was initially assigned the regimental number 20081. This would later be changed to the Canadian Expeditionary Force (C.E.F.) service number 477951.
Walker was medically examined for overseas service in the C.E.F. and attested for C.E.F. service on 24 August 1915. He was at the Regimental Depot in Halifax at this time and joined the ranks of the Regiment as it prepared to sail to England after its year of garrison duty in Bermuda. As part of his administrative preparations for C.E.F. service, Walker assigned approximately half of his pay, $15.00 per month, to be sent to his mother. She also received $20.00 per month separation allowance.
On 13 Oct 1915, while the Regiment was training in England before going to France, Walker completed a Form of Will. In this will he left all of his estate to his mother.
Crossing the Channel and landing at Boulogne on 1 Nov 1915, Walker entered the theatre of war with The RCR. The Battle Honours awarded to The Royal Canadian Regiment over the next year and a half identify the major actions he was present for:
Local Operations, 1916. (Previous to the Allied Offensive)

Mount Sorrel; 2-13 June 1916

Operations on the Somme. (1 July – 18 November, 1916)

Somme, 1916; 1 July – 18 November 1916
Flers-Courcelette; 15-22 September 1916
Ancre Heights; 1 October – 11 November 1916

The Arras Offensive (9 April – 15 May, 1917

Arras, 1917; 9 April – 4 May 1917
Vimy, 1917; 9-14 April 1917
Walker enjoyed a leave rotation after a year of service in and out of the trenches, being granted 10 days leave of absence starting 5 Dec 1916. After delays in returning to the Regiment, the result of haphazard transportation for the movement of individual soldiers that were not a priority, he rejoined the battalion in the field on 17 Dec.
Having a service record with few entries, Walker's period of leave is the only event noted between his arrival in France and his final days. On 9 Apr 1917, the fateful date of the attack on Vimy Ridge by the Canadian Corps, Fred Walker was wounded in action. With a gun shot wound to the right knee (recorded with the abbreviation G.S.W. which applied to bullet, shrapnel, and splinter wounds) he was evacuated from the field of battle. On 13 Apr 1917, Walker was reported as seriously ill at No. 26 General Hospital, Etaples.
Fred Walker died of his wounds on 18 Apr 1917 at No. 26 General Hospital Etaples. He is buried in Etaples Military Cemetery, one of six Royal Canadians interred there. The cemetery grave register identifies Walker as a "Signaller."
Walker was entitled to receive the 1914-15 Star, British War Medal, and Victory Medal. These were sent to his mother, Elizabeth Walker. She also received a silver Memorial Cross and a Memorial Plaque with accompanying scroll.
Elizabeth Walker also received the War Service Gratuity to which Fred would have been entitled, a sum of $180.
The personalized inscription at the base of Fred Walker's headstone reads "In Loving Memory, Mother and Sisters."
Pro Patria
---
Visit a randomly selected page in The O'Leary Collection (or reload for another choice):
---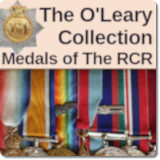 The O'Leary Collection—Medals of The Royal Canadian Regiment
Newest additions:


4824 / 15130 Sgt Alfred Charles Pearce
A soldier of many regiments.



A/758 Lance Corporal Hector McLean


"Killed in Action during a heavy bombardment at Hill 60, Zillebeke."


8260 / 2228308 Sergeant Joseph Marcil


A Permanent Force RCR, and CEF service in Canada.


878226 Private Thomas Joseph Pippy


"Reported missing [after action] Sept. 30th, 1918."


A3285 Pte William Rodgers Allison


Killed in action at Nissoria, Sicily, Italy.


9750 / 477030 L/Cpl George A. Baldwin


"Previously reported missing, … Killed in Action."


127514 Private Harry McBride


Underage, died in England, buried in Canada.



1033222 Pte John McKenzie Winter
RCR in the Great War, CGG in the Second World War.



Lieut.-Col. Edward McIntyre, E.D.
Injured in Italy with The RCR, Public Relations, and later command of his Militia regiment.


7578–477448–15055 Sgt Gordon Hymmen
Regimental sportsman and Great War veteran.