455084 Private William Mercer
The Royal Canadian Regiment
By: Capt (ret'd) Michael M. O'Leary, CD, The RCR
William Mercer was born at Dumfermline, Fife, Scotland, on 12 Apr 1890.
Having emigrated to Canada in the years before the First World War, Mercer decided to enlist for service in the Canadian Expeditionary Force (CEF). Mercer attested for service in the C.E.F. with the 59th Overseas Battalion at Belleville, Ontario, on 23 Jul 1915. A 25-year-old locomotive fireman, Mercer was described on his attestation paper as 5 feet 3 3/4 inches tall, weighing 155 pounds, with "extra good" physical development, a 41-inch chest, a complexion described as "inclined fair", blue eyes, and light brown hair. His religious denomination was Presbyterian. Mercer identified his mother, Mrs. Mary Ann Wilson, of Crossford, Fide, Scotland, as his next of kin. On attesting with the 59th Battalion, Mercer was given the regimental number 455084.
Mercer's service record reveals that he joined the 15th Regiment "Argyll Light Infantry" on enlistment and was taken on the strength of the 59th Battalion effective 4 Aug 1915. The 59th Battalion (Ontario), C.E.F., was authorized on 20 Apr 1915 and recruited in Eastern Ontario and Hull, Quebec and was mobilized at Barriefield (now CFB Kingston), Ontario. The unit embarked for Britain on 1 Apr 1916, where it provided reinforcements for the Canadian Corps in the field until 6 Jul 1916, when its personnel were absorbed by the 39th Battalion.
Mercer sailed from Halifax with the 59th Battalion on 1 Apr 1916, crossing the Atlantic on the troopship S.S. Olympic. The unit disembarked at Liverpool, England, on 11 Apr 1916. A few days after arriving in England, on 14 Apr 1916, Mercer was sent to the School of Field Entrenching at Bramshott.
Two and a half months after crossing the Atlantic, Mercer was headed to the front. On 28 Jun 1916, he joined a draft of reinforcements from the 59th Battalion to The Royal Canadian Regiment in France. Mercer crossed the Channel and was taken on strength of the Canadian Base Depot on 29 Jun 1916 as a reinforcement for The RCR. He proceeded to join the Regiment in the field the same day.
Mercer's is one of the more poignant service records, with no notations between his arrival at the unit and his final entries. His wartime service did not include incidents of wounding or injury and hospitalization. No courses or leave took him away from the unit for brief periods. Through the summer of 1916 the Regiment followed the cycle of rotations in forward trenches, support trenches, and reserve positions that would characterize the infantry experience of the Great War. Between the start of July and early October, 1916, the Regiment would cycle through the forward line of trenches four times, each rotation being about four days between relief operations. Like many soldiers of the war, Mercer's experience was one of the steady cycle between trenches and reserve, without major incidents that necessitated entries in his service record.
It was on 8 Oct 1916 that William Mercer would fall in battle. The names "Somme," "Ancre Heights," and "Regina Trench" are all applicable names for the action where he fell in battle. The Regiment's "Battle Bar Document" (prepared after the war by the Militia Department in anticipation of the possibility of clasps for the British War Medal) provides the following details for 8 Oct 1916:
"8 Oct 1916
"4.30 a.m. - Bn in "jumping off" position.
"4.50 a.m. - Bn advanced to the attack on REGINA TRENCH taking objective and many prisoners. The objective was held for four hours, during which time 3 counter-attacks were repulsed. Owing to Bn on Left having failed to reach their objective Bn was compelled to withdraw in order to avoid being outflanked."
The War Diary of The RCR relates a day of severe fighting on 8 Oct 1916 as the battle raged for Regina Trench. The narrative of the battle states only 140 effective members of the battalion marched from the battlefield, the remainder having been evacuated wounded, or buried. The following day's War Diary entry summarizes the cost:
class="indent50">9-10-16. – TRENCHES.
"Cloudy, not quite so cool. See Appendix No. 4. Total casualties reported to date are Captain SAPTE, Lieuts. SIMPSON, WALSH, SUTTON and PENNIMAN, Missing 8-10-16. Major HODSON, Major WOOD, Lieuts. DICKSON, DWYER, BELL and MURRAY, WOUNDED 8-10-16. Killed 7 other ranks. Missing 207 other ranks. Wounded 68 other ranks. It is expected that most of those reported missing will be located through slips from Casualty Clearing Stations as having passed through dressing stations of other regiments on our flanks."
Private William Mercer was reported "Missing after Action" on 8 Oct 1916. His next of kin would receive two cables regarding his death as the official classification of his status evolved. The first cable, on 24 Oct 1916, stated "Missing since Oct. 8th, 1916." The second cable, on 7 Jun 1917, was "Previously reported missing, now for official purposes presumed to have died on or since 8 Oct 1916."
For his service in the C.E.F., Mercer was entitled to receive the British War Medal and the Victory Medal. These were despatched to his mother at Crossford, Fife, Scotland, on 28 Sep 1923. She would also receive the Memorial Plaque and Scroll and a silver Memorial Cross. The plaque and crosses were despatched in 1921.
William Mercer is commemorated on the Vimy Memorial, Pas de Calias, France.
Pro Patria
---
Visit a randomly selected page in The O'Leary Collection (or reload for another choice):
---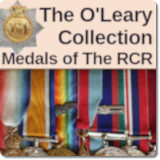 The O'Leary Collection—Medals of The Royal Canadian Regiment
Newest additions:


4824 / 15130 Sgt Alfred Charles Pearce
A soldier of many regiments.



A/758 Lance Corporal Hector McLean


"Killed in Action during a heavy bombardment at Hill 60, Zillebeke."


8260 / 2228308 Sergeant Joseph Marcil


A Permanent Force RCR, and CEF service in Canada.


878226 Private Thomas Joseph Pippy


"Reported missing [after action] Sept. 30th, 1918."


A3285 Pte William Rodgers Allison


Killed in action at Nissoria, Sicily, Italy.


9750 / 477030 L/Cpl George A. Baldwin


"Previously reported missing, … Killed in Action."


127514 Private Harry McBride


Underage, died in England, buried in Canada.



1033222 Pte John McKenzie Winter
RCR in the Great War, CGG in the Second World War.



Lieut.-Col. Edward McIntyre, E.D.
Injured in Italy with The RCR, Public Relations, and later command of his Militia regiment.


7578–477448–15055 Sgt Gordon Hymmen
Regimental sportsman and Great War veteran.