477260 Private Willard Dow
The Royal Canadian Regiment
By: Capt (ret'd) Michael M. O'Leary, CD, The RCR
Willard Dow enlisted in The Royal Canadian Regiment, a unit of Canada's Permanent Force, on 22 Jun 1914 at Halifax, N.S. The RCR had maintained its largest presence in Halifax since 1905, with the establishment of a regimental headquarters and six companies to replace the last departing British garrison unit in that city. Occupying Wellington Barracks, now the site of the Royal Canadian Navy's shore establishment HMCS Stadacona, the Regiment provided the infantry component of the port city's garrison troops.
A 20 year old farm labourer, Dow had been born at Storney-quick (sic) [Stoney Creek?] in Albert County, New Brunswick. On his CEF attestation paper, Dow is described as 5-feet 5-inches in height, with a 35 ½-inch chest, dark complexion, blue-grey eyes and dark brown hair.
Assigned the regimental number 9793, Dow could not have known that his new life as a soldier was about to be much more than a few tedious years of garrison duty in Halifax. During his first month of service, Dow was hospitalized at Halifax from 6 to 13 July 1914. He was diagnosed with influenza but recovered after spending the week in hospital. Within two months of Dow's enlistment, Canada was at war, and on 11 Sep 1914, The Royal Canadian Regiment sailed for Bermuda where they would serve for a year on garrison duty, relieving the 2nd Battalion, Lincolnshire Regiment, which sailed immediately for England.
On 12 Aug 1915, The RCR was relieved in turn by the arrival of the 38th Overseas Battalion from Canada. Returning to Canada, The RCR returned to Halifax for a stay of only a week. During this time, ether Regiment was re-attested for overseas service, dispensing with concerns that the Permanent Force enlistments under which the men served might not have sufficient authority for wartime service overseas.
The Regiment arrived in England on 5 Sep 1915 and commenced preparations to enter the trenches in France. Throughout that month, as the soldiers dealt with the well-known mud of Salisbury Plain, the unit was renumbered to the CEF service number block "477xxx" and Willard Dow was assigned the new service number 477260.
On 13 Oct 1915, while the Regiment trained in England, Dow would sign the army's Form of Will. In this document, in the case of his death overseas, he left all of his estate to his father, Albert S. Dow, of Hopewell Cape, Albert County, New Brunswick. Prior to this, Dow had identified the address of his father as next of kin in the Bronx, New York City.
Landing in France with the Regiment on 1 Nov 1915, Dow would serve with The RCR overseas until February 1919. His service record is remarkable for its brevity considering that he spent the entire war with the infantry. His record shows that he was sent to perform duties as a Driver in the 3rd Division Train, the division's supply column, commencing 10 Feb 1916, but he must have returned to the Regiment before June that year. Dow is mentioned in the Regiment's history during operations at Mount Sorrel in early June 1916:
"Throughout the engagement up to this time, the work of the non-commissioned officers of the Regiment had been of the highest order. In reporting upon their efforts later, officers found difficulty in choosing those deserving special mention, but a number carried out their duties in a manner so outstanding that mention of their names was inevitable. Among such were: Company Sergt.-Major A. A. Giles, whose leadership set a splendid example to all under his command; Corporal H. Brealey, whose bravery inspired his section during the heaviest stage of the German attacks; Sergt. J. Hoban, who went over the parapet in daylight and captured a German scout; Sergt. S. Flansberg, whose gallantry in the action was continuous; Sergt. A. Hunt, who similarly displayed bravery and devotion to duty during the whole engagement; Sergt. W. Lowe, who supplied a number of advanced posts with rations under heavy fire; Lance-Corporal P. Ball and Lance-Corporal H. J. Barlow, who again and again repaired broken telephone wires, ignoring danger; Corporal J. H. Williams, of the Signalling Section, who helped in caring for the wounded; and Corporal C. H. Pope, who, under fire, delivered messages of the utmost importance. Bravery and devotion to duty were also shown, among others, by Privates C. Mattisson, F.G. Walker, W. Dow, H.F. Dorman, L.F. Lally, P.E.E. Vickery, W.E. Bryan, G.S. Applegate, J.W. Miller, G. Donnell, W.O. Crowe, B.J. Sullivan, J. H. Brandon, C. Reynolds, J.A. Bassett, J. C. MacEwan, C. Shipp, E. Barradell, E.F. Rampton, and D.J. Campbell." (pp. 233, The Royal Canadian Regiment 1883-1933, by R.C. Fetherstonhaugh, 1936)
In 1917, Dow went on 10 days leave in Paris from 1 to 11 June. On 13 Jan 1918, he went to hospital. Diagnosed with "I.C.T." (inflammation of the connective tissue) in his right foot, he spent only one night at No. 9 Canadian Field Ambulance, returning to duty on the 14th. Surprisingly in comparison to many of his fellow soldiers' records, this was his only period of hospitalization during his whole time overseas.
Dow again went on leave in December, 1918, starting on the 12th until the 15th, and then receiving an extension until the 18th day of December. This short period of leave was followed less than two weeks later by what must have been a welcome surprise, when Dow was granted 14 days leave to the UK starting 31 Dec 1918.
In February 1919, Willard Dow, along with the rest of The RCR overseas, was processed for return to Canada and discharge. On 6 Feb, 1919, he was struck off strength of The RCR on transfer to the Canadian Record List. Willard Dow would next be struck off the strength of the Overseas Military Forces of Canada with effect 1 Mar 1919 on proceeding to Canada. Back in Canada, he would be discharged on demobilization at District Depot No. 6 at Halifax, N.S. Dow stated that his intended place of residence would be Moncton, New Brunswick. With his discharge taking effect on 11 Mar 1919, Dow left the service of the CEF and of The RCR. The final note in his record in the regimental enrolment ledger that recorded his 1914 Permanent Force enlistment adds that his character was "Good."
A notation on the medal index card in Dow's file leaves an intriguing clue to his post war life. Dated 3 May 1921, the card identified his address at that time as Dorchester Penitentiary, Dorchester, New Brunswick. It does not confirm if he was there as staff, or inmate. Dow's medals were despatched to him on 24 Jun 1921.
Pro Patria
---
Visit a randomly selected page in The O'Leary Collection (or reload for another choice):
---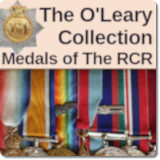 The O'Leary Collection—Medals of The Royal Canadian Regiment
Newest additions:


477951 Private Frederick George Walker


Wounded in action, 9 Apr 1917. Died of wounds, 18 Apr 1917.




Captain Percy McKinley Millman
"Percy Millman, a prominent insurance man of this city, has been named paymaster."


455084 Private William Mercer


Commemorated on the Vimy Memorial.


Lieutenant Bertram Tschudi Nevitt


"He died as he lived, a soldier and a gentleman, and at the very forefront of battle."


6420 Bugler (Private) William Thomas Durrant
Discharged from the C.E.F., medically unfit, on 18 Jan 1915.


715141 Private Edward Kay Irving
Wounded in action near Ypres on 16 Nov 1917.


455304 Private Clayton "Earl" Varcoe
Previously reported missing … now officially Prisoner of War.


3203064 Private Wilfred Seaforth Nicholas
Nicholas arrived at the Regiment on 13 Nov 1918.


455657 Private Ernest William Partridge


"He was wounded in the chest and left arm by bullets … and succumbed one week later at No. 49 C.C.S."


6056 Private David Henry Stayte


"Woodstock Private Killed In Action—Givenchy Survivor Falls"


12536 Private Gaudias "Jock/Grandpa/Pop" Villeneuve
"Grandpa" Villeneuve had a wonderful meal awaiting us.