444833 Private Aurele Guimond
55th Battalion (N.B. & P.E.I.), C.E.F.
The Royal Canadian Regiment
By: Capt (ret'd) Michael M. O'Leary, CD, The RCR
Aurele Guimond, a 33-year-old moulder from Lotbiniere, Quebec, attested for overseas service in the Canadian Expeditionary Force on 7 Jun 1915. Described in his service record, Aurele was five feet 4 and one-half inches in height with a 36-inch chest, dark complexion, blue eyes, and brown hair. Enlisting at Sussex, New Brunswick, with the 55th Battalion (New Brunswick & Prince Edward Island), C.E.F., he would identify his father Alexandre as his next of kin.
After training with the 55th Battalion, Guimond would sail from Quebec City with the unit on 30 Oct 1915. They would disembark in England at Plymouth on 9 Nov 1915. Guimond's first months in England would be marked by a few brushes with the military's justice system.
Drunk at Hythe, tried at Westerhanger 24 Feb 1916, awarded 14 days Field Punishment No. 2, fines $6.00, forfeited $21.40. Field Punishment No. 2 principally consisted of extra work and drill each day in addition to his regular duties.
Tried by a District Court Martial at Westhanger on 24 Feb 1916 for drunkenness and disobeying a superior officer, awarded Field Punishment No. 2 for 30 days and also forfeited $56.10 (nearly two months' pay).
Tried by a Regimental Court Martial at Dibgate on 31 May 1916 for breaking barracks on 31 May 1916. He had been held under arrest (for an unspecified crime) from 6 to 31 May before his break-out. He received a punishment of 35 days detention and forfeited $66.00.
During this period Guimond would also be given stoppages of pay for issues of kit (possibly replacing items lost or sold) amounting to $12.60 over three incidents. At a private's daily rate of pay of $1.00, this was an expensive habit.
As with many of the later CEF units, the 55th Battalion would be absorbed into the existing reinforcement system with the soldiers finding various paths to the front lines with a variety of units. Guimond was transferred to the 40th Battalion on 6 Jul 1916 and then to the 26th Reserve Battalion on 5 Jan 1917. Shortly after arriving at his new unit, Guimond again encountered the justice system. On 19 Feb 1917 he was awarded a summary punishment of the forfeit of five days pay for being absent without leave for two and one-half hours.
Aurele would finally leave England in February, 1917, proceeding "overseas", i.e., across the English Channel, to France as a reinforcement for The Royal Canadian Regiment (The RCR). Landing in France on 9 Feb 1917, he would proceed forward to the 3rd Division Entrenching Battalion on 22 Mar 1917, arriving at that unit of the 25th. The entrenching battalions were forward holding units which held a ready supply of reinforcements for the division's fighting battalions. They were also used as labour forces to maintain and build trenches or other work as needed.
Guimond would finally leave the 3rd Entrenching Battalion to join The RCR in the field on 4 April 1917, just five days before the assault on Vimy Ridge. His service record has a notable absence of detail which reflects the challenges of recording details of individual soldiers when thousands are simultaneously affected by battle conditions. The first note in Guimond's file after joining the unit states "Died of Wounds received in Action (G.S.W. Mult. Sev.)"
The moment of his wounding, how long he laid on the field of battle, when and to where he was first carried by the stretcher bearers, are all lost to us. We only know that he spent less than a week with a front line unit, that he suffered multiple severe gun shot wounds (which could be by bullet or shrapnel), and that he died of his wounds.
At the age of 37, Guimond died of his wounds on 13 Apr 1917 at No. 13 General Hospital, Boulogne. (The date of his death was first reported as the 14th of April but afterward corrected.) Between his wounding and being carried off the battlefield, he was evacuated the 115 kilometers from Vimy Ridge to Boulogne before succumbing to his injuries. We may never know how many hours he lay in ambulances, train cars, and medical staging points on his journey rearward, or how much effort went into trying to stabilize his condition and keep him alive for the surgery he undoubtedly needed at the general hospital.
A Medical Case Sheet in Guimond's service record provides a description of his wounds, treatment and death at No. 13 General Hospital:
"Multiple G.S.Ws. Compound fractures of left femur and tibia. Compound fractures right radius and ulna. Severe flesh wounds left shoulder, arm and forearm. Patient very weak on admission. Gas infection on thigh. Too weak to undergo operation. 2 pints saline infused intravenously. Pituitrin, Hot Coffee, Brandy, etc., administered. Gradually became weaker and weaker and died 13-4-17."
In 1920 and 1921, Guimond's medals, Memorial Plaque and Scroll would be sent to his widow, Mrs. Delia G. Guimond, in Manchester, New Hampshire. A Memorial Cross would also be sent to his mother, Selina Boulay Guimond, in Lotbiniere.
Aurele Guimond is buried in Boulogne Eastern Cemetery in the Pas de Calais, France. The family inscription at the base of his grave marker reads: "Pre Deo et Patria; Tho' Lost to Sight, to Memory Dear." Guimond is one of six Royal Canadians in this cemetery.
The Grave Register published by the Commonwealth War Graves Commission contains the following entry:
"GUIMOND, Pte. Aurele, 444833. Royal Canadian Regt. Died of wounds 13th April 1917. Age 37. Son of Alexandre and Selina Boulay Guimond, or Lotbiniere, P.Q.; husband of Mrs. D. Roy Guimond, of 467, Dix St., Manchester, New Hampshire, U.S.A.—IV. D. II."
Pro Patria
---
Visit a randomly selected page in The O'Leary Collection (or reload for another choice):
---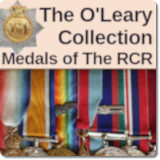 The O'Leary Collection—Medals of The Royal Canadian Regiment
Newest additions:


4824 / 15130 Sgt Alfred Charles Pearce
A soldier of many regiments.



A/758 Lance Corporal Hector McLean


"Killed in Action during a heavy bombardment at Hill 60, Zillebeke."


8260 / 2228308 Sergeant Joseph Marcil


A Permanent Force RCR, and CEF service in Canada.


878226 Private Thomas Joseph Pippy


"Reported missing [after action] Sept. 30th, 1918."


A3285 Pte William Rodgers Allison


Killed in action at Nissoria, Sicily, Italy.


9750 / 477030 L/Cpl George A. Baldwin


"Previously reported missing, … Killed in Action."


127514 Private Harry McBride


Underage, died in England, buried in Canada.



1033222 Pte John McKenzie Winter
RCR in the Great War, CGG in the Second World War.



Lieut.-Col. Edward McIntyre, E.D.
Injured in Italy with The RCR, Public Relations, and later command of his Militia regiment.


7578–477448–15055 Sgt Gordon Hymmen
Regimental sportsman and Great War veteran.