6420 Bugler (Pte) William T. Durrant
Royal Navy
22nd Regiment, Oxford Rifles
1st Canadian Infantry Battalion
By: Capt (ret'd) Michael M. O'Leary, CD, The RCR
William Thomas Durrant was born in Newbury, England, on 16 Jul 1896.
Having immigrated to Canada before the outbreak of the First World War, Durrant would claim prior service of four years spent on a naval training ship. His Canadian Expeditionary Force unit's sailing list recorded his "Former Corps" as the Royal Navy. A link on ancestry.com shows Durrant's name linked to the Training Ship Exmouth.
The original Training Ship Exmouth was a Crimean War era wooden two-decker line-of-battleship built in 1854 and was established as a training ship in 1877. This hull was replaced in 1905 by a similar vessel with an iron and steel hull. The Exmouth was moored on the Thames off Grays in Essex and was managed by the Metropolitan Asylums Board. It was instituted as a training ship for boys chargeable to the poor rates of the metropolitan parishes and unions and had accommodation for at least 500 boys. The boys were able to join the ship from the age of twelve. Aboard the Exmouth they learned to mend and patch their own clothes, wash their clothes, and keep their lockers in good order. They also learned the skills of sailing, rowing, sail and rope-making, gunnery, and signaling, and they continued ordinary school work and other physical activities such as swimming and gymnastics. The ship had its own band and a bugle-band. In 1892, admission to the ship was extended for up to 50 boys from parishes and unions outside the metropolitan Poor Law Area.
William Durrant went to the Exmouth from Henley Parish on 24 Oct 1908 at the age of 12. He was 4 feet 6 1/2-inches tall, weighing 80 pounds, and with a 26 1/2-inch chest. He was discharged three years later on 24 Oct 1911. In those three years, he had grown to 5 feet 2 inches in height, 104 pounds, and a chest measurement of 33 inches. His general conduct at the training ship was consistently rated as Very Good and he completed certificates in seamanship and band. Durrant first went to the Nelson Line's S.S. Highland Brae, rated as a Bugler, but soon returned to the Training Ship. He was discharged a second time on 22 Feb 1912, to the Nelson Line's S.S. Highland Scot. The Highland Scot was a mail steamer with insulated holds that brought meat from South America to Britain.
We may never know how Durrant ended up in central Canada by the summer of 1914. He was there and prepared to enlist with the Overseas Contingent of the 22nd Regiment, Oxford Rifles, at Woodstock, Oxford County, on 13 Aug 1914. With this unit's draft he proceeded to Valcartier to join a unit of the First Canadian Contingent.
Durrant was pronounced physically fit for service in the C.E.F. on 31 Aug 1914. On his examination form, under the heading "Slight defects but not sufficient to cause rejection" was entered "none."
Found fit to serve, Durrant attested for service in the Canadian Expeditionary Force (C.E.F.) with the 1st Canadian Infantry Battalion at Camp Valcartier on 15 Sep 1914. An 18-year-old porter, Durrant was described on his attestation paper as 5 feet 3 inches tall, weighing 140 pounds, with a 35 1/2-inch chest, a fair complexion, grey eyes, and fair hair. His religious denomination was Congregationalist. Durrant identified his mother, Mrs. Julie Durrant, 105 Gray's Hill. Henley-on-Thames, England, as his next of kin. On attesting with the 1st Battalion, Durrant was enlisted as a Bugler and given the regimental number 6420.
The 1st Cdn Inf Bn sailed for England from Quebec aboard the S.S. Laurentic on 3 Oct 1914. The unit arrived in England on 14 Oct 1915 with 45 officers and 1121 men. When the 1st Canadian Division went to France in early February, 1915, Durrant was not with his unit for the entry into the theatre of war.
Durrant was admitted to No. 1 Canadian Field Ambulance on 6 Nov 1914. Initially he was diagnosed with indigestion, but this was later determined to be pleurisy (inflammation of the lining of the lungs). He was subsequently admitted to Manor House Hospital at Bulford on 16 Dec 1914. Diagnosed with chronic pleurisy, he was recommended for a Medical Board and discharged from hospital the same day.
Three days later Durrant was back in hospital. On 19 Dec 1914, he was admitted to No. 1 General Hospital at Netheravon. Still suffering from pleurisy, his case notes read: "Long history of chest troubles. Been in various hospitals for chest. Is unfit physically."
Durrant's medical case notes recorded at Netheravon read:
"Admitted Bulford 16th and to Netheravon 19th. Complains of shortness of breath and cough and feels weak.
"In [??] Vaughans a month ago with dry pleurisy — discharged 3 weeks ago.
"For two or three months, two years ago attended a chest hospital (Royal Berkshire). Has cough for two years off and on.
"No sweats or haemoptesis (coughing of blood). Not very strong for two years
"Recently noticed dysponea on exertion, easily tired and is miserable having to be down. Thinks he has lost some weight. T[emp]. 97 2/5. P[ulse]. 90. R[espiration]. 30. at 12:15 a.m. Fairly nourished. Expansion slightly diminished on right side.
"Dullness at extreme right side. Feeble breathing over whole of right lung best heard at apex behind. Moist sounds over lower lobe behind, best heard at apex of lobe and scattered below."
Durrant was examined by a Medical Board at No. 1 General Hospital, Netheravon, Salisbury Plain, on 14 Jan 1915. Based on a diagnosis of chronic pleurisy, the Board recommended that he be allowed his discharge in England as medically unfit for further service.
William Durrant was discharged from the C.E.F., medically unfit, on 18 Jan 1915.
On 15 Jun 1920, Durrant was determined to be entitled to receive a War Service Gratuity (W.S.G.). For his service, he received $204.96. This oddly specific amount was based on an entitlement of 70 cents per day for 92 days of service. The resulting calculation of $210 was then decreased by an over-payment in his pay records from five years before of $5.04. A cheque for the full amount of his W.S.G. was sent to Durrant at 39 Havelock Terrace, Gravel Hill, Henley-on-Thames, England.
Having proceeded overseas from Canada to England, but not to a unit in France, Durrant was entitled to receive only the British War Medal for his service in the C.E.F. This medal was despatched to him at 105 Gray's Hill, Henley-on-Thames, England.
Pro Patria
---
Visit a randomly selected page in The O'Leary Collection (or reload for another choice):
---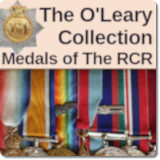 The O'Leary Collection—Medals of The Royal Canadian Regiment
Newest additions:


4824 / 15130 Sgt Alfred Charles Pearce
A soldier of many regiments.



A/758 Lance Corporal Hector McLean


"Killed in Action during a heavy bombardment at Hill 60, Zillebeke."


8260 / 2228308 Sergeant Joseph Marcil


A Permanent Force RCR, and CEF service in Canada.


878226 Private Thomas Joseph Pippy


"Reported missing [after action] Sept. 30th, 1918."


A3285 Pte William Rodgers Allison


Killed in action at Nissoria, Sicily, Italy.


9750 / 477030 L/Cpl George A. Baldwin


"Previously reported missing, … Killed in Action."


127514 Private Harry McBride


Underage, died in England, buried in Canada.



1033222 Pte John McKenzie Winter
RCR in the Great War, CGG in the Second World War.



Lieut.-Col. Edward McIntyre, E.D.
Injured in Italy with The RCR, Public Relations, and later command of his Militia regiment.


7578–477448–15055 Sgt Gordon Hymmen
Regimental sportsman and Great War veteran.