401159 / 491355 Private Albert Skelly
7th Regiment "Fusiliers"
33rd Canadian Overseas Battalion, C.E.F.
The Royal Canadian Regiment
By: Capt (ret'd) Michael M. O'Leary, CD, The RCR
Thomas "Albert" Skelly was born in London, Ontario, on 18 Nov 1894. Albert's father was William Skelly, an Irish born plumber in London who married twice and fathered fifteen children between 1870 and 1906. Albert was the second of six children born to his father's second wife, Annie (nee Foster).
The Skelly family can be found in the 1901 and 1911 Canadian Censuses, with not unexpected differences in the recording and transcription of names and ages. The 1901 Canadian census shows the family in London, headed by William (58) and Annie (30). Five-year-old Albert is one of 11 Skelly children living at home, ranging in age from 22 to one.
On 27 Jun 1902, The Advertiser of London listed Albert Skelly among the pupils graduating from Kindergarten to Primary at the Wortley Road School. Papers including similar lists in later years show his progression through the school.
Albert's mother died in September, 1904, when he was nine years old.
Vernon's Directory for the City of London in 1908 lists William Skelly as a plumber with his business at 243 Dundas St. and his residence at 123 Tecumseh Ave. Also shown under the surname listings are sons George, James, and Matthew as plumbers or pipe fitters working for their father and William, Jr., as the company bookkeeper.
On 7 Jul 1909, The Advertiser published the winners of sports at the St James' Sunday School picnic. Albert Skelly won the race for senior boys (14 and over). He also came in third in the Boys' Boot and Shoe novelty race.
The family's appearance in the 1911 census shows that William did not remarry after the death of his second wife and it is likely that the older daughters living at home helped to raise their younger siblings. In 1911, William (66) is shown with nine of his children still living with him, aged from 30 to 11, including Albert (17). Albert is recorded as a plumber by trade, working 55 hours per week to earn $200 per year.
The 1915 edition of Vernon's Directory for London also shows the Skellys well engaged in the family plumbing business. Working for William as plumbers are sons Albert, James, Matthew, Robert, and Stanley. William, Jr., is still keeping the books.
Albert Skelly attested for service in the Canadian Expeditionary Force (C.E.F.) with the 33rd Overseas Battalion at London, Ont., on 13 Jul 1915. A 20-year-old plumber, Skelly was described on his attestation paper as 5 feet 8 inches tall, weighing 140 pounds, with a 34 1/2-inch chest, a medium complexion, blue eyes, and dark brown hair. His religious denomination was Church of England. Skelly identified his father, William Skelly, 123 Tecumseh Ave. (later changed to #137), London, as his next of kin. On attesting with the 33rd Battalion, Skelly was given the regimental number 1837, which changed to 401159 when the battalion adopted its designated service number block. Skelly claimed prior service of 1 year 6 months with the local Militia regiment, the 7th Regiment "Fusiliers."
Commencing March, 1916, Skelly established a monthly Pay Assignment of $20 to be sent to his father. As a Private in the C.E.F., Skelly was paid $1.00 per day plus an additional ten cents daily field allowance. His pay assignment represented about two-thirds of his monthly pay.
The 33rd Battalion, C.E.F., authorized on 7 Nov 1914, was an infantry battalion recruited and mobilized in London, Ontario. The unit embarked for Great Britain on 1 Apr 1916 aboard the S.S. Lapland and was redesignated the 33rd Reserve Battalion on 6 Apr 1916. The 33nd Bn. provided reinforcements to units in France until 6 Jul 1916 when its remaining personnel were absorbed by the 36th Bn.
After remaining with the 33rd Bn. for one month in England, Skelly was transferred as a reinforcement for The Royal Canadian Regiment on 7 May 1916. Although his service record does not detail his progression to the front, we know that he crossed the Channel the following day. He was taken on the strength of The RCR on 8 May 1916, which would have been his date of arrival in the theatre of war. The Regiment's War Diary for that date notes "38 Other ranks Reinforcements arrived from overseas, remained at Transport Lines." (A review of the Part II Daily Orders of The RCR shows that a total of 50 soldiers were taken on strength that date from the 33rd Battalion.)
Skelly and the other newly joined soldiers probably remained in the rear area until the Regiment was relieved in the front lines on 15 May. On that night, The RCR moved into Divisional Reserve for a week, offering an opportunity to integrate the reinforcements. A period spent in Reserve would have also introduced the new men to one of the harsh realities of service at the front, nightly working parties while out of the forward trenches.
A week of Brigade Reserve followed and on 30 May 1916, Skelly and The RCR returned to the trenches in the vicinity of Hooge. For the summer of 1916, he would experience the cycle of front line trenches, support trenches, reserves, marching, and training that were the life of an infantry battalion on the Western Front. Few tours of the front lines were without casualties, and even when out of the most forward trenches, the reach of enemy artillery could take its toll.
On 11 Jun 1916, Skelly would also be informed that he was to receive a new service number. In his records, it was changed from 401159 to 491355.
Between the end of May and August 1916, The RCR would execute six tours of the front line trenches. These would be separated by periods in Brigade, Divisional, and Corps Reserve. The Regiment's list of Battle Honours shows that this was the summer of "Somme, 1916" between 1 Jul and 18 Nov 1916 and the battle of "Flers-Courcelette," 15-22 September 1916. Skelly's luck would hold until after the Regiment was on a front line tour of duty that began with orders to move on 15 Sep 1916.
In the Regiment's War Diary is a narrative appendix written by the Commanding Officer, Lieut.-Col C.H. Hill, describing the Regiment's actions on 15-17 Sep 1916:
"September 1916
Appendix 6A
"Narrative of Events
15th, 16th & 17th September, 1916.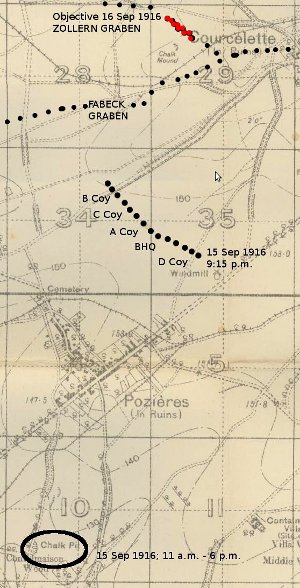 "The Royal Canadian Regiment was bivouaced on the BRICKFIELDS (W.21.b) and at or about 9.15 a.m. on the 15th September 1916 order was received from the 7th Canadian Infantry Brigade, commanded by Brigadier General A.C. Macdonell, C.M.G., D.S.O., to proceed at once to USNA HILL and there await further instructions.
"The Regiment duly arrived at or about 11 a.m. and later on instructions were received for us to proceed to the CHALK PITS (X.10.c). At 6 p.m., the Regt. moved forward to Old British Line R.35.c.6.5. to R.34.b.4.5. with left flank on road in R.34.b.4.5. and again awaited further orders. We were the Reserve Battalion in the Bde. Bn. Hdqrs. were established in an open trench at R.35.c.1.8.
"At 9.15 p.m. on the 15th the Bn. was distributed as follows:— reading from right to keft - "D" Co, Hdqrs, "A" Co, "C" Co., "B" Co. Up to this hour the casualties in the Bn. were about 15, including Lieuts. NAYLOR and BATE. The latter having his wound dressed returned to his Company with expedition. Rifle and M.G. fire were practically nil, but shellfire was very heavy, including all calibre. At 7.30 a.m. on the 16th Bn. Hdqrs were moved to a trench called CENTRE WAY (R.34.d.2.3.) in a deep dug-out.
"At about 1. p.m. I received instructions to proceed to Brigade Hdqrs. and there received orders for the R.C.R. to attack the ZOLLERN GRABEN between points R.29.a.6.5. and R.29.a.2.8. The 42nd Bn. co-operated on our left. We also had instructions that, having gained the objective, we should bomb S.E. to junction FABECK GRABEN and establish touch with the P.P.C.L.I. who were operating on our right.
"Zero time was 5. p.m. At this hour the Bn. was disposed as follows:— "A" Co. & "D" Co. in FABECK GRABEN, "C" Co. in SUGAR TRENCH, "B" Co. in OLD BRITISH TRENCH. The Artillery Barrage was to have commenced at 4.45 p.m., but according to reports the few shells that went over burst well in rear of the objective and caused practically no damage to the Hun, who was holding his line very thickly.
"A" and "D" Cos. advanced about 75 yds from FABECK GRABEN in the face of extremely heavy rifle and M.G. fire together with considerable artillery fire. The casualties were heavy and the advance was held up about 150 yds from the ZOLLERN GRABEN. At this juncture Lieut. PENNIMAN, finding himself alone and unable to find any other fit men near him, proceeded to a point about R.29.a.8.5. where the Regimental Bombers, together with the P.P.C.L.I. were bombing up the ZOLLERN GRABEN. Here I understand the machine gun which had done considerable damage to us was put out of action by our bombs.
"At 6.25 p.m. orders were received to move "C" & "B" Cos. to FABECK GRABEN at once. The Bn. was in position in and about the FABECK GRABEN until relieved by elements of the 52nd and 60th Bns. at or about 4. a.m. on the morning of the 17th, when we proceeded to bivouacs at TARA HILL. The total casualties as far as can be ascertained amount to 1 Officer killed, 4 wounded and about 279 O.R. killed, wounded or missing."
Once the Regiment was out of the lines, a revised casualty list put the number of Other Ranks killed, wounded and missing at 264. One of the wounded, luckier in that respect to many of his peers, was Private Albert Skelly. Shot in the arm during the attack on 16 Sep, he would spend the next week in the medical evacuation system.
Evacuated from the front and to England, Skelly was admitted to Temple Road Auxiliary Hospital on 22 Sep 1916. This was an ancillary facility of 1st Western General Hospital, Fazakerley, Liverpool. Skelly's injury was described as a perforating G.S.W, (i.e., gun shot wound, a term applied to wounds by bullet, shrapnel, or splinter) of his right forearm. Also effective 22 Sep 1916, on being removed from France to England, Skelly was posted from The RCR to the Canadian Casualty Assembly Centre (C.C.A.C.), headquartered at Folkestone. This would be the administrative unit responsible for him while he was in treatment and recovery until he could return to the Regiment.
On 29 Sep 1916, The London Advertiser included, in a column on overseas casualties, the news that "William Skelly, of 137 Tecumseh avenue, received a message that Pte. Albert Skelly, 491355, is in the First Western general hospital at Liverpool, having been admitted on Sept. 23, with a wound to the right arm."
Skelly was admitted to the Canadian Convalescent Hospital, Hillingdon House, Uxbridge, Middlesex, on 6 Oct 1916. His case notes stated: "Somme, 16 Sep 1916. To Dressing Station, then to No. 2 Canadian Stationary Hospital, Treport, 5 days. Then to Temple Rd Hosp., Birkenhead."
Discharged from Hospital on 1 Nov 1916, Skelly went before a Medical Board the following day at Shoreham-on-Sea. The Board assessed his present condition at the time as "G.S.W. right forearm, wound entrance and exit healed. No atrophy. Slight stiffness 4th and 5th fingers." He was considered fit for duty and on 6 Nov 1916, Skelly was attached to the 2nd Canadian Convalescent Depot (C.C.D.), Hastings, for full duty.
The nature of Skelly's attachment to 2nd C.C.D. changed on 14 Dec 1916. He reverted to the C.C.A.C. but remained at 2nd C.C.D. On Command, i.e., as a temporary duty assignment without changing parent units. On 12 Feb 1917, he was admitted to the Canadian Military Hospital, Bramshott, Hastings, suffering from synovitis of the left knee.
On 10 Mar 1917, Skelly was struck off the strength of the C.C.A.C. on transfer to the Nova Scotia Regiment. With this change, he again remained On Command to 2nd C.C.D. With this posting, Skelly belonged to the Nova Scotia Regimental Depot (N.S.R.D.), which was part of the new regionally based reinforcement system. This new organization of the reinforcement system created regionally named Depot units which took in troops from battalions raised in those areas in Canada and provided reinforcement drafts to similarly designated fighting units. The RCR, having been headquartered in Halifax in the decade before the War, was associated with the N.S.R.D. These Depots also became the parent unit for any soldiers returned to England from their affiliated battalions in France and Flanders.
Skelly appeared before another Medical Board at Hastings on 1 May 1917. His disability was recorded as "synovitis, left knee" which had begun in February, 1917, following a case of chancroid in the three months previous. His knee continued to be weak and swollen with over-exertion. Skelly was considered fit for duty with a medical category of "Ciii." Category "C" men were considered fit for service in England only.
Discharged from hospital on 7 May 1917, three days later Skelly was struck off strength of the N.S.R.D. to the Base Depot of the Canadian Forestry Corps (C.F.C.) at Bramshott. On 28 May 1917, he was taken on the strength of No. 3 District C.F.C. (No. 62 Company).
No. 62 Company, C.F.C., was organized in July 1917 and redesignated as No. 119 Company, Canadian Forestry Corps on 7 August 1917. The company was employed at Iver Heath, Buckinghamshire from May 1917 to May 1918, after which it was moved to Wendover, Buckinghamshire.
On 19 Jul 1917, Skelly was admitted to the Canadian Military Hospital at Bramshott. While still in hospital, on 13 Aug 1917, he was struck off strength of No. 3 District C.F.C. (62 Coy) to the C.F.C. Base Depot.
After three more weeks in hospital, on 8 Sep 1917, Skelly was discharged from hospital. His pay records show that during this period he was hospitalized for venereal disease from 19 Jul to 8 Sep 1917. As a result, for the 52 days of his hospitalization and treatment, he was subjected to a loss of pay of 50 cents per day.
Skelly remained with the C.F.C. Base Depot for over a year until until 27 Nov 1918 when he was sent On Command to the Canadian Base Depot (C.B.D.) at Buxton in preparation for his return to Canada.
On 15 Dec 1917, Skelly embarked on the S.S. Northland at Liverpool. When the ship sailed he was struck off strength of the Overseas Military Forces of Canada to No. 1 District Depot in London, Ontario. The Northland arrived in Canada on 26 Dec 1918. Skelly travelled to London and on 29 Dec 1918 was posted to the District Depot's Casualty Company.
A "Medical History of an Invalid" form was completed on Skelly at London, Ont., on 22 Jan 1919. He was noted as having "Injury, right forearm" which was caused by a gunshot wound on 16 Sep 1916. Skelly's present disability was recorded as "Difficulty in using right arm due to pain below elbow from gunshot wound of forearm." Under Present Condition, the following was recorded:
"Objective signs: Scar of bullet entrance size of a bean at middle of external right forearm. Scar of exit size of 5¢ piece 1 1/2 inch below elbow, internal surface. Extension at elbow limited about 10 degrees. There is no atrophy of muscles. Flexion normal. Passive extension limited 10 degrees. Possibly due to slight synovitis following injury and the fixed position of elbow (splinted forearm and sling).
"Subjective: Pain in forearm below elbow when lifting, quick movements of the forearm cause a smarting pain in the muscles below the elbow. Grip of hand is normal. No disturbance of sensation."
The report summarized Skelly's service:
"He was serving in France, and was wounded in right forearm, Sep. 16, 1916. Sent to Clearing Station, then to 2nd Canadian General. From there to temple Road Hospital, Eng., where he remained 3 or 4 weeks. He was transferred to Axbridge, Convalescent for 6 weeks, then to Canadian casualty, where he detailed to duty."
Also noted was Skelly's other affliction, "Gonorrhoea, June, 1918, good recovery."
Skelly was given the medical category "Bii," which was applied to men fit for base units of the medical service, garrison, or regimental outdoor duty. The opinion of the Medical Board concluded:
"Inability to fully extend right arm (elbow) 10 [degrees] short of full extension. Motion and power otherwise perfect, only three months in France, in 1916. Disability so slight as to be hardly noticeable. [Question] No. 13 [i.e., Duration of disability – 3 or 4 months] scarcely applicable."
One month after he arrived back in London, on 28 Jan 1919, Albert Skelly was discharged from the C.E.F., medically unfit. On discharge, Skelly was eligible to receive a War Service Gratuity of $420. Cheques were issued to him in five installments between January and May, 1919.
Skelly is listed in Vernon's 1922 City Directory for London. He is shown as a pipe fitter, back to working for his father's plumbing firm. Brothers Harold, James, Matthew, and William, Jr., are also still with the company.
For his service in the C.E.F., Skelly was entitled to receive the British War Medal and the Victory Medal. These were despatched to him at 137 Tecumseh Ave., London, Ont, on 5 Apr 1922.
The Free Press, of London, in its 14 Jun 1924 edition, shared the following news on Skelly:
"Has head Cut.—Albert Skelly, employed on the construction of the new West London school, suffered a deep cut in his head on Thursday afternoon when struck with a lead pipe. He was taken to the office of Dr. S.G.T. Bean, where several stitches were required to close the wound. Mr. Skelly lives at 141 Tecumseh Ave."
Albert Skelly died at Westminster Hospital in London, Ont., on 10 Apr 1958.
Three of Albert Skelly's brothers also served in the CEF:
At the age of 41, Robert Skelly, a widower, enlisted for the 6th Canadian Engineer Training Depot Draft at London, Ont., on 13 Sep 1915 (C.E.F. No. 541768). He arrived in England on 25 Mar 1916 and was posted to the 6th Field Company, Canadian Engineers, 2nd Canadian Division, on 16 Oct 1916. Robert was wounded in action on 30 Apr 1917, the War Diary of the 6th Field Company noted one casualty: "No. 541768 Spr Skelly, R., wounded, shrapnel in legs and slight scratch on face, while working on Strong Point." Wounded in the left ankle and right thigh, he was evacuated to England by 3 May 1917. Robert never returned to France and sailed for Canada in November, 1917. He was discharged from the C.E.F. on 26 Mar 1918 with a 15% disability due to wounds. Robert Skelly died at Westminster Hospital, London, Ont., on 11 Aug 1963.
At the age of 26, Arthur Skelly enlisted in the 33rd Overseas Battalion (C.E.F. No. 400824) at London, Ont., on 15 Apr 1915. During his first year of service, Arthur showed that he was not a good fit for military discipline, repeatedly being absent without leave. After almost a year of service, he was diagnosed with chronic gonorrhea and discharged, medically unfit, at Quebec on 9 Mar 1916. Six weeks later, back in London, he re-enlisted in the C.E.F. with the 135th Overseas Battalion (C.E.F. No. 803163) at London, Ont., on 22 Apr 1916. He arrived in England on 20 Aug 1916 and was posted to the 15th Canadian Infantry Battalion on 6 Dec 1916. Among other disciplinary incidents, he was court martialed in April 1918 for drunkenness and destruction of private property, Arthur was found guilty and sentenced to 56 days of Field Punishment No. 1. His range of misbehaviours also extended to needing treatment for venereal disease and the associated stoppage of pay while in hospital. Arthur returned to Canada in April, 1919. He was soon back in hospital, suffering from nephritis, diptheria, and on the Syphilis Register. Arthur was discharged from the C.E.F., medically unfit, 18 May 1920. Arthur Skelly died on 26 Mar 1960.
At the age of 18, Lawrence Russell Skelly enlisted for C.E.F. service with the 135th Overseas Battalion on 4 Mar 1916 (C.E.F. No. 803015). He had 1 ½ years previous service with the 7th Fusiliers. Lawrence arrived in England 30 Aug 1916 and joined the 18th Canadian Infantry Battalion in the field on 3 Dec 1916. He was reported missing 24 Mar 1917 and later reported killed in action that date. The battalion War Diary reported three other ranks wounded and missing during raiding operations on the night of 23/24 Mar 1917. Lawrence Skelly is commemorated on the Vimy Memorial.
Pro Patria
---
Visit a randomly selected page in The O'Leary Collection (or reload for another choice):
---