477158 Private William Charles Carrothers
The Royal Canadian Regiment
By: Capt (ret'd) Michael M. O'Leary, CD, The RCR
Charles William Carrothers (as named on his attestation form) was born 21 Nov 1891 at Westminster, Middlesex, a small community south of London, Ontario, Canada. The son of Ninian and Margaret Carrothers, of Wilton Grove, Ontario; the family is shown in the 1901 and 1911 censuses of Canada.
In 1901, Ninian Carrothers is shown living with his three sons (H. Roy, age 11; and W. Charles, age 9; and Gordon, age 2) and one daughter (G. Laura, age 12) along with a Servant Ellen Butcher. By the 1911 census the family includes all of the same members, except that Ellen was now recorded as Ninian's wife (and the children's step-mother). [Charles] Wilfred [sic] Carrothers was 19 at the time of the 1911 census.
Carrothers enlisted in The RCR on 31 August 1914 at London, Ontario. His original regimental number was 9871. He reattested for overseas service with the Royal Canadian Regiment at Halifax, Nova Scotia on 22 August 1915. His name does not appear in the November 1914 roll of the Regiment serving in Bermuda, but notes in his service record do show that he paraded there for an anti-typhoid inoculation during July 1915. Carrothers probably formed part of a 'topping up' draft to the Regiment while it was in Bermuda.
Carrothers, a farmer, reported on attestation for the CEF at 24 years of age. He was five foot, nine and three-quarters inches tall, with a fair complexion, blue eyes and brown hair.
On 1 Nov 1915, Carrothers crossed the Channel to France with The RCR as a soldier of "A" Company.
Carrothers story is supported by a surprisingly empty service record. The first entries after his disembarkation in France relate to his wounding on 4 June 1916. Carrothers was first treated at No. 3 Casualty Clearing Station on 4 June and then immediately transferred to No. 13 Stationary Hospital at Boulogne. Carrothers' wounds were described in his records as "shrapnel wounds, head, leg and wrist." He died of his wounds in hospital on 6 June 1916.
On the 3rd and 4th of June 1916, The Royal Canadian Regiment was in the front lines astride the Menin Road. The War Diary these days as follows:
3 June 1916
Weather fine. Wind W. At 9. a.m. the enemy drove the remainder of the P.P.C.L.I. from the APPENDIX this leaving our right flank in the air. Nothing of importance took place during the remainder of the day with the exception of the intermittent bombardments. Lieut. F.R.L. De SALIS was killed by H.E. Shrapnel. Lieut. E.E. McCALLUM was badly but not dangerously wounded while endeavouring to obtain information concerning the relative positions of the enemy's and our own line. He took two men with him, one of which was killed, the other badly wounded. The latter Lieut. McCALLUM bandaged as best he could and carried him back to R.H.Q. and then collapsed before his own wounds could be attended to Lieut. DAVIS was evacuated with shell shock. Great difficulty was experienced in evacuating the wounded even after dark but all were got safely out on this night.
4 June 1916
Lieut. MORRISON was wounded in the arm. Nothing of importance occurred with the exception of the usual Artillery activity which developed into intense bombardment at intervals.
The regimental history adds to the description of the 4th of June:
"For the next two days, the Regiment maintained its position in the line. On June 4, desultory shelling was endured, the casualties included Lieut. T.F. Morrison, who was wounded in the arm. At 10.30 a.m. on June 5, an intense bombardment badly damaged the right section of the Battalion's front line, but the Lahore guns in support retaliated and the German fire soon died down."
As a Private soldier of the Canadian Expeditionary force, William Carrothers was paid $1.00 per day with an additional 10 cents daily field allowance. Of this he assigned pay of $20 monthly back to his step-mother in Ontario. His records note that, at the time of his death, he had $3.16 cash found in his effects.
Private Charles William Carrothers is commemorated on page 64 of the First World War Book of Remembrance. He is buried at the Boulogne Eastern Cemetery, Pas de Calais, France (Grave Reference: 1914. VIII. B. 88).
Private Carrothers was entitled to the 1914-15 Star, the British War Medal and the Victory Medal. A scroll and Memorial Plaque were sent to his father in 1921. No Memorial Cross was issued.
(Carrothers' name is misspelled in the Library and Archives Canada database of Soldiers of the First World War as "Carruthers", and his given names are shown as "Charles Wilfred" in the Canadian Virtual War Memorial. (CVWM))
---
Two of William Carrothers' siblings also served in the Canadian Expeditionary Force; 823414 Gordon Carrothers and Nursing Sister Laura Georgena Carrothers
Pro Patria
---
Visit a randomly selected page in The O'Leary Collection (or reload for another choice):
---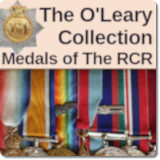 The O'Leary Collection—Medals of The Royal Canadian Regiment
Newest additions:


4824 / 15130 Sgt Alfred Charles Pearce
A soldier of many regiments.



A/758 Lance Corporal Hector McLean


"Killed in Action during a heavy bombardment at Hill 60, Zillebeke."


8260 / 2228308 Sergeant Joseph Marcil


A Permanent Force RCR, and CEF service in Canada.


878226 Private Thomas Joseph Pippy


"Reported missing [after action] Sept. 30th, 1918."


A3285 Pte William Rodgers Allison


Killed in action at Nissoria, Sicily, Italy.


9750 / 477030 L/Cpl George A. Baldwin


"Previously reported missing, … Killed in Action."


127514 Private Harry McBride


Underage, died in England, buried in Canada.



1033222 Pte John McKenzie Winter
RCR in the Great War, CGG in the Second World War.



Lieut.-Col. Edward McIntyre, E.D.
Injured in Italy with The RCR, Public Relations, and later command of his Militia regiment.


7578–477448–15055 Sgt Gordon Hymmen
Regimental sportsman and Great War veteran.