A-71109 Private Jack Thompson Davis
2nd (Res.) Bn., The Perth Regiment (Machine Gun)
1st Bn., The Canadian Fusiliers (City of London Regiment), CASF
The Royal Canadian Regiment
By: Capt (ret'd) Michael M. O'Leary, CD, The RCR
Jack Thompson Davis enlisted for service in the Canadian Army's Active Force (AF) at No. 1 District Depot, Wolseley Barracks, London, Ontario, on 2 March 1942. Before this, he has been serving since August 1940 in the 2nd Battalion of the Perth Regiment (Motor) (Reserve Force) at Stratford Ontario. His service number in the Perth Regiment was A-550077 and he had held the rank of Sergeant.
Born in 1922, Davis was 19 years of age when he enlisted. His discharge certificate describes him as being 5 feet, 11 ½ inches, in height, with a fair complexion, blue eyes, and brown hair.
A student at the time of his enlistment, Davis was living at 109 Hibernia St, Stratford, Ontario. His next-of-kin was his mother, Mrs. Gladys Davis, who was living at the same address. Davis had been born in Fort Erie, Ontario in 1922.
Davis spent only a week at the District Depot in London before being struck off strength to the Canadian Fusiliers (AF) at Listowel, Ontario, on 9 Mar 1942. Promoted to Acting Corporal on arrival, Davis went to western Canada with the Fusiliers on defence duties at Vernon, British Columbia. From here he was sent on 29 Jul, 1942, to the 2nd Canadian Parachute Battalion at Sarcee, and then attached to the A16 Infantry Training Centre in Calgary. After only a short period at the Training centre, Davis was returned to the 2nd Parachute Battalion on 13 August and returned to the Canadian Fusiliers on 18 Aug 1942.
Apparently still eager for an opportunity for active service overseas, Davis was struck off the strength of the Canadian Fusiliers on 13 Sep 1942. He was posted to the Canadian Army Overseas and, in the interim attached to No. 1 District Depot in London. On 25 Sep 1942, he was officially taken on strength of the Canadian Army Overseas and disembarked in England on 7 Oct 1942, being taken on the strength of No. 1 Canadian Division Infantry Reinforcement Unit.
Davis was designated as a reinforcement for The Royal Canadian Regiment on 10 Dec 1942 and taken on the strength of the unit the next day, reverting at the same time to his permanent grade (rank) of Private. He is one of six officers and 50 N.C.O.'s and soldiers identified in a regimental newsletter dated December 1942 as newly arrived in the field unit. Davis went on leave from 25 Jan until 3 Feb 1943. He went on another seven days of leave later that year from 7 to 14 June, 1943.
On 18 June, 1943, The RCR boarded ship. On leaving harbour the following day, the soldiers of the unit were taken on strength of the Canadian Army (Mediterranean) and they were en route for Sicily. Davis would disembark with The RCR on 10 July 1943 for the Landing at Pachino and the opening of the land campaign in Sicily and Italy.
In the fall of 1943, between September and November, Davis' heavily redacted service record (for this period) shows that he was moving between "X lists" at the time. This is possibly an indication of being sick or wounded or otherwise having to leave the unit during operational service. Unit Part II Orders show him transferred to the X-3 List on admission to hospital (Sick) on 2 Sep 1943. Davis was also admitted to hospital on 16 Sep 1943, for an undisclosed reason. He returned to the Regiment on 15 Nov 1943 until struck off strength again 19 Dec 1943.
Davis was "X-listed" again until 14 Feb 1944, when he was attached to the Canadian Section, General Headquarters, Second Echelon, for the Canadian Mediterranean Force. This attachment lasted until 14 March. During this period, Davis got into a spot of trouble, on 23 Feb 1944 he was charged and sentenced to 5 days' confinement to barracks and fine five days' pay for an offence under section 11 of the Army Act — "neglects to obey any general or garrison or other orders."
Davis was qualified and granted the designation T/P Clerk "C", i.e, a teletype operator, on 13 Dec 1944. With a few more entries of his service record redacted, Davis was transferred from Allies Armies in Italy (AAI) to Allied Forces Headquarters (AFHQ) by early 1945.
Davis returned to England from the AAI, arriving back in the UK on 18 Apr 1945. He was granted nine days' leave in July 1945, and then waited until August when he was repatriated to Canada. Taken on strength of No. 1 District Depot from overseas on 6 Aug 1945, Davis was sent on disembarkation leave from 12 Aug to 14 Sep 1945. After returning from leave, he was posted to S-5 Canadian Driving and Maintenance School at Woodstock, Ontario, on 19 Sep 1945, until he returned to the District Depot on 7 Dec 1945.
Jack Davis was discharged from the Canadian Army at No. 1 District Depot, Wolseley Barracks, London, Ontario, on 19 Dec 1945. Having served in the United Kingdom and Central Mediterranean Area, Davis was discharged on demobilization with an intention to "return to civil life." He was 23 years, 2 months, old at the time of discharge. His discharge certificate notes a "linear herniotomy scar" which may be a result of the reason why he left The RCR during the Italy campaign and was hospitalized some days after being struck off strength.
Davis was entitled to the following service medals: 1939-45 Star, Italy Star, Canadian Volunteer Service Medal with clasp, Defence Medal, 1919-45 War Medal. He also received a General Service pin, numbered 720540. Davis' medals are noted in his records as despatched to an address in Burlington on 14 Nov 1949. Notations and stamps made in 1982 (only the dates being recorded) suggest his medals were reissued that year.
Pro Patria
---
Visit a randomly selected page in The O'Leary Collection (or reload for another choice):
---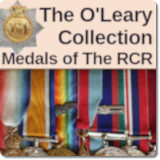 The O'Leary Collection—Medals of The Royal Canadian Regiment
Newest additions:


4824 / 15130 Sgt Alfred Charles Pearce
A soldier of many regiments.



A/758 Lance Corporal Hector McLean


"Killed in Action during a heavy bombardment at Hill 60, Zillebeke."


8260 / 2228308 Sergeant Joseph Marcil


A Permanent Force RCR, and CEF service in Canada.


878226 Private Thomas Joseph Pippy


"Reported missing [after action] Sept. 30th, 1918."


A3285 Pte William Rodgers Allison


Killed in action at Nissoria, Sicily, Italy.


9750 / 477030 L/Cpl George A. Baldwin


"Previously reported missing, … Killed in Action."


127514 Private Harry McBride


Underage, died in England, buried in Canada.



1033222 Pte John McKenzie Winter
RCR in the Great War, CGG in the Second World War.



Lieut.-Col. Edward McIntyre, E.D.
Injured in Italy with The RCR, Public Relations, and later command of his Militia regiment.


7578–477448–15055 Sgt Gordon Hymmen
Regimental sportsman and Great War veteran.