3186169 Private Thomas Joseph Tangney
The Royal Canadian Regiment
By: Capt (ret'd) Michael M. O'Leary, CD, The RCR
Born 23 Dec 1873 in Killarney, Ireland, Thomas Tangney was a 44-year-old machinist when he attested for over seas service in the Canadian Expeditionary Force. He enrolled at Camp Aldershot, Nova Scotia, on 25 Jul 1918 with "E" Company of the 1st Depot Battalion, Nova Scotia Regiment.
A married man, Tangney is described on his attestation paper as 5 feet 4 1/2 inches in height, with a 33 1/2-inch chest, dark complexion, brown eyes, and brown hair. His current address at time of enlistment, and the address of his wife, Margaret, as next of kin, was 88 Lawnsdale [Lonsdale] Ave., Pawtucket, Rhode Island, USA. Tangney's religious denomination was Roman Catholic.
Tangney sailed aboard the S.S. Ixion from Halifax, N.S., on 2 Aug 1918 and arrived at Liverpool, Eng., on 16 Aug 1918. He was immediately taken on the strength of the 17th Reserve Battalion at Bramshott and shown On Command, i.e., on temporary duty without changing parent units, to the Bourley Segregation Camp at Aldershot. Troops were placed in segregation camps to ensure that no communicable diseases would accompany them to France. In late 1918 the primary concern for this would have been the propagation of influenza through the C.E.F. After a month in the segregation camp, Tangney returned to Bramshott.
On 7 Nov 1918, Thomas Tangney was posted to The RCR. He crossed the Channel and landed in France on 8 Nov 1918 and was duly taken on the strength of the Regiment as a reinforcement.
Although he was officially on the unit's roll, there's little evidence to show that he actually made the journey from the Canadian Infantry Base Camp to join the Regiment in the field. On 16 Nov 1918, only eight days after being posted to The RCR, Tangney was classified "B.3," i.e., "men capable of sedentary work as clerks." As a result of this low category, he was transferred back to England and the Nova Scotia Regimental Depot (N.S.R.D.) at Bramshott on 26 Nov 1918.
The N.S.R.D. was part of the regionally based reinforcement system established in early 1918, with named Depots taking in troops from battalions raised in those areas in Canada and providing reinforcement drafts to similarly designated fighting units. The RCR, having been headquartered in Halifax in the decade before the War, was associated with the N.S.R.D. These Depots also became the parent unit for any soldiers returned to England from their affiliated battalions in France and Flanders.
Soon after arriving at the N.S.R.D., Tangney was posted to the Depot Company at Bramshott. On 19 Jan 1919 he was sent "On Command" to the Canadian Discharge Depot at Rhyl. From here, on 8 Feb 1919, Tangney was struck off the strength of the Overseas Military Forces of Canada (O.M.F.C.) for return to Canada.
Tangney returned to Canada aboard the S.S. Princess Juliana. He arrived in Halifax, N.S., on 17 Feb 1919 and was taken on the strength of District Depot No. 6 at Halifax. Medically examined before his release, it was noted that Tangney had a short forefinger on his right hand and that his eyesight was not as good as it had been on enlistment. He was discharged at Halifax on 5 Mar 1919 at the age of 45 years, 2 months.
For his service the Great War, Tangney received a War Service Gratuity of $216.20. This was paid out to him in five installments during March and April, 1919.
Having been posted to The RCR and being on the Regiment's roll and in France before 11 Nov 1918 was enough to ensure Tangney's entitlement to a pair of First World War medals. Thomas Tangney was awarded the British War Medal and the Victory Medal. These were sent to him at East Greenwich, Rhode Island, USA, on 17 Feb 1922.
Pro Patria
---
Visit a randomly selected page in The O'Leary Collection (or reload for another choice):
---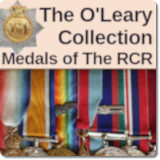 The O'Leary Collection—Medals of The Royal Canadian Regiment
Newest additions:


4824 / 15130 Sgt Alfred Charles Pearce
A soldier of many regiments.



A/758 Lance Corporal Hector McLean


"Killed in Action during a heavy bombardment at Hill 60, Zillebeke."


8260 / 2228308 Sergeant Joseph Marcil


A Permanent Force RCR, and CEF service in Canada.


878226 Private Thomas Joseph Pippy


"Reported missing [after action] Sept. 30th, 1918."


A3285 Pte William Rodgers Allison


Killed in action at Nissoria, Sicily, Italy.


9750 / 477030 L/Cpl George A. Baldwin


"Previously reported missing, … Killed in Action."


127514 Private Harry McBride


Underage, died in England, buried in Canada.



1033222 Pte John McKenzie Winter
RCR in the Great War, CGG in the Second World War.



Lieut.-Col. Edward McIntyre, E.D.
Injured in Italy with The RCR, Public Relations, and later command of his Militia regiment.


7578–477448–15055 Sgt Gordon Hymmen
Regimental sportsman and Great War veteran.