A-432 Corporal James Harold "Harry" Jessop
33rd Canadian Battalion, CEF
1st Canadian Infantry Battalion, CEF
By: Capt (ret'd) Michael M. O'Leary, CD, The RCR
James Harold "Harry" Jessop was born in Sandwich West, Essex County, Ontario, on 15 Dec 1895 (some sources give the year as 1894). Jessop's family, led by parents John (49) and Florence (43), can be found in the 1901 and 1911 Canadian Censuses. The two appearances of the family, although there are not unexpected differences in the recording and transcription of names, shows that Harry is the seventh child, and the fourth son, of nine offspring. In 1901, the family is shown with nine children ranging in age from 21 to 1, Harry (6) is the third youngest. By 1911, there are five children still at home including 16-year-old Harry.
Jessop attested for service in the Canadian Expeditionary Force (C.E.F.) with the 33rd Battalion at Windsor, Ont., on 19 Jan 1915. A 20-year-old farmer, Jessop was described on his attestation paper as 5 feet 8 inches tall, weighing 160 pounds, with a 40-inch chest, a fresh complexion, blue eyes, and golden hair. His religious denomination was Church of England. Jessop identified his mother, Mrs. F. Jessop, Sandwich West, Ont., as his next of kin. On attesting with the 33rd Battalion, Jessop was given the regimental number A-432, later as efforts were made to reduce the duplication of service numbers, the battalion received a new number block and Jessop's service number became 400432. Not all official references to Jessop's service number were changed to the new number.
After three months training with the 33rd Battalion, Jessop was transferred to the battalion's Machine Gun Section on 22 Apr 1915. He would only spend another two months before, as his service record notes, he "Left under sealed orders" on 17 Jun 1915.
Jessop appears in the CEF Sailing List for the 1st Reinforcing Draft sent overseas by the 33rd Battalion to provide reinforcements for the units already in France. The 33rd Bn Reinforcing Draft sailed from Montreal on 17 Jul 1915 aboard the S.S. Scandinavian. Disembarking in England on on 27 Jun 1915, Jessop was taken on the strength of the 12th Reserve Battalion at Shorncliffe and posted to No. 2 Company.
After two months at Shornecliffe, on 24 Aug 1915, Jessop joined a draft of reinforcements for the 1st Canadian Infantry Battalion. That same day, he left the Canadian Base Depot to join his new unit which he reached on 29 Aug 1915.
The 1st Battalion followed the cycle of rotations in forward trenches, support trenches, and reserve positions that would characterize the infantry experience of the Great War. Between the end of August 1915 and early April 1916, the Regiment would cycle through the forward line of trenches 19 times, each rotation lasting about four days between relief operations. Like many soldiers of the war, Jessop's experience was one of the steady cycle between trenches and reserve, without major incidents that necessitated entries in his service record.
On 2 Apr 1916, Jessop proceeded on nine days leave. He rejoined the unit on 14 Apr 1916. After another three rotations through the forward line of trenches, he was Appointed Lance Corporal on 13 Jun 1916, a bloody day of battle that added 51 names to the Battalion's list of war dead.
Four more trips through the front lines were to occur before Jessop was promoted to Corporal on 23 Sep 1916. This promotion came at the end of another costly tour of the front trenches. As a Corporal he served through another winter at the front and the following spring at Vimy and Arleux he came through unscathed. Unfortunately, Jessop's luck was to run out.
On 3 May 1917, in the opening moments of the Battalion's attack at Fresnoy, Jessop's war came to an end. A Circumstances of Death record for Jessop can be found among the files at Library and Archives Canada. The document provides the following details: "Killed in Action — While leaving the "jumping off trench" at 3.47 a.m. May 3rd, 1917, during an attack on Fresnoy, he was instantly killed by the explosion of an enemy shell."
The 1st Battalion captured and held the enemy trenches that were its objective. The War Diary, in its comments on 4 May 1917, counted the cost in casualties for the battalion of those two days: "Total casualties for tour:— Officers; 3 killed, 1 died of wounds, 16 wounded. Other Ranks; 48 killed, 7 missing, 208 wounded."
Harry Jessop has no known grave and is commemorated on the Vimy Memorial. His entry in the register for the Memorial reads: "JESSOP, Cpl. Harry, A342. 1st Bn. (Western Ontario Regt.). Killed in action at Fresnoy 3rd May, 1917. Age 22. Son of Frank and Florence Jessop, of Roseland, Ontario."
As a soldier of the C.E.F., Jessop was paid $1.00 per day as a Private, $1.05 as a Lance Corporal, and $1.10 as a Corporal. In addition to his pay he received 10 cents daily field allowance. Jessop had not established a pay assignment to send part of his pay home and seldom drew his full pay during any month. At the time of death, his pay account held $396.49 which became part of his estate.
For his service in the C.E.F., Jessop was entitled to receive the 1914-15 Star, the British War Medal, and the Victory Medal. These were despatched to his father at Jackson's Corners, Ont., on 18 Nov 1922. John Jessop would also receive the Memorial Plaque and Scroll commemorating his son's death in service. Jessop's mother would also receive a silver Memorial Cross. The plaque and cross would be despatched in 1920 and 1921.
Pro Patria
---
Visit a randomly selected page in The O'Leary Collection (or reload for another choice):
---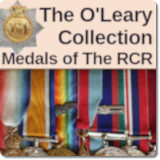 The O'Leary Collection—Medals of The Royal Canadian Regiment
Newest additions:


4824 / 15130 Sgt Alfred Charles Pearce
A soldier of many regiments.



A/758 Lance Corporal Hector McLean


"Killed in Action during a heavy bombardment at Hill 60, Zillebeke."


8260 / 2228308 Sergeant Joseph Marcil


A Permanent Force RCR, and CEF service in Canada.


878226 Private Thomas Joseph Pippy


"Reported missing [after action] Sept. 30th, 1918."


A3285 Pte William Rodgers Allison


Killed in action at Nissoria, Sicily, Italy.


9750 / 477030 L/Cpl George A. Baldwin


"Previously reported missing, … Killed in Action."


127514 Private Harry McBride


Underage, died in England, buried in Canada.



1033222 Pte John McKenzie Winter
RCR in the Great War, CGG in the Second World War.



Lieut.-Col. Edward McIntyre, E.D.
Injured in Italy with The RCR, Public Relations, and later command of his Militia regiment.


7578–477448–15055 Sgt Gordon Hymmen
Regimental sportsman and Great War veteran.