228218 Private David McKay
The Royal Canadian Regiment
By: Capt (ret'd) Michael M. O'Leary, CD, The RCR
David McKay was born on 13 Jul 1887 at Dundee Scotland. He later emigrated to Canada, living at one time in Toronto before moving west to Alberta. In 1916, wit the war in progress for a year and a half already, McKay decided that it was also his duty to serve.
McKay attested for overseas service with the 13th Canadian Mounted Rifles, CEF, at Calgary, Alberta, on 19 Apr 1916. At the time of his attestation, he reported prior service of three years with the 48th Highlanders at Toronto, Ontario.
Giving his civilian trade as 'salesman', McKay was 29 years, 8 months of age. He was described as 5'10" tall, with a 34-inch chest, and in good physical condition. He had a dark complexion, blue eyes and black hair. McKay next of kin was his wife, Mrs Elsie McKay, who was living at 816 5th Ave West, Calgary Alberta.
While he was serving as a soldier of the Canadian Expeditionary Force, McKay was paid a daily wage of 41.00 plus ten cents daily field allowance. Out of this, McKay assigned $20 per month to be sent back home to his wife.
Perhaps McKay's prior service as a Canadian Militia soldier held him in good stead, for it was only two months after attesting in Calgary that he found himself in Halifax ready to sail for England. On 28 Jun 1916, he was aboard the S.S. Olympic for the transatlantic voyage, landing in Liverpool a week later on 5 Jul 1916. Built in 1910 for the White Star line, the Olympic was a large four-stack liner reconfigured as a troopship in late 1915, she carried up to 5000 soldiers at a time.
Two weeks after arriving in England, McKay was transferred to the R.C.R. & P.P.C.L.I. Depot at Shornecliffe on 19 Jul 1916. He was subsequently struck off the strength of the Depot and taken on strength of The R.C.R. and proceeded overseas to France on 27 Aug 1916, landing on the continent the following day.
In the summer of 1916, the Canadian Corps was involved in the fighting on the Somme. Battle honours which the Regiment would gain that summer were:
Somme, 1916 (1 July - 18 November 1916)
Flers Courcelette (15-22 September 1916)
Ancre Heights (1 October - 11 November 1916)
Unfortunately, David McKay would not be able to go into battle at Ancre Heights with the Regiment. On the first day of that battle, while The RCR was still in billets waiting to move forward, McKay would be reported as Killed in Action as a result of enemy action.
The RCR War Diary for 1 Oct 1916, the date of McKay's death, contains the following entry:
1-10-1916. ALBERT.
Fine and warm mostly, one or two showers. Time was put back 1 hour at 1. a.m. (winter time) Regiment had Church Service in Cinema Tent, BRICKFIELDS, at 11. a.m. At about 2 p.m. Bosch put about a dozen H.E. into "C" Co. billets, apparently searching for 12" Howitzers on railway. We had 4 killed and 11 wounded. Began at once to move to TARA HILL, into bivouacs.
The other three soldiers killed that day were 228250 Pte. Albert Emmett Murphy, 455635 Pte. Ernest Sullivan, and 478043 A/L Cpl. George Edmund Young. These four Royal Canadians lie in neighbouring graves in the Albert Communal Cemetery Extension south east of the town of Albert in the Somme region of France.
With only five and on-half months service in the CEF and barely one month in France, 228218 Private David McKay became a casualty of the Great War by the misfortune of being killed by a artillery shell that was not fired at him as an infantry soldier, but at a nearby target.
Effective the date following his death, McKay's widow was eligible for a Pension payment of $64. From the presentation of this amount in his service record it appears to be an immediate payment to offset the loss of the soldier's assigned pay and was subsequently deducted from his War Service Gratuity once that entitlement was calculated.
Changes in address in McKay's service record show that Mrs McKay did not remain in Calgary after his death, with later addresses in both Toronto and Scotland being recorded.
McKay's service entitled him to a War Service Gratuity and a payment of $180 was authorized on 21 Jul 1920, which was decreased by the amount of the "Special Pension Bonus" previously paid to Mrs McKay.
On 21 Apr 1921, the Memorial Cross and Scroll shown at right were sent to Mrs McKay. The following year, on 30 Jun 1922, his medals, the British War Medal and the Victory Medal, were also issued to Mrs McKay.
228218 Private David McKay is buried in the Albert Communal Cemetery Extension, Somme, France.
Pro Patria
---
Visit a randomly selected page in The O'Leary Collection (or reload for another choice):
---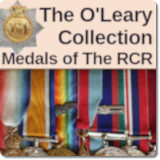 The O'Leary Collection—Medals of The Royal Canadian Regiment
Newest additions:


4824 / 15130 Sgt Alfred Charles Pearce
A soldier of many regiments.



A/758 Lance Corporal Hector McLean


"Killed in Action during a heavy bombardment at Hill 60, Zillebeke."


8260 / 2228308 Sergeant Joseph Marcil


A Permanent Force RCR, and CEF service in Canada.


878226 Private Thomas Joseph Pippy


"Reported missing [after action] Sept. 30th, 1918."


A3285 Pte William Rodgers Allison


Killed in action at Nissoria, Sicily, Italy.


9750 / 477030 L/Cpl George A. Baldwin


"Previously reported missing, … Killed in Action."


127514 Private Harry McBride


Underage, died in England, buried in Canada.



1033222 Pte John McKenzie Winter
RCR in the Great War, CGG in the Second World War.



Lieut.-Col. Edward McIntyre, E.D.
Injured in Italy with The RCR, Public Relations, and later command of his Militia regiment.


7578–477448–15055 Sgt Gordon Hymmen
Regimental sportsman and Great War veteran.