3180900 Private Walter Littlewood Harnish
The Royal Canadian Regiment
By: Capt (ret'd) Michael M. O'Leary, CD, The RCR
Walter Harnish was born on 18 Dec 1891 at Greywood, Annapolis County, Nova Scotia. The Harnish family appears in the Canadian census of 1901. Walter was the eldest of four sons (Walter, Austin, Guy and Harold) and two daughters (Mabel and Hattie) in the family of George and Alice Harnish of Milford, Annapolis County, Nova Scotia. By the 1911 census, the family has grown by another son (Arnold) and three more daughters (Olive, Blanche and Evelyn)
Two of Walter's brothers enlisted in the Canadian Expeditionary Force; 67772 Guy Prescott Harnish and 1060159 Harold Clifford Harnish. Guy attested for overseas service at Halifax on 25 November 1914, his regimental number is one assigned to the 25th Canadian Infantry Battalion. Harold attested on 31 Oct 1916 at Halifax, and received a service number showing him to be a recruit of the 246th Overseas Battalion. Harold, who also found himself in the 25th Canadian Infantry Battalion, was a casualty of the war, dying soon after the Armistice on 20 Dec 1918. Harold Harnish is buried in the Terlincthun British Cemetery in the Pas de Calais region of France.
Although the eldest, Walter was the third Harnish brother to join the Canadian Expeditionary Force, and not entirely by his own choice. Walter Littlewood Harnish was registered for conscription under the Military Service Act of 1917. He was medically examined on 21 Nov 1917 and from then waited to see when, or if, he would be called up.
Walter Harnish was called in early 1918 and attested for service up at Halifax, N.S, on 13 Mar 1918. He was assigned to the 62nd Draft, 1st Depot Battalion, Nova Scotia Regiment. Notably different from the many before him whose terms of service were "for the duration of the War", Harnish's terms of service, probably noting the possible end of the War in 1918, were listed as "War and 6 months". Walter was 26 years 3 months of age when he was called up. Standing 5 feet 8 inches tall, he had a 36 inch chest, a medium complexion, brown hair and brown eyes. Harnish reported his civilian trade as 'labourer'.
The draft of reinforcement troops with which Harnish crossed the Atlantic in the early summer of 1918, embarking for England in 25 Jun 1918 aboard the HMT Waimana. Launched in 1911, the 8100 tonne Waimana was a single-stack Shaw, Savill & Albion liner which would serve as a troop transport in both world wars.
Before sailing for England, Harnish started a pay assignment to his mother, Mrs Alice Harnish of Lequille, Anna Co., N.S., in the amount of $20 per month on 1 Jun 1918. This would be about two-thirds of his monthly pay at a rate of $1.00 per day for private soldiers. In addition to his pay he would also receive ten cents daily field allowance.
Walter Harnish arrived in England on 7 Jul 1918. On arrival in England he was taken on the strength of the 17th Reserve Battalion and shown on command to the Segregation Camp at Bramshott, where soldiers were sent at the time for a quarantine period of 28 days. He remained there until 4 Aug 1918.
Shortly after leaving the Segregation Camp, Harnish proceed to France on 7 Nov 1918 and was taken on the strength of The RCR on the 9th, two days before the end of the War. He was recorded as arriving at the Canadian Corps Reinforcement Camp on 11 Nov 1918, where he remained for almost a month. It was not until 7 Dec 1918 that Walter Harnish was sent up to join The RCR at Mons.
Walter Harnish's period of regimental service was to be short-lived. Five days after arriving in the unit lines, on 13 Dec 1918, he would be aboard Ambulance Train No. 1; diagnosed with Scabies. By 16 Dec 1918 he would be in the No. 25 General Hospital at Hardelot, a village on the Channel coast just south of Boulogne. From there he would proceed to No. 1 Command Depot, Boulogne, on 22 Dec 1918 and finally be discharged from hospital of 27 Dec 1918.
Taken on strength of the Canadian Infantry Base Depot on 30 Dec 1918, Harnish would return to England on 8 Jan 1919, two months after crossing the Channel into France. On recrossing to England, Walter Harnish would be taken on the strength of the Nova Scotia Regimental Depot. Harnish's time in England would be a series of transfers and preparation for repatriation to Canada. Harnish was struck off the strength of the NSRD to the 17th Reserve Battalion, Bramshott, on 13 Jan 1919.
On 12 Feb 1919, Harnish would subsequently be struck off the strength of the 17th Reserve Battalion to Military District No. 6 at Kinmel Park. Ten days later, on 22 Feb 1919, he would embark on the SS Cassandra en route to Canada. The Cassandra was another single-stack liner, launched in 1906 for the Donaldson Line. She would be used as a troopship throughout the Great War. Effective that same date, he would be taken on the strength of No. 6 District Depot at Halifax, and posted to the Casualty Company.
Harnish's ship docked at St. John, New Brunswick, on 6 Mar 1919. He traveled to Halifax where he was discharged on 27 Mar 1919 by reason of demobilization. For his service, Harnish would be eligible to receive a War Service Gratuity of $280, which was paid to him in installments between April and July of 1919.
Walter Harnish received the British War Medal and the Victory Medal for his service, these medals were mailed to him on 13 Jun 1922.
Walter Harnish died died on 21 January 1948 in Lequille, Annapolis, N.S., he is buried in Woodlawn Cemetery, Lequille, NS.
Pro Patria
---
Visit a randomly selected page in The O'Leary Collection (or reload for another choice):
---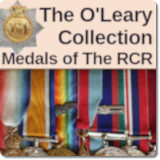 The O'Leary Collection—Medals of The Royal Canadian Regiment
Newest additions:


4824 / 15130 Sgt Alfred Charles Pearce
A soldier of many regiments.



A/758 Lance Corporal Hector McLean


"Killed in Action during a heavy bombardment at Hill 60, Zillebeke."


8260 / 2228308 Sergeant Joseph Marcil


A Permanent Force RCR, and CEF service in Canada.


878226 Private Thomas Joseph Pippy


"Reported missing [after action] Sept. 30th, 1918."


A3285 Pte William Rodgers Allison


Killed in action at Nissoria, Sicily, Italy.


9750 / 477030 L/Cpl George A. Baldwin


"Previously reported missing, … Killed in Action."


127514 Private Harry McBride


Underage, died in England, buried in Canada.



1033222 Pte John McKenzie Winter
RCR in the Great War, CGG in the Second World War.



Lieut.-Col. Edward McIntyre, E.D.
Injured in Italy with The RCR, Public Relations, and later command of his Militia regiment.


7578–477448–15055 Sgt Gordon Hymmen
Regimental sportsman and Great War veteran.