437213 Private John Charles Bailey
1st Canadian Infantry Battalion
By: Capt (ret'd) Michael M. O'Leary, CD, The RCR
John Charles Bailey was born at Calabogie, Ontario, on 11 Jan 1890. The son of Richard and Lilian Bailey, the family is listed in the 1911 Canadian census. The census shows that Charles is the third child and oldest son of eight children. Twenty-one year old Charles is listed in the Census with siblings Beatrice (24), Laurel (23), Charles (21), Gordon (13), Grace (10), Frances (8), and Muriel (3).
On 13 May 1915, while claiming to be two years younger than his actual age, Bailey attests for overseas service in the Canadian Expeditionary Force. He joined the 51st Canadian Infantry Battalion which was being recruited at Edmonton, Alberta. On attestation, he gives his name simply as Charles Bailey. At a stated age of 23 years 4 months, he was described during his medical inspection as 5 feet 6 inches tall, 140 pounds, and with a 36 inch chest measurement. A Presbyterian, Bailey listed his mother, Mrs Richard Bailey, as his next of kin.
With the 51st Battalion, Bailey sailed from Halifax aboard the S.S. Olympic on 18 Apr 1916. The unit disembarked at Liverpool, England, on 28 Apr 1916 and would become part of the C.E.F. reinforcement system. The 51st Battalion would provide troops for the Canadian Corps in the field, and be reorganized as a garrison duty battalion on 13 Nov 1916. Finally, on 22 Jun 1917, its personnel would be absorbed by the various regimental depots.
Charles Bailey would be in an early draft of men leaving the 51st Battalion. On 8 Jun 1916, Bailey was struck off the strength of the 51st Battalion and immediately proceeded "overseas" across the Channel to France. Two days prior, on 6 Jun 1916 as part of his preparations to go to France, Bailey completed the Military Will in his Pay Book. It reads: "In the event of my death, I give the whole of my property and effects to my father, Richard Bailey, Calabogie, Ontario."
On 9 Jun 1916, the day after landing in France, Bailey was taken on the strength of the 1st Canadian Infantry Battalion, joining the draft for the Battalion at the Canadian Base Depot. He joined the 1st Battalion in the field on 11 Jun 1916.
The 1st Battalion's "Battle Bar Document" (prepared after the war by the Militia Department in anticipation of the possibility of clasps for the British War Medal) offers the following summary of activities for Bailey's time at the front:
June

9-11 Jun 1916; Divisional Reserve (Sheet 27 Camp "A" G.11.c.)
12 Jun 1916; Local support (Scattered trenches off ZILLEBEKE LAKE)
13 Jun 1916; Forward Line of Troops, support to 3rd Bn in counter attack and consolidating captured position. (Sheet 28 N.W., in I.29.a. and I.28.c)
14-24 Jun 1916; Divisional Reserve (BULFORD HUTS, Sheet 28 S.W. T.26.a.3.9)
25-29 Jun 1916; Corps Reserve (Sheet 27 L.30.c.5.5.)
30 Jun 1916; Divisional Reserve (BULFORD HUTS, Sheet 28 S.W. T.26.a.3.9)

July

1-5 Jul 1916; Divisional Reserve (KENORA CAMP Sheet 28 N.W. M.3.c.)
6-11 Jul 1916; Forward Line of Troops (53 to 58 Sheet 28 N.W. I.30.c. to I.24.d.)
12-19 Jul 1916; Divisional Reserve (DICKSBUSCH HUTS Sheet 28 N.W. H.33.a)
20-26 Jul 1916; Corps Reserve (PATRICIA LINES Sheet 27 L.20.b.1.8.)
27-31 Jul 1916; Brigade Reserve (RAILWAY DUGOUTS Sheet 28 N.W. I.21.c.)

August
1-7 Aug 1916; Brigade Reserve (BEDFORD HOUSE Sheet 28 N.W. I.20.a )
8th to DEVONSHIRE LINE
9th to (tbc)
10th to NOORDPEENE
11th to NORDAUSQUE, remaining till 26th carrying out training
27th to AUDRICQ, entrain for AUXI-LE-CHATEAU
28th to CRAMONT
29th by Bus to VADENOURT
30th to ALBERT – SOMME
31st preparing and moving to trenches

September

1-4 Sep 1916; Forward Line of Troops (Sheet 57.d S.E. R.35.c.)
5-8 Sep 1916; Brigade Reserve (Sheet 57.d S.E. X.10.b.9.5.)
9-10 Sep 1916; Forward Line of Troops (Sheet 57.d S.E. R.54.d & R.35.c.)
11-17 Sep 1916; Corps Reserve (LENS II Sheet 1/10,000 D.6. LA VICOGNE)
18-20 Sep 1916; Brigade Reserve (Sheet 57.d.SE, X.5.d.3.8.)

Bailey's experiences of the trenches over the months of June to September 1916 capture the stereotypical infantry soldier's experience of the Great War, starting with the 1st Battalion's attack on 15 June 1915 at Givenchy. Heavy losses and a Victoria Cross won marked that significant date for the unit. In the months that followed Bailey experienced the steady rotation between front line trenches, support trenches, and reserve positions. Interspersed in that routine were periods of training and long marches and movement by train to change sectors of the front.

On 21 Sep 1916, the 1st Battalion would go back into the front lines (Sheet 57.c.SW South & East of COURCELETTE M.25.b. & M.19.d). It would be a busy tour of the trenches for the Battalion until being relieved on the night of 23/24 Sep, but it was Charles Bailey's fate to fall in battle on the first day of that tour.

The battalion's Battle Bar document offers the following summary of activities for 21-23 Sep 1916:

21-23 Sep 1916 ; Forward Line of Troops (Sheet 57.c.SW South & East of COURCELETTE M.25.b. & M.19.d.)

21st – Enemy bombing attacks repulsed
22nd – 8.29 p.m. attack made on enemy line, captured and consolidated line as follows:- M.25.d.8.6 – 6.9 – M.25.b.0.0 – M.26.a.1.7 – 0.7 – M.19.d.7.0.
23rd – Small bombing attacks repulsed.

The Battalion's War Diary offers a detailed description for the day prior to and the day of Bailey's death:

COURCELETTE

20 Sep

7 p.m. - Relief commenced but was not reported completed until after midnight.
Dispositions:-- Bn H.Q. at R.36.A.49 (150 N.W. of SUGAR FACTORY); 'C' Co. in close support in SUGAR TRENCH and CANDY TRENCH; 'B' Co. in right sector front line, SUNKEN ROAD from BAPAUME Rd, to M.25.B.6.2; 'D' Co. in centre sector from M.25.B.6.2 to CEMETERY; 'A' Co. on right, in and around QUARRY.

21 Sep

12.40 a.m. - Enemy commenced bombing on centre sector, and when our bombers retaliated opened up heavy artillery fire. Our guns replied and situation was quiet by 1.25 a.m.
3.00 a.m. - Conference of Coy. Commanders regarding operations against maze of enemy trenches opposite our area.
3.15 a.m. - Germans attempted bombing raid near QUARRY, without success. Bombing also on our right sector in which our men gained upper hand. About same time Germans broke through the gap in our lines to the left of the cemetery. They were beaten back by our Lewis Guns and by our Bombers who used German hand grenades. Scores of flares, red, white, and green, were sent up and a heavy barrage was put over COURCELETTE. By 3.35 a.m. our superior weight of gun fire had almost silenced the enemy's batteries, but a number of heavies continued to fall around the SUGAR FACTORY.
4.25 a.m. - Renewed bombing on right sector.
4.48 a.m. - Heavy barrage over COURCELETTE was repeated, and our front line (SUNKEN ROAD) was enfiladed with whizzbangs. At 5.00 a.m. a further attack was lodged by the enemy against centre section. This was beaten back. The casualties among our front line men were fairly heavy. Lieut. POPE was wounded and Lieut. HUTTON slightly wounded in the fighting near the Cemetery. 'B' Coy. in the morning's work suffered no less than 48 casualties. Many battalion Bombers and several Lewis Gunners were killed and wounded.
8.00 a.m. - Situation quiet. O.C. 'A' Co. reports "The men are nearly worn out and in no shape to go into an operation tonight." O.C. 'D' Co. reports "Two platoons lost way during relief and got into forward saps, it was impossible to get them back before daylight. Many were killed and wounded during the morning and at least one of the advanced Lewis Guns was demolished. The men in SUNKEN ROAD position are absolutely done up. We are in no shape for any show."
Noon. - Reports sent to 1st. C.I.B. re condition of troops and asking that operations be postponed 24 hours. Brigade agreed with proposal.
2.30 p.m. - Operation Order No. 20 issued. (Appendix [unfortunately, this Order is not in the surviving War Diary])
3.00 p.m. - Casual shelling of COURCELETTE. Otherwise situation quiet throughout the afternoon. Our aeroplanes were unusually active directing the fire of our batteries.
11.15 p.m. - 'A' Co. reports "Bombing post established at M.19.d.3.5 Absolutely isolated by day"
Midnight. - very quiet. Men able to rest and improve trenches and communications.

Charles Bailey was killed in action on 21 Sep 1916. The Circumstances of Death register held by Library and Archives Canada notes the location only as "Near Courcelette." The reported location of his battlefield grave was recorded as "just South East of Courcelette, France." Despite the fact that his battlefield burial was noted, Bailey's body was not subsequently recovered for re-interment in a Commonwealth War Graves cemetery.

Charles Bailey is commemorated on the Vimy Memorial. He was 26 years old at the time of his death.

The silver Memorial Cross commemorating Bailey's sacrifice was sent to Bailey's mother on 7 May 1920. Later that year, in December, 1920, the Memorial Plaque and accompanying scroll were sent to the family. It was not until 22 Feb 1923, that the medals Bailey was entitled to, the British War Medal and the Victory Medal, were sent to his parents.

Pro Patria

---

Visit a randomly selected page in The O'Leary Collection (or reload for another choice):

---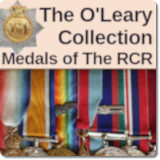 The O'Leary Collection—Medals of The Royal Canadian Regiment
Newest additions:


4824 / 15130 Sgt Alfred Charles Pearce
A soldier of many regiments.



A/758 Lance Corporal Hector McLean


"Killed in Action during a heavy bombardment at Hill 60, Zillebeke."


8260 / 2228308 Sergeant Joseph Marcil


A Permanent Force RCR, and CEF service in Canada.


878226 Private Thomas Joseph Pippy


"Reported missing [after action] Sept. 30th, 1918."


A3285 Pte William Rodgers Allison


Killed in action at Nissoria, Sicily, Italy.


9750 / 477030 L/Cpl George A. Baldwin


"Previously reported missing, … Killed in Action."


127514 Private Harry McBride


Underage, died in England, buried in Canada.



1033222 Pte John McKenzie Winter
RCR in the Great War, CGG in the Second World War.



Lieut.-Col. Edward McIntyre, E.D.
Injured in Italy with The RCR, Public Relations, and later command of his Militia regiment.


7578–477448–15055 Sgt Gordon Hymmen
Regimental sportsman and Great War veteran.