Change is Coming
Topic: Commentary
The Canadian Army; Strong, Proud, Ready
Change is Coming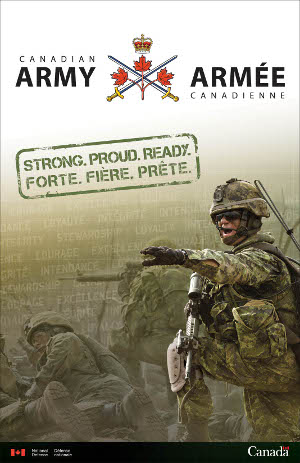 "The Canadian Army has given itself a new look by introducing a new primary badge, visual identifier and tagline in order to pay homage to its rich heritage and values."
Dire warnings of a new age of austerity have been descending on the Canadian Army, along with the rest of the Canadian Armed Forces. The Army has enjoyed years of fat; being the darling of the Government's overseas initiatives, increasingly well funded for equipment modernization, highly rated in the media and the eyes of the public, and busier than it has been since the 1950s. Those days are over.
The Government's direction has changed with the drawdown and end of the Afghanistan mission. There is a move towards a more economical approach to Government spending, and the Department of National Defence will be doing its share of saving. There is no new missions on the horizon for our soldiers. These things all spell a special kind of doom in the eyes of some soldiers. One of a sort that not many in the Army remember. But those with over 20 years of service do.
The Army's last age of austerity, sometimes called the "decade of darkness," was in the 1980s. Minimized budgets, rusting vehicle fleets, "train to need" concepts that saw courses run only to qualify the minimum required personnel. It's tough soldiering to strap on the boots every day for years on end in that environment, but many did, sustaining regimental esprit de corps and unit capabilities more by force of will than by having available resources to train the way they would have liked.
Those days, or ones much like them, it is now forecast, are coming back. How prepared everyone in the Army is for the change remains to be seen; and the likely metamorphosis of personnel that will occur is already beginning. An operational Army and a peacetime institutional Army take two different kinds of soldiers to sustain.
It's no surprise to anyone that has followed the ebb and flow of the Army's strength over the past century that the care and maintenance of the Army has never been a peacetime hobby of Canadian Governments, of any party. Even the most ardent opposition parties don't argue for a bigger or better funded army in peacetime. They all happily seek the "peace dividend" and look elsewhere to curry votes with dollars.
So what makes this evolution special? It is different, that's why. For the First and Second World Wars, Canada built large armies from a comparatively tiny base (counting both Regulars and Reserve units). At the end of each war, the departure of those who had only joined "for the duration" was a natural evolution that supported demobilization. Those that wanted to remain in uniform not only had recent experience but were more than enough to fill the intended post-war establishment. Even for Korea, new battalions were raised for that war, and then transitioned into an evolving establishment that included the opportunity for service in Germany, maintaining the interests of enough to sustain the need.
But for Afghanistan (and the Balkan missions before that), the Army didn't raise an expeditionary force to reinforce and complement the standing army. It met the need with the existing establishment, Regular units, extensively backed with Reserve augmentation as the need arose, filled the mission requirement time and again. Granted, the Army's attrition dropped significantly and unanticipated line-ups at Recruiting Centres meant lengthy wait times to join any trade, but these were still only to fill the existing establishment.
As a result, at the end of the Afghanistan campaign, many in the Army are still those who joined for the adventure and opportunity of service overseas. We cannot fault them that they didn't join to be garrison soldiers in peacetime, to work in headquarters and schools, to be recruiters, or to slowly watch their unit vehicles rust between annual exercises when there is no budget to replace them. (In truth, no-one actually joins the Army solely to do any of those things, but some are more ready than others to accept that the desire to serve in peacetime has its own price.)
They are the same soldiers who joined in 1914 and left in 1918, and who joined in 1939 and left in 1945. They have completed the service they joined to experience, and cannot be faulted for not desiring to serve in a static peacetime army for any length of time. Like their forebears, they have done Canada proud and fulfilled the duties they signed up for. But with no significant forces in Germany, or even a unit level mission in Cyprus these days, the opportunities for overseas adventures during peacetime are going to be even less than they were during the Cold War. Many of our Afghanistan veterans are no doubt assessing their options now.
The resultant challenge for the Army will be, and is already, managing that transition from an expeditionary army to an institutional army. Among those who may choose to leave, seeking new challenges, will be some who were superior soldiers, already being groomed for future promotions and prestigious appointments. Gaps will be created in lines of succession, and these will be filled by those ready to face a very different set of challenges, the challenges of maintaining the Army's kit and capabilities during the years of lean.
Unsung heroes. The soldiers who kept the lights on, and kept maintaining tactical and instructional skills, keeping abreast of developing technology and military advances even if they couldn't be acquired for themselves. These are the soldiers of 1914 and 1939 who laid the groundwork, however thin it may have been, for the unprecedented expansions that took place. These are the soldiers of the Cold War, up to and including the last decade of darkness, who sustained the foundational environment for the Army's recent advances with new equipment, new tactics and a strong wartime public profile.
In times of conflict the Canadian Army has always visibly done its nation proud.
In times of peace, Canada's soldiers have worked equally hard to be ready, often in the shadows of public awareness and without media coverage. Of them, we should be no less proud. They, too, will need our support to achieve their mission.
Strong, Proud, Ready.

Posted by regimentalrogue at 12:01 AM EDT
Updated: Monday, 5 August 2013 11:38 AM EDT