Glyn Llanwarne – The Australian "Medal Rescuer"
Topic: Medals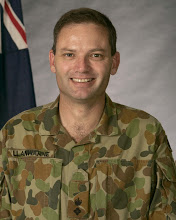 In Australian there is a gentleman, Lieutenant Colonel Glyn Llanwarne, OAM, who is also a "medal rescuer." LtCol Llanwarne's commendable approach to this activity is best describe in his own words:
"Since 2000 I have been acquiring, researching and then returning lost medals to veterans or their families. I started out purchasing medals, however, now I am supported through donations of found medals. I now use all my resources for research and trying to locate families. I do this free of any charge or fee. Over the last few years many people have asked me to set up a forum or have a method of asking questions so that the information can be shared. I think that this is the easiest way. My web site will remain the prime method of advertising the current list of medals I am researching. You can contact me at llanwarne80 at hotmail dot com"
Notably, LtCol Llanwarne started out using his own funds to purchase medals he felt had a good chance of being reurned to families. More recently, his endeavours are supported by donations, but are not built on the expectation that the potential recipient family being expected to pay for the medals.
In May 2012, LtCol Llanwarne was awarded the Medal of the Order of Australia in the 2012 Australia Day Honours.
"For service to veterans and their families through the recovery of military insignia."
Lost Medals Australia
Latest count - Reunited 1079 medals to families and relatives
Posted by regimentalrogue at 12:01 AM EDT
Updated: Tuesday, 23 July 2013 11:55 PM EDT