Wolseley Barracks 2012
Topic: Wolseley Barracks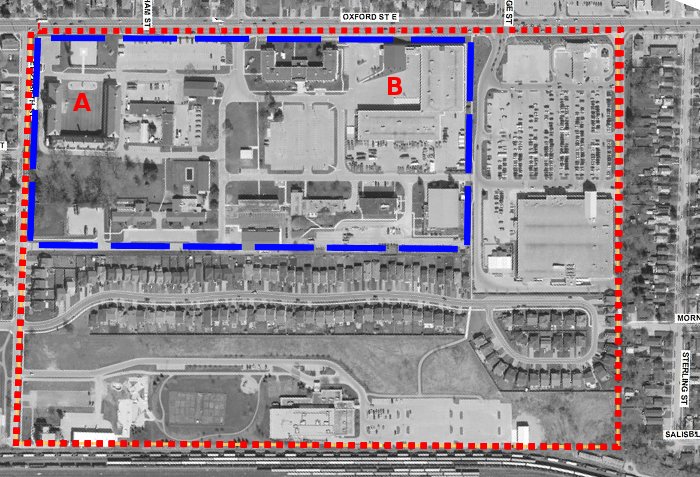 (Click to see a larger version without then overlaid letters.)
Wolseley Barracks, 2012
Thanks to aerial photos provided at the website for the City of London, Ontario, we can see what Wolseley Barracks looked like in 2012. Now 20 years after the departure of the 1st Battalion, The Royal Canadian Regiment, the base area is at it's smallest since the property was acquired by the Militia Department (now the Department of National Defence) in 1886.
The scars of torn-down buildings visible in the 1998 air photo are all gone, replaced by new construction on both sides of the base perimeter.
The most striking change in the evolution of Wolseley Barracks from Canadian Forces Base London to the Area Support Unit London was the reduction in size. The pre-1994 perimeter is shown in the photo above in red, while the post-1994 perimeter is in blue.
The supermarket at the east side of the old property is now shown; the building is over four times the size of the Base Drill Hall in the south-east corner of the new boundary. The housing development has now completed construction, with the McMahen Street extension providing 125 new homes in central London.
At marker "A," we now see the Regimental Memorial of The Royal Canadian Regiment, in its newest location. It was moved in 2012, southward away from the traffic vibration of Oxford Street, and placed between the ends of the wings of Wolseley Hall, where it can be seen today by any visitors to The Royal Canadian Regiment Museum. The site immediately North has since been prepared for the display of vehicles as part of Museum.
At location "B", we see the new McNeil Building, containing quartermasters' stores, medical, maintenance and supply facilities.
As I write this (26 Jun 2012), construction fencing is going up around some of the Wolseley Barracks buildings, signalling the start of the next round of DND infrastructure reductions as a cost-saving initiative.
See Also:

Posted by regimentalrogue at 12:01 AM EDT
Updated: Thursday, 1 August 2013 9:23 AM EDT