First World War Identity Bracelet
Topic: CEF
Up until early 1914 the standard identification discs in service with the British Army and Commonwealth units was made of aluminum. A stamped red fibre version appeared in August 1914 to replace the aluminum tags, probably to conserve on the use of that metal. See this page for a variety of examples of Great War identity discs, and here for an example displayed by the Canadian War Museum.
To augment the issued identify discs, officers, non-commissioned officers, and soldiers might also purchase privately an identity bracelet. The silver identify bracelet shown here was worn by 477950 Sergeant Norman Percy Vroom.
---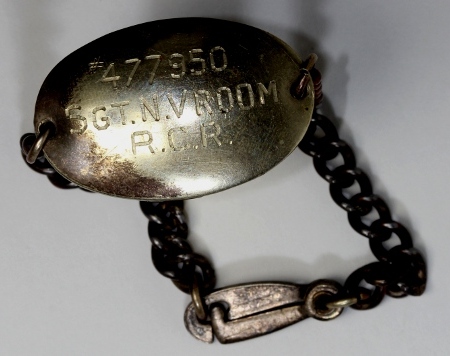 Norman Percy Vroom, originally of Middleton, Ann. Co. Nova Scotia, enlisted in The Royal Canadian Regiment at Fredericton, New Brunswick, on 30 Jan 1903 at the age of 22 years, 6 months. He was assigned the regimental number 6703. Vroom was obviously less than committed to this first experience as a soldier and on 1 Apr 1904 he was recorded as discharged from The RCR as a deserter.
Ten years later, Vroom would reappear, and on 15 Oct 1914, he is noted as rejoining the Regiment "from desertion." Although he doesn't appear in the rolls for service in Bermuda during 1914-15, Vroom is among those Royal Canadians who attest for overseas service in the Canadian Expeditionary Force (CEF) at Halifax during late August, 1915.
His attestation form described him as 5' 8 1/2" in height with a 33-inch chest, dark complexion, grey eyes and dark brown hair. He had tattoo marks on his right arm which were not described in detail. His next of kin was identified as his father; William Vroom of Spa Springs, Annapolis County, Nova Scotia.
But even once onverseas in England, Vroom's ability to conflict with the military justice system continued. Accordingly, on 26 Oct 1915 he is awarded a punishment of one days' pay for absence.
Vroom arrived in France with The RCR on 1 Nov 1915. He would be back in England on 28 Apr, 1916, having been wounded while in the tenches on the 17th of that month. Recovering from his wounds, Vroom would be in various hospitals until Jul 1916, when he joined the RCR & PPCLI Depot to await his return to the trenches. Unfortunately his medical problems would continue and after a few more trips though the hospital system (Aug 1916 to Mar 1917, and Feb-Mar 1918) and employment with Reserve Battalions and Depot appointments, Vroom would be returned to Canada and sent to the Casualty Company at District Depot No. 6 (Halifax) for discharge from the CEF.
Vroom was discharged from the CEF and the Permanent Force on 24 Jan 1919, his character being noted in the Regimental ledger as "V[ery] G[ood]. He was entitled to a War Service Gratuity of $420, which he was paid in six $70 installments between March and July of 1919.


Posted by regimentalrogue at 12:01 AM EDT
Updated: Sunday, 4 August 2013 1:06 AM EDT