Regimental History is a Continuum
Topic: The RCR
Colonel W.J. (Joe) Aitchison, OMM, CD, served as a Regular Force officer of The Royal Canadian Regiment from 1963 until 1996, including being the Commanding Officer of 2nd Battalion The RCR, Commandant of the Royal Canadian School of Infantry and Base Commander of CFB London, ON. On 25 Feb 2012, Colonel Aitchison was appointed Colonel of the Regiment of The RCR. In the following article he discusses regimental history as a continuum based upon the people you meet within the Regiment and encompassing their experiences as an indirect extension of your own. Within that continuum we carry not only our experiences, but a common responsibility to share the stories of others we have served with or met. "Colonel Joe" is part of my own continuum of service in The RCR, and I am pleased to have his permission to share his comments through The Minute Book.
---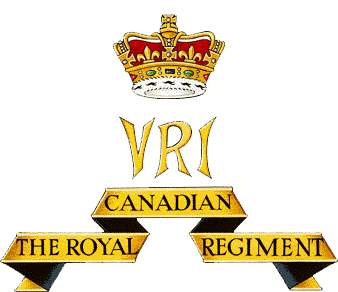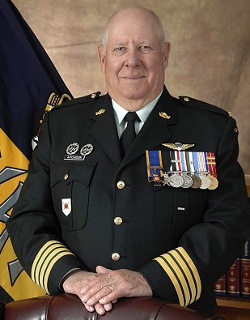 My predecessors will attest to the statement that the life of the Colonel of The Regiment is filled with "events", one of which I recently wrote about.
There have been several other "events" in the past couple of months that knit together to provide an historical context that I think is important and that I would like to share with you.
Those (selected) events, roughly in chronological order, were:
Let me deal with these in an order other than that in which I have listed them, but first let me provide some context - Indulge me. I have spoken to the Regimental Officers' Indoctrination Course for each of the last two years on the theme of The Regiment as a continuum. My thesis is that each of us lives a piece of regimental history, but acquires a far wider understanding of and connection to regimental history through the vicarious experience of rubbing shoulders with others who lived a larger, or at least a different, piece of that history. Let me illustrate.
When I was a newly-commissioned officer, the annual Paardeberg Ball was a major event. There were, in fact, three Balls - one for each of the officers, senior NCOs and junior ranks of (in my own experience) 2 RCR. The gymnasium at Gloucester Hall in Wolseley Barracks was dressed to the nines in a South African theme and there was revelry and camaraderie for three consecutive nights as each of the celebrating groups recognized that most famous battle - then 60-odd years in the past. A major feature at the Paardeberg Ball in, for instance, 1964 (my first Paardeberg) was the presence of one or two famous regimental personages. They were Dr ASA McCormick and Mr Austin Chisholm. These two gentlemen were veterans of the battle at Paardeberg Drift on 27 February 1900. It was only well after the fact of meeting them that I grasped the significance of having done so, and it was much later than that again that I developed my thesis of the continuum of the history of The Regiment. I am (as are many others) a witness to that most significant event in the history of The RCR by virtue of having rubbed shoulders with two participants in, and thereby become vicariously a party to, a battle that occurred over 40 years before I was born.
Similarly, a great character who visited the Home Station from time to time in the early and mid 60s was a man called "Pinky" Dean. Pinky, when in residence at Wolseley Barracks, made the Sergeants' Mess his home and adopted a post at the left-hand corner of the bar from which he held court. Pinky was a veteran of the First World War and connected those with whom he conversed with the horrors and triumphs of that conflict. Several years later I had the great honour on several occasions to meet, converse and dine with Brigadier Milton F. Gregg, who held the Victoria Cross and two Military Crosses earned in WWI and from whom, once again, I acquired vicarious understanding of my forebears' contributions to our rich history.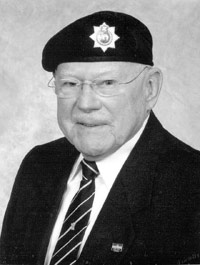 Let me "Fast Forward" to the events I listed at the opening of this piece and speak about each of them - again, not in the order I listed them.
Many of you who are reading this have met Sherry Atkinson, and many of you are familiar with his story. As I write, Sherry is in Sicily with Operation Husky 2013, revisiting the area over which he fought in 1943. Sherry, now almost 92, is likely the last surviving officer of The Regiment to have landed at Pachino and also likely one of the last living Canadians to have done so. His story has been shared many times, but is always worthy of another perusal. Sherry provides my, and our, vicarious connection to that most significant event in the history of The Regiment. Sherry is very generous of his time and has been a regular attendee at ROIC and Regimental Birthday dinners, particularly, latterly, in London. He is always willing to share his stories – take the time to listen.
Ed Hollyer died just shy of the age of 91.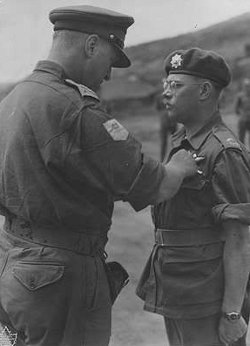 His "context" is that he was the Platoon Commander of 7 Platoon of Charlie Company of 3 RCR the night of 2-3 May 1953 - just over 60 years ago. It was Ed and the very brave men of his platoon who faced the Chinese assault on Hill 187, who held their ground well beyond being "able" to do so, who withdrew only when they were no longer capable of doing so, and who wrote a most important chapter of our regimental history in doing what they did. Ed, too, was very generous of his time and was a regular visitor to 3rd Battalion for many years, most recently in 2012 when he visited the unit in Petawawa as part of 3 RCR's Hill 187 Day competitions. Ed was a proud Royal Canadian who never forgot his roots in The Regiment.
David Greenslade was a member of Callsign 22B, which section also included Sgt Don Lucas, MCpl Chris Stannix, Cpls Aaron Williams and Brent Poland and Pte Kevin Kennedy, all of whom were killed by an IED on 8 April, 2007 in Afghanistan. I never met any one of these men, but was privileged to be present when the park named after Greenslade and which features memorials to all six men, was dedicated in Saint John. The deaths in 22 Bravo represented the highest number of fatalities from a single incident during Canada's involvement in Afghanistan. When the history of operations in Afghanistan is written, and certainly when a future volume of The Regiment's history is written, Easter Sunday of 2007 will have a special place in those documents.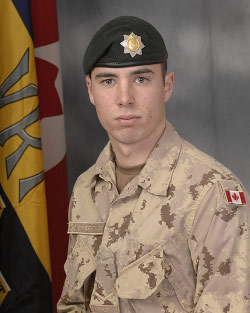 What's my point?
I suppose it is that in my 50 years since I was commissioned as a junior officer in our Regiment, I have had the honour to meet serving and former members of The Regiment who lived its history for more than 113 of its 130 years' existence. Some of them were "heroes" in every accepted sense of that over-worked word, and some of them were just damned good soldiers who wore the helmet plate or the eight-point star with pride and did their best for their mates and The Regiment. Some of their experiences pre-dated my own, and some occurred after I had left full-time service. Every one of you can say something similar, and many of you will likely surpass the 113 years that I count as (vicariously) my own.
I've only related to the four events I listed at the beginning of this piece, and that only because they occurred in the last couple of months. My thesis can be expanded to include all of the Cold War, peace-keeping and peace-making years and Afghanistan and every operation in all of the theatres to which we have deployed soldiers of The Regiment over our long history. That wasn't my aim - I don't have the gifts to describe all of them and will leave it to others more capable to do so. Just remember - it is a continuum, and every one of us is directly and indirectly a part of it. Tell your story and listen to others tell theirs.
Pro Patria
Colonel Joe

Posted by regimentalrogue at 12:01 AM EDT
Updated: Thursday, 25 July 2013 12:47 AM EDT