Art of Leadership (JADEX)
Topic: Leadership
Extracted from The Art of Leadership, from the Chief of Defence Staff, General J.A. Dextraze, CBE, CMM, DSO, CD; June 1973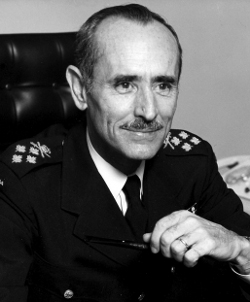 Leadership is self-perpetuating—at least is should be. This means that you, as a leader, have a solmn responsibility to develop leadership in your subordinates. Remember that all of them sooner or later will have to lead others. The best way for you to teach them, of course, is by example, hopefully by good example.

Let me now list some of the basic rules of leadership that I have found useful in my career, and which I commend to you. The list is not all-inclusive, and it is random, but when considered together with the four principles [Loyalty, Knowledge, Integrity, Courage] mentioned earlier it summarizes my approach to good leadership.
• Don't coax subordinates into obeying orders. On the other hand, do not club them into it.
• Don't flatter your subordinates. It is unnecessary and tends to degrade you in their eyes.
• Don't be sarcastic towards subordinates.
• Display confidence and pride in those under your command.
• Always support your superiors, and make it clear to your subordinates that you do.
• Accept full responsibility in the eyes of your superiors for the mistakes and failures of your subordinates. If they fail, it is your fault, and your job to make whatever corrections are necessary. Don't try to shift the blame downwards.
• Never end an order with a threat. Your rank carries with it all the power, explicit or implicit, that you need.
• If a reprimand becomes necessary, administer it privately unless there is some compelling reason to do it publicly.
• Always be concerned for the well-being of your subordinates, and let them know that you are.
• Never take things for granted. Check and double-check.
• Don't abuse the privileges of your rank. be austere in the granting and accepting of privileges.
• Work hard and don't waste time.
• Be meticulous and correct about your conduct, bearing, dress and personal relationships.
• Recognize that leadership and popularity are not synonymous.

The important thing is that you adopt a leadership style that matches your own innate personality. Don't become artificial in an attempt to copy a style that doesn't suit you. Be yourself, and conduct yourself according to the guidelines given here, and you will find that leadership comes naturally. But you must work at it.

Posted by regimentalrogue at 12:01 AM EDT