First Days in Camp (US Army, 1917)
Topic: Drill and Training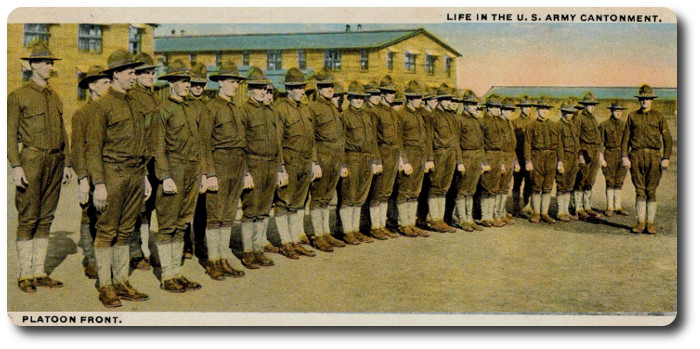 First Days in Camp (US Army, 1917)
Home-Reading Course for Citizen Soldiers (Lesson No. 5, of 30)
Spokane Daily Chronicle, Spokane, Washington, 31 August 1917
Your are naturally interested in forming some idea of the camp life of a soldier. The description which follows will help you in forming this idea. However, there will be many changes as you go along in your training.
As the men in the national army must get ready in record-breaking time, their training will be more strenuous than that of soldiers in peace. The soldier arises for the day usually at about 6 o'clock, a little earlier in the summer and a little later in winter. The buglers sound the call known as reveille. The men dress and fall in. Your first experience of military drill probably will consist of "setting-up exercises," which ordinarily occupy the first few minutes of the day. They consist of certain movements of the head, arms, trunk, and legs which are carefully designed not merely to develop your muscles, but also to increase your skill, grace, self-control and self-reliance.
Reveille
In the mornings, when the bugle rings out to reveille, and you crawl out of your bunk reluctantly, possibly tired and sore from the previous day's work, you will find yourself wonderfully refreshed and cheered up by a few minutes' vigorous setting-up exercises. Watch their effort on yourself and you will see why they are so highly regarded by the most experienced soldiers of the army. It will be only a short time until you lok upon the early morning setting-up drill as one of the pleasantest features of your day. Then comes "washing up" and breakfast. Usually breakfast is followed by a half-hour for cleaning the barracks and bunks and putting clothing and bedding in order. Frequently the company commander will inspect the barracks immediately afterward to make sure that every man has attended to his part of the work. There is then often some time which the trained soldiers uses for attending to his personal needs, tidying up his clothing, and the like.
The remaining two or three hours of the morning are likely to be spent in drill—at the first in "close order" and later in "extended order" also.
During the drill there are numerous short periods of rest.
In most camps guard mounting comes about noon. This consists of relieving the men who have been guarding the camp and turning over this duty to new men. Each soldier mounts guard not oftener than once a week. After guard mounting the men go to dinner which comes at 12 o'clock. At least one hour is always allowed for dinner and rest.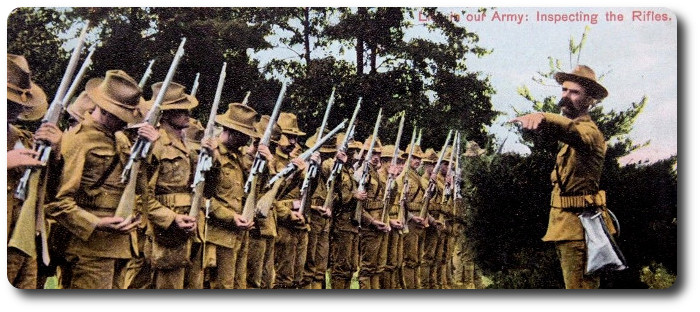 Afternoon program
During the afternoons the work is likely to be varied and to include additional setting-up exercises and other drills, target practice, bayonet exercise, and later, more advanced drilling. About 5 o'clock comes the evening parade and "retreat," when the flag is lowered or furled for the night. The band plays "The Star Spangled Banner," while all officers and soldiers stand at attention. The ceremony is designed to deepen each man's respect and love for the flag which he serves. It is always impressive. After the flag is lowered it is carefully folded and escorted by the guard to headquarters, where it is kept until the next morning, when it is again raised.
Supper comes between 5 and 6 o'clock, and is usually followed by a period of rest. In the training camps there will be many opportunities for a variety of healthful amusements—for sports, music, the theater and so on, as later described. Taps are sounded by 10 o'clock. This is the signal to put out all lights, retire and keep quiet.
This is only a sample of a day in camp. One some days your company will go off on "hikes." After a time, there may be longer marches, when you will carry your shelter tents with you and will make your own camp each evening. These are days that will be especially interesting.
Your officers will ask you to do nothing that they have not many times done themselves. They will ask nothing of you which any normal, healthy man cannot do. After a month or two of this training you will find that you have begun to take on some of the skill and the self-reliance of a real soldier.

Posted by regimentalrogue at 12:01 AM EST
Updated: Wednesday, 21 December 2016 8:28 PM EST