Your Equipment and Arms
Topic: Drill and Training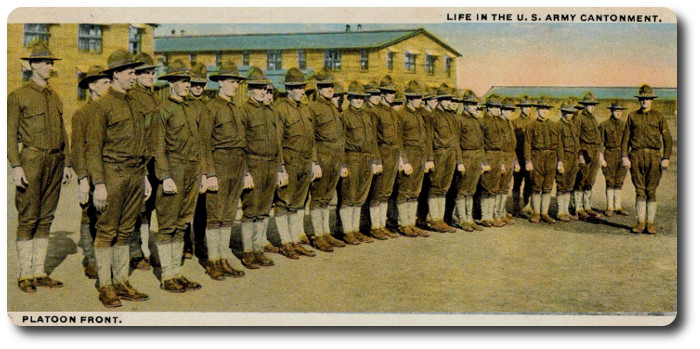 Your Equipment and Arms
Home-Reading Course for Citizen Soldiers (Lesson No. 9, of 30)
Spokane Daily Chronicle, Spokane, Washington, 5 September 1917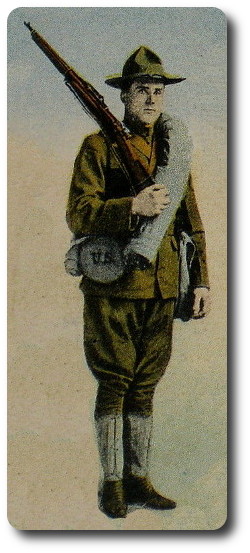 Each soldier in a modern army carries with him sufficient food, clothing, shelter, fighting arms and ammunition to take care of himself for a short period in case he should be separated from his company. The total weight of his load, in addition to the clothes he wears, is 50 to 70 pounds. The number of articles is surprisingly large. They are so devised, however, that by ingenious methods of packing and adjusting they can all be carried with the least possible effort.
You are personally responsible for all the arms, clothing, and supplies issued to you.
You will receive on enlistment and ample supply of clothing, including not only your uniform, but extra shoes, shorts, underclothes and socks. You may not be able always to keep your clothes spotlessly clean. But when it becomes dirty or spotted, take the first opportunity to clean it thoroughly.
Your shoes must be cleaned and polished frequently. Wet shoes should be carefully dried.
In general, see to it that all your clothing is as neat and clean as possible at all times. Mend rips and sew on buttons without delay. This will add to your comfort as well as appearance.
Wear your hat straight. Don't affect the "smart aleck" style of tilting the hat. Keep all buttons fastened. Have your trousers and leggings properly laced. Keep yourself clean shaved. Carry yourself like a soldier.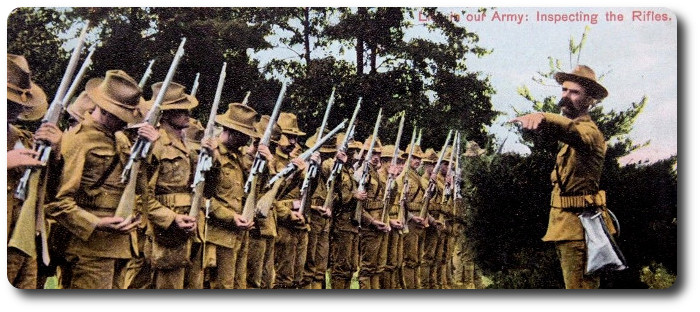 A Soldier's Baggage
Besides his extra clothing, a soldier carries a blanket, a rubber poncho, a canteen, fork and spoon, a cup, toilet articles, a first-aid package and some minor belongings.
One of the most useful pieces is one-half of a shelter tent, with rope and pins. The shelter tent is said to be a French invention which was introduced into the American army during the civil war.
Two men can combine their halves and set up a shelter tent in a few minutes. While it cannot be described as roomy, it is just what its name implies, a "shelter" from wind and rain. It is used only in temporary camps.
Your chief fighting tools will be a rifle, a bayonet in a scabbard, a cartridge belt, and an intrenching tool. Other weapons or defences needed in modern trench warfare will be referred to later. Do not under any circumstances lose track of these articles while on field duty. So long as you possess them, you are an armed soldier capable of defending yourself and of performing effective service. Without them you are for all practical purposes helpless.
The rifle is the soldier's closest friend. His first thought should be to guard it and care for it above all his other possessions. He expects it to take care of him in emergencies. In ordinary times he must take care of it.
In caring for a rifle it is especially important to keep the bore clean. In so doing be sure to avoid injuring the delicate rifling which causes the bullet to spin as it is forced out and this increases the accuracy of firing. Never put away a rifle that has been fired or exposed to bad weather without first cleaning it. Never lay a rifle flat on the ground. Rest it securely against something.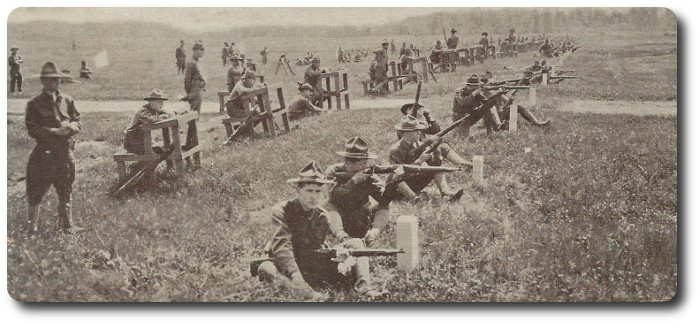 Anybody in normal physical condition can learn to be a good shot. Two of the most important points to remember are to take a deep breath just before completing your aim so that you may hold your rifle with perfect steadiness, and to squeeze the trigger so that the gun will not be jerked from its aim at the moment of firing.
In modern warfare the intrenching tool is an essential part of your fighting equipment. The eight men in each squad carry these eight tools: four shovels, two pick mattocks, one pole or hand ax, and one wirecutter. In ordinary soil you can quickly throw up a shallow trench which will protect you to a great extent from the enemy's fire. After a trench has once been started, it can be deepened and extended, even in the face of the enemy, without the soldier exposing himself to direct fire.

Posted by regimentalrogue at 12:01 AM EST