Future Battles Will Be Fought By Rival "Tanks"
Topic: Militaria

Future Battles Will Be Fought By Rival "Tanks"
Great Land Cruisers Being Built By Germans to Match Those of British
Spokane Daily Chronicle, Spokane, Washington, 21 September 1917
Herculean battles between droves of allied and Teuton "tanks" will be "as common as air fighting" on the western front soon, Colonel E.D. Swinton, commander of the first British "tank" squadron in France, predicts, according to the Washington correspondent of the Chicago Tribune.
Colonel Swinton, who is in the United States with Lord Reading's commission, originated the now famous British fighting monsters, he said in Washington. He believes the Germans are also building land cruisers and the day is not far distant, he thinks, when it will be a question of the survival of the fittest between "Fritz" and "Teddy" tanks.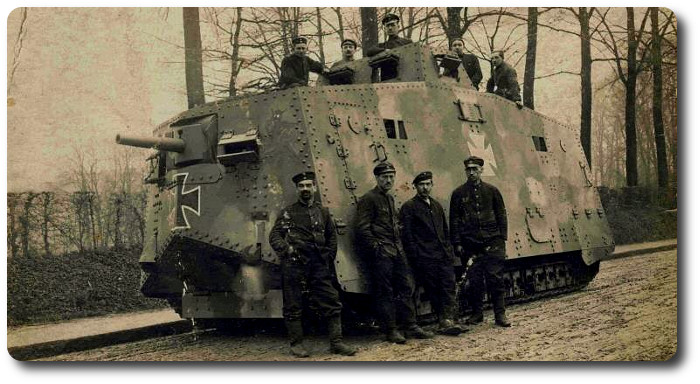 Have Two Kinds
"There will be both male and female tanks—so called," he said. "We will have 'Mary' and 'Molly' tanks along with their lords and masters, the big 'Teddy' tanks. The males will lumber into battle surrounded by their harems.
"With the destruction of machine guns as his chief objective, the male tank starts across No Man's land. Shell craters, embankments, barbed wire entanglements, trenches, and even small forests are no barriers. With two six-pounders he blasts his way forward. Being bullet-proof, it is seldom that he is checked until he has accomplished his mission—destroying machine gun emplacements.
"However, he is more or less useless and close fighting and often gets into a place where he cannot extricate himself. It is here that his 'better halves' get into the game.
"The female tanks—dubbed thus because of their man-killing propensities—tag along behind, in advance and on all sides, fighting like mad. They beat off the enemy trying to storm the big 'Teddy.'"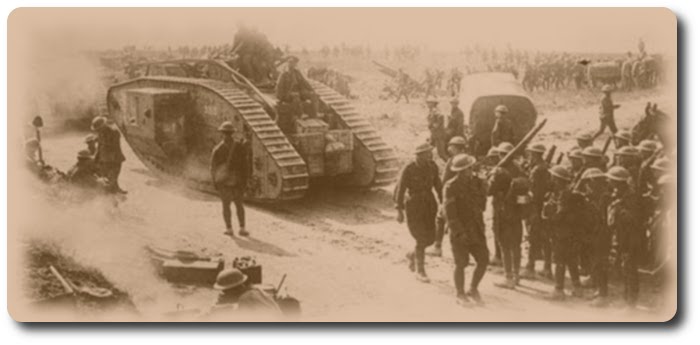 Only Deadlock Breakers
Thus far 'tanks' are the only means that have been devised in breaking the deadlock along strongly entranched infantry fronts, Colonel Swinton stated. Great improvements are being made in their construction and defects remedied. The tank of the future will be a "perfect" fighting machine, capable of feats more startling than heretofore dreamed of, he said.
Of the development of the crawling fortresses, which have changed modern warfare, Colonel Swinton said:
"During that awful first year every soldier realized that something had to be devised to stop the carnage. The futility of a 'naked man' attempting to cross No Man's land was apparent to allies and Germans alike. It was an impossibility to sweep that pock-marked patch of hell with men alone.
How Idea Was Developed
"I has seen one of your Yankee inventions—Holt's tractor. I remembered its feats of navigating rough country and simply applied the idea. At about the same time someone else got a similar idea and wrote Winston Churchill, first lord of the admiralty.
"Independently of each other the war and navy branches began perfecting the same idea. Navy officials, unknown to me, worked on a 'land cruiser,' while we struggled with the 'tank.' Then we got together, with the result you have read about.

Posted by regimentalrogue at 12:01 AM EST