To Test New Equipment (US Army, 1911)
Topic: Soldiers' Load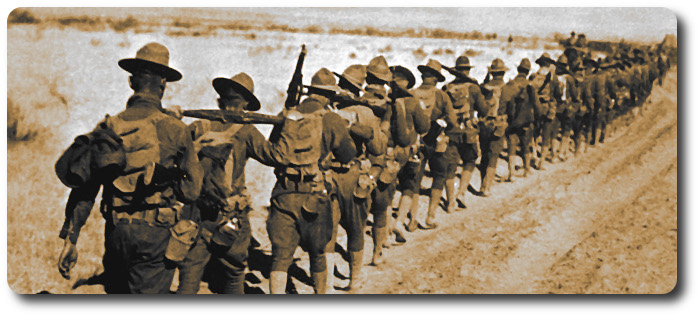 To Test New Equipment (US Army, 1911)
The Milwaukee Sentinel, 27 March 1911
The maneuvres of the United States army along the Mexican border will afford an opportunity to try out the more modern and lighter personal equipment for the individual soldier. Ever since military experts began a real study of conditions with the intention, if possible, of lightening the infantryman's burden, the one foremost idea has been in lessening the number of pounds of accoutrements necessarily carried when under full field equipment. Full field equipment is the new and official term used in place of the old heavy marching order.
Under the present army regulations the full field equipment for active service, including rifle and ninety rounds of ammunition, weighs fifty-four pounds. Although some reports of the mobilization have said that each man received 200 rounds, it was pointed out by an expert that while the particular organization of troops carried such a supply with them, only the prescribed ninety rounds were doled out to each soldier. Only in extreme cases—that is, when a body of men are to be immediately engaged in actual battle—are the extra cartridges supplied.
With fifty-four pounds as the present weight of the individual equipment for an infantryman, it is the hope of the military experts to reduce that from fifteen to seventeen pounds; but the ever present idea remains in their mind, namely, that an equal efficiency must be obtained from the lighter articles. The use of aluminum plates, knives, forks and spoons, together with haversacks, tent halves, ponchos, tent poles, etc., of lesser weight, it is thought will bring down the total number of pounds per man.
Under the present ruling a soldier carries besides hi piece, a Springfield magazine rifle which weighs nine and a half pounds, and ninety rounds of cartridges which weigh four and a half pounds, a bayonet, bayonet scabbard, a rifle sling, cartridge belt, a pair of cartridge belt suspenders which tend to lessen the weight by help from the shoulders, a first aid packet, a canteen and strap, a set of blanket roll straps, a haversack, a meat can, once cup, one plate, one knife, one fork, one spoon, half a shelter tent, one tent pole and five tent pegs. Then in addition to that comes his field kit, the weight of which is included in the total fifty-four pounds; consisting of a blanket, a poncho and personal effects, such as a comb, toothbrush, towel, extra underclothing, soap, etc.
But besides the soldier's individual load there are intrenching tools which are given out and carried by company and squad. A full company is made up of 108 men and officers in time of war and sixty men and officers in time of peace. A squad, the second unit of a company, consists of eight men. The intrenching tools are four hand picks, to be carried by company, a pick mattock per squad, three shovels per squad, three wire cutters per company and a two foot folding rule per company. These tools are an addition to the fifty-four pounds and the soldiers take turns in carrying them.
Most of the troops in the Mexican border war game are equipped with the fifty-four pound outfit; but enough are using the lighter articles to insure a thorough tryout.. Tin plates, meat cans, etc., instead of aluminum ones are the staple mess equipment carried by the majority of these soldiers.

Posted by regimentalrogue at 12:01 AM EDT