The Bayonet in Battle
Topic: Cold Steel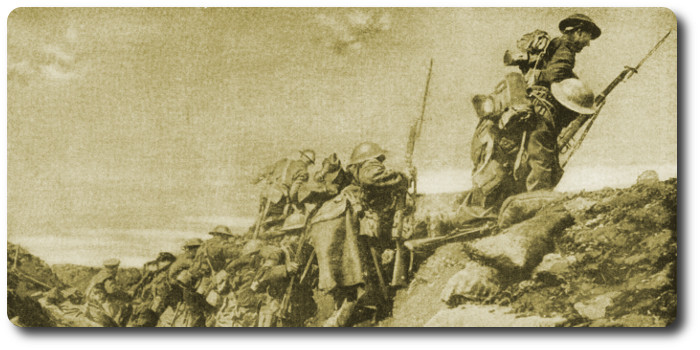 The Bayonet in Battle
The Journal of Commerce, Montreal, 30 September 1914
The bayonet is proving to be the last argument of battles in the present war. Previous to the war, military critics in various countries declared that the day of the bayonet was past, and that in future wars artillery and rifles would settle the day. It is undoubtedly true that artillery and rifles are playing a very important part in the present war. Heavy siege guns, field artillery, rapid fire guns of every description, as well as the latest and best rifles, thunder out their messages of death to the opposing force. Apparently, however, the two sides are so evenly matched in artillery that no progress can be made either way, Whatever gains have been made by the Allies have been accomplished at the point of bayonet.
The bayonet has always been a favorite with the British soldiers. The big, brawny Scots, and the other stalwarts who constitute the backbone of the British army, have always loved to fight at close quarters. Despatches from the front tell of a hundred occasions when the Germans gave way before the furious bayonet charges of the allied troops. Every soldier back from the front tells the same story of the Germans being unable to face cold steel. In addition to the terrible loss which can be inflicted by the bayonet, there is a psychological reason why me should be unable to withstand a bayonet charge. Men cannot see a bullet coming, and know nothing of it until they are hit. With bayonets it is different. Soldiers can see a long line of glistening steel, which wavers, falters, comes on faster and faster. They see the determined faces of the men behind the bayonets, can read he lust for blood in their eyes, and know that in a few minutes these visible instruments of death will be buried in their bodies. The psychological effect of a bayonet charge is enough to unnerve any but the very bravest and most fearless fighters. In every battle where the Allies have gained ground, it has been done by means of the bayonet, which forced the Germans out of their entrenched positions.
There is perhaps an added reason why the Germans fear the bayonet attacks of the Allies. Both the British and the French bayonets are longer than those in use by the Germans, and a few inches in length in a hand-to-hand fight makes all the difference between life and death. Added to this, it is undoubtedly true that the British have always excelled in bayonet work, which the scientifically trained German was taught to rely entirely upon artillery and rifle fire. As a result of the fighting in this war, and the splendid results achieved by the bayonet, it is likely to retain its place as an effective arm.

Posted by regimentalrogue at 12:01 AM EDT