Public Service Advisory - Artillery Firing at Camp Petawawa
Topic: Drill and Training

Public Service Advisory – Artillery Firing at Camp Petawawa
Canada Gazette, 15 June 1907
Published in the Canada Gazette, the following public service advisory cautioned civilians about artillery firing at Camp Petawawa. Of note is the information that the public was not restricted from accessing the range area when the artillery was not in action. Even more surprising is the reward offered for shells found by members of the public.
"Notice. The public are hereby cautioned that Artillery Practice will take place at Petawawa, between the hours of 8 a.m. and 5 p.m. daily, except Sundays, from the 17th July to about the 1st September, 1907.
"The danger zone will be an area bounded on the west by the Canadian Pacific railway, on the south by a line drawn north-east from the railway bridge over the Petawawa River, north of Petawawa Station, to the Ottawa River, on the north by the right bank of the Chalk River from the Canadian pacific Railway Bridge to Sturgeon lake, thence to Allumette Bay, on the Ottawa River.
"The public are also cautioned not to touch any whole shells found on the range as they are dangerous, but to report their whereabouts to the Camp Commandant, Artillery Camp. Petawawa. The sum of 60 cents will be paid for each shell so reported."
Camp Commandant,
Artillery Practice Camp, Petawawa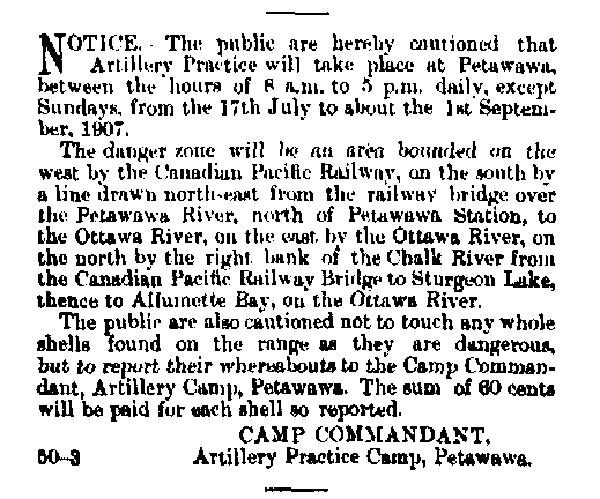 Posted by regimentalrogue at 12:01 AM EDT