A Good Soldier
Topic: Discipline
A Good Soldier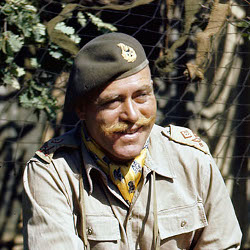 Major General Christopher Vokes CB CBE DSO CD (13 April 1904 – 27 March 1985)
By Maj.-Gen. Christopher Vokes, General Officer Commanding, Western Command, Edmonton, Alberta
Canadian Army Journal, Vol 7, No 2, July 1953
To be known as a good soldier by his comrades, his subordinates and his superiors in rank, should be the goal of every soldier in the Canadian Army. It is the height of military achievement no matter what the rank. Skill-at-arms is not the only requirement for this. There is much more to it. In addition, the soldier must possess in himself:
1. A strong sense of duty;
2. Honesty;
3. Willing obedience;
4. A respect for authority – military or civil;
5. Decent manners, morals and speech; and
6. Loyalty to his comrades, to his unit and to the Canadian Army in which he has the honour to serve.
A good soldier is a man skilled in the profession of arms who by his personal conduct earns and holds the respect of his fellow Canadians, whether soldiers or civilians.

Posted by regimentalrogue at 12:01 AM EDT