Heroes Among Us; Past and Present
Topic: Commentary

Heroes Among Us; Past and Present
We often see the word "hero" thrown around quite liberally today, applied to everyone from Victoria Cross recipients to anyone who has worn a military or emergency services uniform and then to anyone who has championed any cause. It's to the point where use of the word only regains meaning when context is added, so that the receiver of the message can apply their own filter on how applicable the label is; how well it matches their personal criteria for the description.
Undoubtedly, there are those in uniform who deserve that label in every context of the word. Sadly, the story of a member of the Canadian Armed Forces who commits a crime will have their deeds and military connection well declared in the news. But the stories of those decorated for heroism in battle, in the past or recent years, barely grace the pages or screens of our news systems, if they pass the editors' desks at all.
How many Canadians are aware of the awards received by soldiers that rank just below the Victoria Cross (VC) for heroism in the face of the enemy? Where once soldiers received the Distinguished Conduct Medal (DCM) and the Military Medal (MM), and officers might receive the Distinguished Service Order (DSO) and the Military Cross (MC), Canadian service members today receive the Star of Military Valour (SMV) and the Medal of Military Valour (MMV).
How few of the stories of the recipients of the SMV and MMV are known to Canadians. How many stories of the recipients of the DSO, MC, DCM and MM are equally unknown, not lost, but mostly forgotten. There was a time when many Canadians would recognize the medals and ribbons of the older awards, how many would recognize the SMV or MMV today?
How many stories of local heroes are already forgotten in your community? When was the last time you walked through the local veterans' plot and actually noted the post-nominal inscriptions? What have you been doing to bring their stories back into notice, and to ensure the stories of our newer heroes are not forgotten?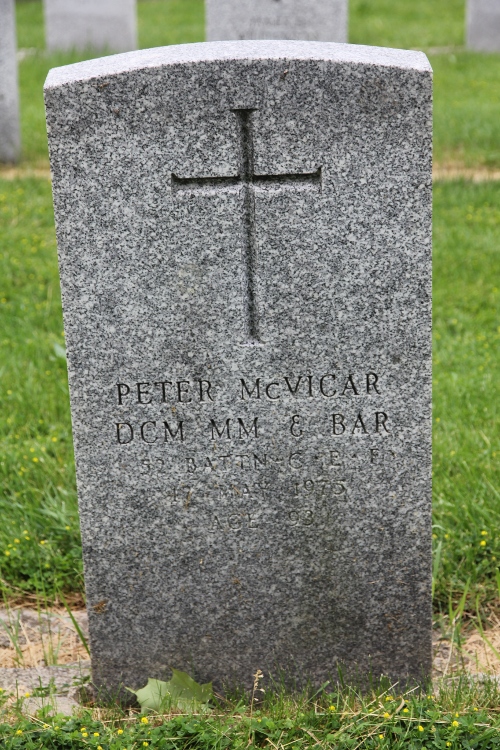 The gravestone of 438285 Sergeant Peter McVicar, DCM, MM, in the Veteran's Plot at Mount Pleasant Cemetery, London. Ontario.
Citation for the Distinguished Conduct Medal – "For conspicuous gallantry and devotion to duty during an attack against enemy "pill-boxes." When acting as a scout in front of his company he came under fire from two enemy snipers, but advanced against them and killed them both. He was one of those who crawled in close to one of the 'pill-boxes" and attracted the enemy's fire, thus permitting an attack upon it in strength" (London Gazette Issue No. 30601, 26 Mar 1918).


Posted by regimentalrogue at 12:01 AM EDT
Updated: Tuesday, 17 June 2014 12:17 AM EDT