Bones
Topic: The RCR
In the Army
"Bones," self-appointed mascot of The RCR at Wolseley Barracks
The News and Eastern Townships Advocate, 24 July 1958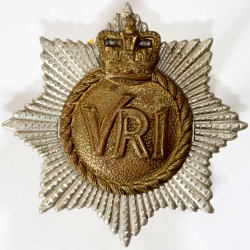 "Bones" is a nondescript mongrel of uncertain age and parentage who, years ago, adopted The Royal Canadian Regiment as his very own.
His history is vague, but then so is Bones. He is nor officially recognized as a regimental mascot, but just sort of taken for granted. He has no special master nor any special home. Nor even any special battalion. He lived fort several years with the 1st Battalion of the Regiment, and then transferred his rather uncertain allegiances to the 2nd Battalion.
As far as can be learned, Bones and The RCR joined forces about seven years ago; and he was far from being a pup in those days too. His age is now guessed at about 12 years, but no one is sure, not even Bones.
At Wolseley Barracks in London, the home of the Regiment, Bones is the only dog allowed complete freedom. He insists on it. He will live with one company for awhile and then move on to another. Sometimes he eats in the officers' mess, sometimes in the men's kitchen, sometimes with the sergeants. No special loyalty for Bones.
When the 2nd Battalion moved the 400 miles from Camp Borden to Camp Petawawa recently (100 miles on foot) Bones moved with them. No one in particular looked after him. When the battalion marched, Bones marched, when the battalion rested, Bones rested, and when the battalion rode, Bones rode.
Now he is resting his tired old feet in the unit bivouac area near the Algonquin Park boundary at Camp Petawawa. He still wanders from company to company and from kitchen to kitchen.
Bones holds no special brief for any particular soldier. He tolerates them. But only if they're RCR.

Posted by regimentalrogue at 12:01 AM EDT