RCAF Recruiting, 1949
Topic: RCAF

RCAF Recuiting; 1949
A Man to Look Up To
Published in McLean's magazine on 1 September 1949, this Royal Canadian Air Force recruiting advertisement seeks to inspire men to join the RCAF as Flying Officers.
Offering positions as pilots, radio operators and navigators, successful applicants will receive a monthly pay of $284 after completion of basic training.
IN the background and in the sky over the head of the pictured flyer is a the DH 100 Vampire. Eighty five Vampires were in Canadian service between 1948 and 1956, including with Canada's first RCAF squadron to be deployed in a NATO air defence role in Europe. In the 1950s, the Vampires were replaced by the F86 Sabre.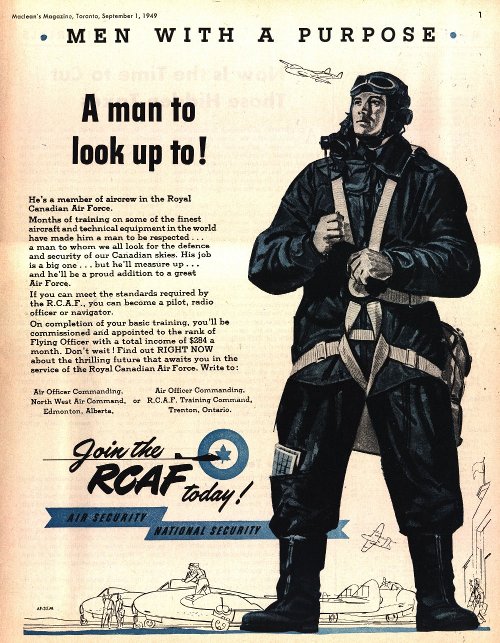 Click image for larger version.

Posted by regimentalrogue at 12:01 AM EDT
Updated: Monday, 1 September 2014 12:01 PM EDT