The Garrison Church Parade, Halifax, 1901
Topic: Halifax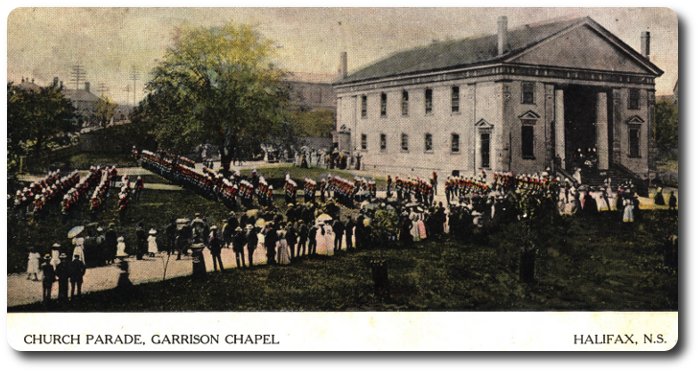 The Garrison Church Parade
(From an American visitor's description of his visit to Halifax.)
Boston Evening Transcript; Wednesday, 14 August, 1901
(Mark Sullivan — Special Correspondent of the Transcript.)
Halifax, N.S., Aug 12.
The forty-five thousand people of Halifax have the creditable record of supporting forty-five churches—forty-four and the Christian Scientist, to be exact. But the Garrison church, just under Citadel Hill, is the Sunday morning Mecca of the tourists who spend the Sabbath in Halifax. About half-past ten one begins to hear the distant bugle calls at the widely separated barracks occupied by the engineers, the infantry and the artillery. A little later there is the music of fife and drum in one direction and of a brass band in another, and the next sound is the heavy tramp of marching feet as the soldiers file up to the church door.
For my own part I rather regret I did not follow my companion's urging to be content with the event when we had watched the soldiers file up the church steps, and come away to attend service in another church. One may be but an indifferent churchgoer himself and yet resent seeing a church service reduced so completely and utterly to a mere matter of form. Tommy Atkins goes to church because General Orders No. 505 says he must. He marches up the church steps in fours, he bends his knee in fours, he files into pews in fours, he sits down in fours—in short, the whole thing is done in fours, per military regulations. The individual soldier's manner is grave and respectful. You can detect in no face any expression that jars with reverence. There is no whispering, everything is done with punctilious correctness and formality. And yet the stranger, accustomed to churches where people attend for other reasons than General Order 505, and where there are women in the congregation, is quick to miss some intangible thing whose lack makes him vaguely uncomfortable; and is apt to realize with perfect vividness for the first time in his life perhaps the exact meaning of that not always subtle something, the spirit as distinguished from the act. His next emotion is apt to be a silent tribute to the wisdom of that college president who a generation in advance of his time abolished compulsory chapel.

Posted by regimentalrogue at 12:01 AM EDT
Updated: Friday, 19 September 2014 2:25 PM EDT