New British Army Honours in 1882
Topic: Battle Honours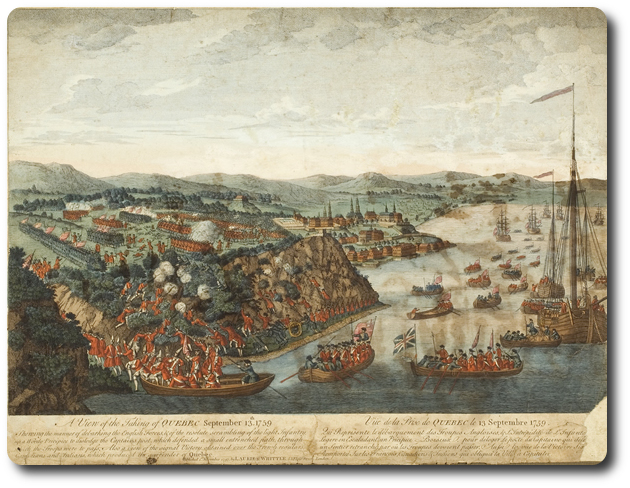 Awarded in 1882, these awards for Quebec and Louisburg were granted 123 and 124 years after the battles. Those for Marlborough's victories were awarded 173 to 178 years afterward.
Regimental Honours
"Louisburg" and "Quebec" Added to the Colours of various Regiments
The Quebec Daily Telegraph; 25 July 1882
In consequence of the report of a committee appointed last year [1881] to consider the claims of certain regiments to honorary distinctions arising out of the participation in some of the victories of the last century, a considerable number of these corps has been authorized to bear in their respective colours and appointments the names of Marlborough's battles.
The Battle of Louisburg, and Wolfe's Victory at Quebec
The Battle of Louisburg, and Wolfe's Victory at Quebec in 1759, the names of "Blenheim," "Ramillies," "Oudenarde," and "Malplaquet" will accordingly be done on the colors and appointments of the following regiments:—
Kings Dragoon Guards
3rd, 5th, 6th and 7th Dragoon Guards
The Scots Greys
The Fifth Lancers
The Grenadier Guards
The Royal Scots
The Buffs
Liverpool (8th) Regiment
Lincolnshire (10th) Regiment
East Yorkshire (15th) Regiment
Bedfordshire (16th) Regiment
Royal Irish (18th) Regiment
Royal Scots Fusiliers (21st)
Royal Welsh Fusiliers (23rd)
Second Warwickshire Regiment (24th)
Scotch Rifles (26th)
The Hampshire (37th) Regiment
The Coldstream Guards are to bear the names of "Oudenarde" and "Malplaquet" and the Gloucester (28th) Regiment, and the Worcestershire (29th) Regiment, are to bear that of "Ramillies" respectively.
"Louisburg" and "Quebec, 1759"
The following regiments are authorized to inscribe "Louisburg" and "Quebec, 1759" upon their colours:—
The East Yorkshire (15th)
The Gloucester (28th)
The Royal Sussex (35th)
The North Lancashire (47th)
The Northamptonshire (58th)
The King's Royal Rifle Corps (60th)
The King's Royal Scots, Lienstershire (17th), Cheshire (22nd), South Lancashire (40th), Sherwood Foresters (45th), Northamptonshire (48th) and Wiltshire (62nd) are to bear the name of "Louisburg." The Monmouthshite Light Infantry (43rd), bear the name of "Quebec, 1759."
Of the above regiments the 7th Dragoon Guards, 5th Lancers, and Bedfordshire had hitherto been without and decoration commemorative of active service, and the 21st Hussars will now be the only regiment without such distinction. Of the cavalry regiments, the 16th Lancers have the largest number of battles (thirteen) on their standards. Of the infantry regiments, the King's Rifles (60th) head the list with twenty-nine achievements, and the Rifle Brigade follow next with twenty-six. The Royal Scots, the Gloucester, and the Dublin Fusiliers have twenty five each; the Royal Welsh Fusiliers, South Staffordshire, South Lancashire, and Highland Light Infantry have twenty-three each; the Sherwood Foresters twenty-one, and the Gordon Highlanders twenty.
---
Note: This article required a few corrections based on what appeared to be typesetting errors on the Telegraph version. The reference Battle Honours of the British and Commonwealth Armies, by Anthony Baker (Ian Allen Ltd, 1986), was used as a reference.

Posted by regimentalrogue at 12:01 AM EDT