Canadian Army Pay (1942)
Topic: Pay; the Queen's shilling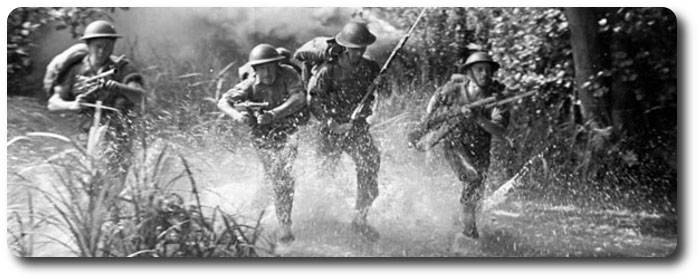 Unidentified Canadian infantrymen negotiating an assault training course, England, August 1942. Photographer: Alexander Mackenzie Stirton. Mikan Number: 3205243. From the Library and Archives Canada virtual exhibition Faces of War.
Canadian Army Pay (1942)
Ottawa Citizen, 14 Feb 1942
In response to a request that a schedule of Canadian army pay and allowances be published in handy form for clipping purposes, we oblige as follows:
The basic pay of the Canadian private soldiers is $1.30 daily. In addition he is housed, clothed and fed of in lieu of this is granted a subsistence allowance of $1 daily (50 cents rations, 50 cents for quarters). His health is cared for constantly by the Royal Canadian Army Medical Cops and the Canadian Dental Corps.
In the case of a married man a dependent's allowance of $35 monthly is paid to his wife on condition that he assigns to her at least 15 day's pay per month. In addition there is paid $12 to his wife each for the first two children, $9 monthly for the third and $8 for the fourth child. The dependent's allowance for the wife of a warrant officer (class 1) is $40 per month and for a lieutenant $45. Under certain conditions dependent's allowance may also be granted to other dependent relatives, such as a widowed mother.

Here's how a soldier's pay increases as he makes his way upward through the ranks:
trooper, gunner, driver, sapper, private, trumpeter, bugler or drummer - $1.30, if over 18 years of age;
lance corporal or lance bombardier - $1.50;
corporal or bombardier - $1.70;
lance sergeant - $1.90;
sergeant - $2.20;
staff sergeant - $2.50;
squadron, battery or company quartermaster-sergeant - $2.50;
warrant officer, class 3 - $2.75;
squadron, battery or company sergeant major - $3.00;
master gunner class 3, regimental quartermaster-sergeant, staff quartermaster-sergeant and quartermaster-sergeant - $3.10;
warrant officers class 1, other than those referred to next - $3.90;
warrant officers class 1, holding certain appointments - $4.20;
2nd lieutenant - $.25;
lieutenant, $5.
Soldiers classified as tradesmen by virtue of civilian qualifications or graduation from army trade school and who are covering a vacancy on the establishment draw tradesman's pay extra, according to army grades which are as follows: class C, 25 cents; class B, 50 cents; class A, 75 cents.
Provisions have been made to assist the Canadian soldiers to reestablish himself in civilian life at the war's end and on discharge he receives the following clothing allowance: $35, if he has completed six months continuous service. If he has served under this time he will receive $27 or $17 according to whether he is discharged during winter or summer months. In addition to the above if he has completed 183 days service he receives a rehabilitation grant equal to 30 days pay of his rank. His dependent receives one month's dependent's allowance plus the amount of soldier's pay previously allotted to her. This is deducted from the amount otherwise payable on discharge to the soldier himself.

Posted by regimentalrogue at 12:01 AM EDT