Rations Show Effect of Scientific Study (1941)
Topic: Army Rations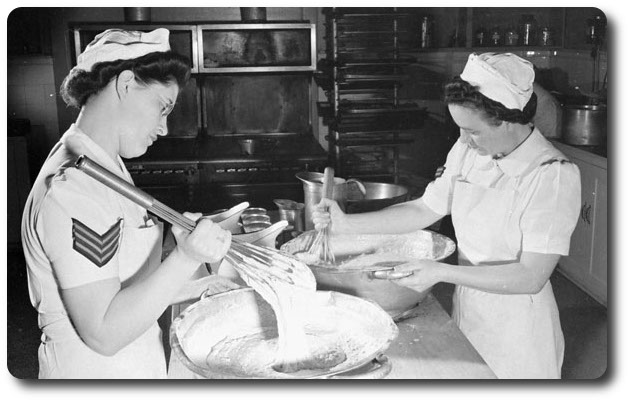 Unidentified airwomen preparing food in the test kitchen, No.1 Nutritional Laboratory, R.C.A.F., Guelph, Ontario, Canada, 3 April 1944. Location: Guelph, Ontario, Canada. Date: April 3, 1944. Photographer: Unknown. Mikan Number: 3583196 Visit the virtual exhibition Faces of War.
Standard Canadian Army Rations Show Effect of Scientific Study (1941)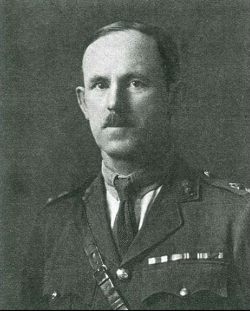 Maj.-Gen. E.J.C. Schmidlin, Quartermaster-General
Edward James Carson Schmidlin, born in Brantford, Ontario, in August 1884. Attended Royal Military College, Kingston, where he won the Sword of Honour and the Governor-General's Gold medal.
On graduation from RMC, received a commission in the Royal Engineers as a Second Lieutenant and promoted to Lieutenent in 1908. Schmidlin was appointed to a commission in the canadoan Permanent Force as a Lieutenant iin the Canadian Enigneers in 1910.
In Nov, 1914, Schmidlin was appointed Adjutant of the 2nd Cdn. Div Engineers at the rank of Captain. He arrived in France in Sep, 1915, and served in that appointment until July, 1917, having received the Military Cross in the 1917 New Year's Honours List. In July, 1917, he was appointed to command No. 12 Fiedl Company, C.E., he ended the war as Commanding officer of the 8th battalion, C.E.
Between the wars Schmidlin continued to serve with the Canadian Engineers. Appointed professor of miltary engineering, Jul 1919; professor of enginering Oct 1921; senior professor and professor of engineering, Sep 1926; director of engineering services at NDHQ, Jan 1934; ann appointed acting quartermaster-general, Apr, 1940. Schmidlin was named quartermaster-general, with the rank of Major-General in July 1940.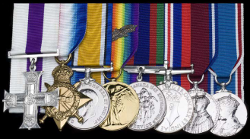 Montreal Gazette, 2 July 1941
Ottawa, July 1.—(CP)—Feeding the Canadian soldier has become a scientific business and rule of thumb methods were abandoned years ago, national Defence headquarters said yesterday.
Maj-Gen E.J.C. Schmidlin, Quartermaster-General, said that when the present war started the old ration scale used in Canada during the last war was adopted, with certain minor changes. This ration consisted of the standard ration, consisting of 16 commodities per soldier per day, plus certain exchange issues, the issue of these based on weight instead of cost.
"While this ration produced a perfectly wholesome diet, it soon appeared that its variety was too restricted and further, it did not produce quite as balanced a diet as was considered desirable," Maj-Gen Schmidlin said.
"It was decided to review the existing ration, and in order to obtain the most expert Canadian advice available, the National Research Council was invited by the Department of National Defence to form a committee of expert advisors on nutrition, hygiene, household science, agriculture and allied subjects to consider the ration and make recommendations for its amendment, keeping in mind the necessity for not unduly increasing the cost.
"From the meetings of this committee was proposed a ration scale which, with several minor changes and additions in the authorized exchanges, was made effective."
The standard ration has the following:
Beef, 14 ounces;
bread, white or brown, 14 ounces;
bacon, three ounces;
cheese, one ounce; rice, two ounces;
jam, two ounces;
butter, two ounces;
evaporated milk, five ounces;
tea, one-quarter ounce;
coffee, one-third ounce;
fresh potatoes, 14 ounces;
fresh vegetables, eight ounces;
raw apples, five ounces;
split peas, one ounce;
white sugar, three ounces;
salt, one-half ounce;
pepper, 1-72 ounce.
That is the standard ration. Alternatives available for beef are mutton, pork and fish. Instead of bread, an alternative issue of 12 ounces of flour plus lard and baking powder may be made.
The standard ration statement provides that 14 ounces of biscuit may be issued in lieu of 14 ounces of bread, but only in sufficient issues to keep an emergency ration on hand with a periodical turnover.
Instead of bacon, eggs or salt pork may be provided, and rolled wheat, cracked wheat, rolled oats, macaroni or tapioca instead of rice. Alternatives for jam are raisins, prunes, corn syrup, molasses, honey and maple syrup. Where available, fresh pasteurized milk may be issued instead of the evaporated product.
The issue of fresh vegetables or canned tomatoes is compulsory twice a week. When raw apples are not obtainable, dried apples, canned apples or canned Pumpkin may be issued.

Posted by regimentalrogue at 12:01 AM EDT