Victualling Aboard Transports (1859)
Topic: Army Rations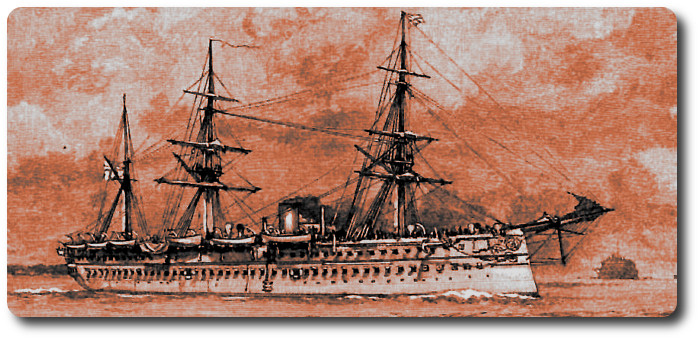 Victualling Aboard Transports (1859)
Scheme for the Daily Victualling of the Officers, Soldiers, Women and Children, embarked on board Transports and Troop Ships
Queen's Regulations and Orders for the Army, Adjutant General's Office, Horse Guards, 1st December 1859
Species
Officers and Soldiers
Women
under 10 years of age
Bread
lb.
1
1/2
1/2
Spirits
gill
1/2
—
—
Chocolate
oz.
1/3
1
1/2
Sugar
oz.
1 3/4
7/8
Fresh Meat
lb.
1/3
1/2
1/4
Vegetables
lb.
1/3
1/4
2/8
Tea
oz.
1/6
1/4
2/6
But when fresh meat and vegetables are not issued, there shall be issued in lieu thereof, viz.:—
Species
Officers and Soldiers
Women
Children under 10 years of age
Every alternate day.
Salt Pork
lb.
3/4
1/2
1/4
Peas
pint
1/3
1/4
1/8
or
Alternately on the same day when Salt Pork and peas are not issued.
Salt Beef
lb.
3/4
1/2
1/4
Flour
lb.
1/2
3/8
/16
or
Preserved Meat
lb.
1/2
3/8
3/16
Preserved Potato
oz.
2 2/3
2
1
or
Rice (or (1/2 of each)
And weekly, whether fresh, or salt, or preserved meat be issued,—
Species
Officers and Soldiers
Women
Children under 10 years of age
Not exceeding
Oatmeal
pint
1/6
1/8
1/16
Vinegar
pint
/6
1/8
1/16
Mustard
oz.
1/3
1/4
1/8
Pepper
oz.
1/6
1/8
1/16
N.B.—The oatmeal and vinegar are intended for occasional use.
Suet and raisins, or suet and currants, shall be substituted for one-fourth part of the proportion of flour—one half of the said fourth part in suet, and the other half in raisins or currants, at the following rates, viz.—
Half a pound of suet to be considered equal to 1 lb. of flour, and
One pound of raisins, or Half a pound of currants, to be considered equal to 1 lb. of flour.
In long voyages the allowance of water to be three imperial quarts per man a day.
Such non-commissioned officers and men who do not desire to receive a ration of spirits, and who signify the same to the commanding officer immediately on embarkation, may receive, in lieu of it, either a double allowance of sugar, chocolate, and tea, or, if they prefer it, liquor-money at one penny per day for the period of the voyage.

Posted by regimentalrogue at 12:01 AM EDT