Wearing of Ribands and Medals (1901)
Topic: Medals

Wearing of Ribands and Medals (1901)
General Orders, 1901
Headquarters, Ottawa, 1st December, 1901
G.O. 149 – Decorations and Medals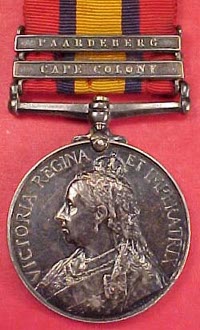 Information having been requested as to how medals should be worn, from those who have recently received their South African medal, the following is published for the information of all concerned:—
Military decorations and medals are to be worn over the sash and under the pouch belt on the left breast of the garment which is the full dress of the unit or individual. They are to be worn in a horizontal line, suspended from a single bar(of which the buckle is not to be seen) or stitched in the garment, and placed between the first and second buttons from the bottom of the collar of the garment; in Hussar Regiments, immediately below the top bar of lace on the left breast of the tunic when that garment is worn. This riband is not to exceed 1 inch in length, unless the number of clasps require it to be longer. The buckles attached to the ribands of the third class of the Orders of the Bath and of St. Michael and St. George should be seen. When the decorations and medals cannot, on account of the number, be suspended from the bar so as to be fully seen, they are to overlap. The width of a military medal riband is 1 ¼ inches. Military medals will be worn in the order of the dates of the campaigns for which they have been conferred; the first medal obtained being placed farthest from the left shoulder.
Medals awarded by the Royal Humane Society for bravery in saving life will be worn when authorized on the right breast.
Ribands only of medals and decorations will be worn with undress, or khaki uniform, and with white uniform, except when it is worn in Review Order. These ribands will be ½ inch in length, and will be sewn on to the cloth of the coat or jacket, or with white or khaki, worn on a bar without intervals. They should not be made to overlap, and when there is not sufficient room to wear the ribands in one row, they should be worn in two rows, the lower being arranged directly under the upper.
Miniature decorations and medals will be worn with Mess dress, but will not otherwise be worn in uniform.
Stars of Orders and miniature decorations and medals will be worn in evening dress (plain clothes), in the presence of members of the Royal Family or of Viceroys and Governors General, and on public and official occasions.
When a decoration is worn round the neck, the miniature will not be worn.
These regulations extend to retired officers, provided that under the regulations they are allowed to wear uniform.

Posted by regimentalrogue at 12:01 AM EDT