The Soldier in Battle (US Army, 1917)
Topic: Discipline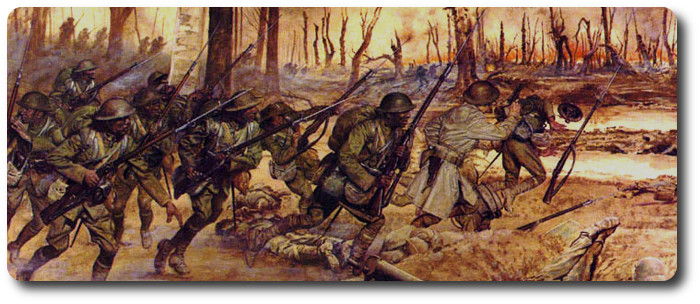 The Soldier in Battle
Home-Reading Course for Citizen Soldiers (Lesson No. 24, of 30)
Spokane Daily Chronicle, Spokane, Washington, 25 September 1917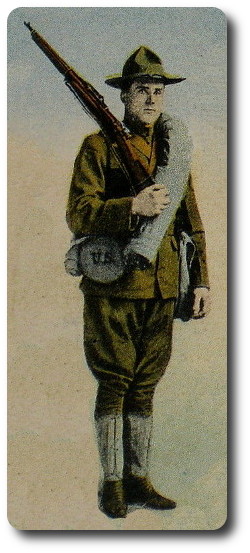 The average civilian, no matter how brave he might be, has little desire to go into battle. Even though he knows very well that the chances of his being killed or wounded are comparatively small, yet the thought of placing himself in a post of danger face to face with a well trained and courageous enemy is more or less terrifying to him.
This state of mind is entirely natural. Every man goes through it. The bravest soldiers of the civil war and of all wars testify to their dread of entering battle; but this is a feeling that can be conquered even by a man who is physically timid.
Self-Confidence Is Necessary
As a man's military training progresses, his body becomes stronger and therefore better able to stand the strain and intense activity. He grows accustomed to the noise of heavy firing. He gets practice in handling his rifle and his bayonet with skill, so that he becomes confident of his ability to defence himself. He learns how to advance over ground apparently swept by bullets without exposing himself to really effective fire. He grows used to the idea of meeting enemies face to face in battle.
Private soldiers are not required to study tactical problems. These are solved by higher officers. But every man should thoroughly understand the following elementary principles of combat:
1. The offensive wins.
2. Battles are won by the individual soldier. It is emphatically "up to" him. Splendid leadership and fine equipment are of avail only when each private does his utmost.
3. Victory depends more on nerve and fighting spirit than on the best weapons and armor in the world.
Defensive action alone never wins victories. The army which succeeds must be ready and anxious to attack. There are many advantages to taking the offensive. The destruction of hostile trenches by heavy bombardment preceding the attack weakens the enemy's spirit and sometimes leads to the surrender of men who are in no condition to withstand assault. The chief advantage, however, is the fact that the attacking side chooses its own time and place to strike, forcing the enemy to readjust his defences accordingly.
All these remarks tend toward one conclusion, namely, that the discipline of the army is a big factor in giving men the tenacity which enables them to go into battle with dauntless courage and to win victories. Discipline can accomplish wonders even among men who are naturally lacking in brains and self-reliance. It can accomplish as great deal more, however, among those who possess these natural qualities.
Men who are thoroughly disciplined, and yet within the limits of discipline possess the priceless quality of initiative, make ideal soldiers. They are the men who can always be trusted to pull themselves out of tight places, to carry attacks through until success is won, to hold out against all odds.
Army Success Depends on Men
Men of this type will be found in the national army—tens of thousands of them.
Within the next few months the national army will be formed into a splendid body of troops filled with a spirit of loyalty and of enthusiasm for our just cause, efficient from top to bottom, in which every man will be fitted and ready to do his duty. Such an army backed by all the resources of the country—resources of men, of money, and of materials practically without limit—is bound to go forward to victory. There may be temporary reverses and periods of gloom, as in all other wars; but in the end victory must and will be won.
This is the object toward which all your training is to be directed. Put into that training all your own earnestness and energy. Fit yourself to wear with pride and credit the uniform of an American citizen soldier.
This is the road of honor and of real service to the nation.

Posted by regimentalrogue at 12:01 AM EDT