Medal Buyer Hits War Museum Sales
Topic: Medals

Medal Buyer Hits War Museum Sales
Ottawa Citizen, 22 March 1979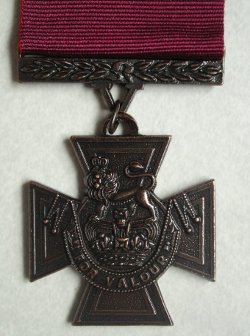 London— (CP)—The Canadian War Museum came in for harsh criticism Wednesday from a London dealer who paid more than twice the previous world record for a group of medals won by a young Canadian more than 60 years ago.
J.B. Hayward and Son paid £17,000 ($40,000) for a bar of medals which included the Victoria Cross, the highest award for gallantry, the Military Cross and the Military Medal, and two service decorations.
The medals were awarded to Lieut. G.B. McKean of Edmonton during the First World War and were put up for sale by the widow, Mrs. C. McKean-Raby, who lives in England.
Immediately after the sale, John Hayward criticized the Canadian museum for "disposing of unawarded Canada General Service Medals, Distinguished Conduct Medals and Military Medals."
These unawarded medals, going for possibly $50 or $75 on the market," were falling into "unscrupulous hands."
False names were being engraved on them and the medals resold for "up to $500."
The previous world record for a Victoria Cross was £8,200 ($19,700) paid last year.
"The museum was really interested in this group," Hayward says, "Canada can have it (the Victoria Cross) any time they want it, providing they promise not to dispose of any more unawarded medals. I would like that in writing."
Rosamund Hinds-Howell of Sotheby's said that McKean's widow, now 86, put the medals up for auction because she did not wish to become a burden on her family.

George Burdon McKean, V.C., M.C., M.M.
(4 Jul 1888 – 28 Nov 1926)
"His Victoria Cross is stored at the Canadian War Museum in Ottawa, Canada"

Posted by regimentalrogue at 12:01 AM EDT