Getting Ahead in the Army (1917)
Topic: Drill and Training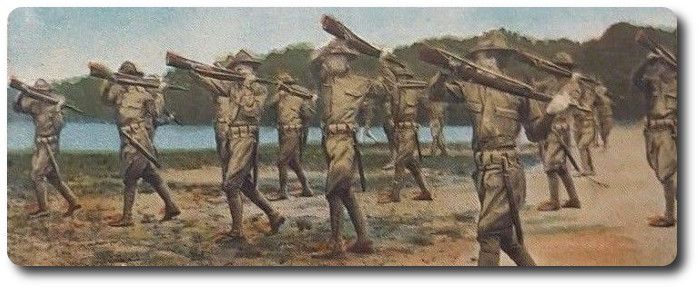 Getting Ahead in the Army
Home Lessons for New Army Men (Lesson No. 20, of 30)
The first rank above private is corporal. The corporal should be a real leader.
Spokane Daily Chronicle, Spokane, Washington, 20 September 1917
Since regimental and company officers have full responsibility for the efficiency of their teams they are given corresponding authority in promoting men from the ranks to positions as noncommissioned officers. For all practical purposes their judgment as to the men under them is regarded as final.
One point as to which you may feel assured is the earnest desire of every officer to give promotion to the men who are best qualified—in other words, to select the men who have cultivated the soldierly qualities and in addition show capacity for further development and leadership. For the officers' own burdens are lightened and their success increased almost in direct proportion to their ability to promote the right men.
Chances for Promotion Good
The first rank above private is corporal. The corporal should be a real leader. He is expected to be more familiar with the various manuals amd regulations and with the duties of the men in the squad than are the men themselves. He is expected also to use his influence strongly toward building up soldierly qualities among these men.
Among the qualifications which all noncommissioned officers should possess the following have been selected by one military writer as being of first importance:
1. Proficiency as guides in close order drills, and particularly as column leaders in route marching.
2. Aggressive leadership, especially in drilling, marching and fighting.
3. Ability to act as instructors.
4. Thorough knowledge of the elements of field service.
5. Thorough knowledge of interior guard duty.
6. Skill in range finding and in estimating distances, so as to assist men in firing accurately.
7. Proficiency in leading patrols.
8. Ability to prepare written messages that are clear, complete and concise.
9. Ability to sketch and read maps.
This list will suggest some of the lines along which you should work, whenever you have the chance. Many of the noncommissioned officers in the national army will be chosen, not only because of the knowledge or skill they already possess, but also because they show capacity for further development and for leadership.
The national army must fit itself for effective service at the front in the shortest possible time. To accomplish this result it must produce out of its own ranks men who are fitted for promotion first to places of noncommissioned officers, either in the first contingent or more probably in later contingents.
This need is your opportunity. It is an opportunity not merely for personal advancement—which in time of war is a small thing to work for—but more than that, an opportunity to render to your country the most effective service of which you are capable.

Posted by regimentalrogue at 12:01 AM EST
Updated: Sunday, 18 December 2016 4:20 PM EST