Bombing; Fiendish Way of Fighting (1916)
Topic: CEF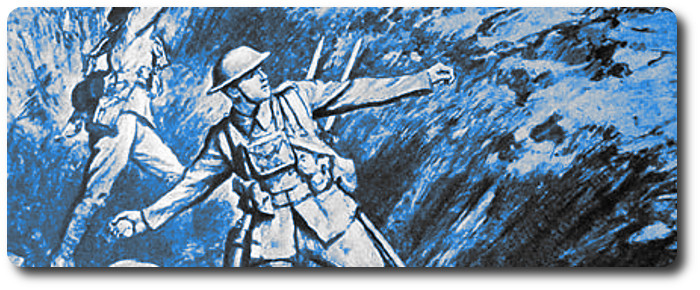 Fiendish Way of Fighting
Some of the Terrors and Humors of the Bomb
The Kingsville Reporter, Kingsville, Ontario, 22 June 1916
Although this article isn't specifically about the CEF, it has been tagged as such to keep it with other First World War material.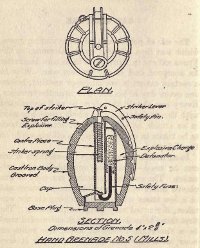 An Irish officer, writing from the British Front in Flanders about bombs and bomb-throwing contrivances, says:
The more you have to do with the bombs the more afraid of them you become, for you cannot play with explosives all day without going aloft sooner or later. The toll of good men who have been blown to pieces by their own bombs is long and sad.
Bomb-throwing as an art is still in its infancy; it changes almost from day to day. At best, it is a fiendish way of fighting, for it inflicts ghastly injuries.
Yet bombing, like many other aspects of the war, has its humorous side, and I have seen a whole trench helpless with laughter at the sight of two men running opposite ways to avoid a sausage bomb from a German trench mortar. They collided, and sat down facing each other, like vaudeville comedians. The bomb dropped between them, almost touching them both—and then failed to explode.
One morning twenty or more members of the general staff came round to our trench to witness a test of new catapult for throwing bombs to distance of two hundred and fifty yards. With great interest they watches the screwing down of the great arm and the fastening of the bomb in position. Then upward and forward swung the arm; but the missile, not having been properly secured, instead of hurtling in the direction of the enemy, rose gently a few feet into the air, and then turning to descend again into the trench.
Such a rapid and complete disappearance of staff officers had never before been seen. They fled like rabbits, and as they rounded the corner of the trench, the bomb went off a few feet from the ground, completely destroying the catapult.

Posted by regimentalrogue at 12:01 AM EST